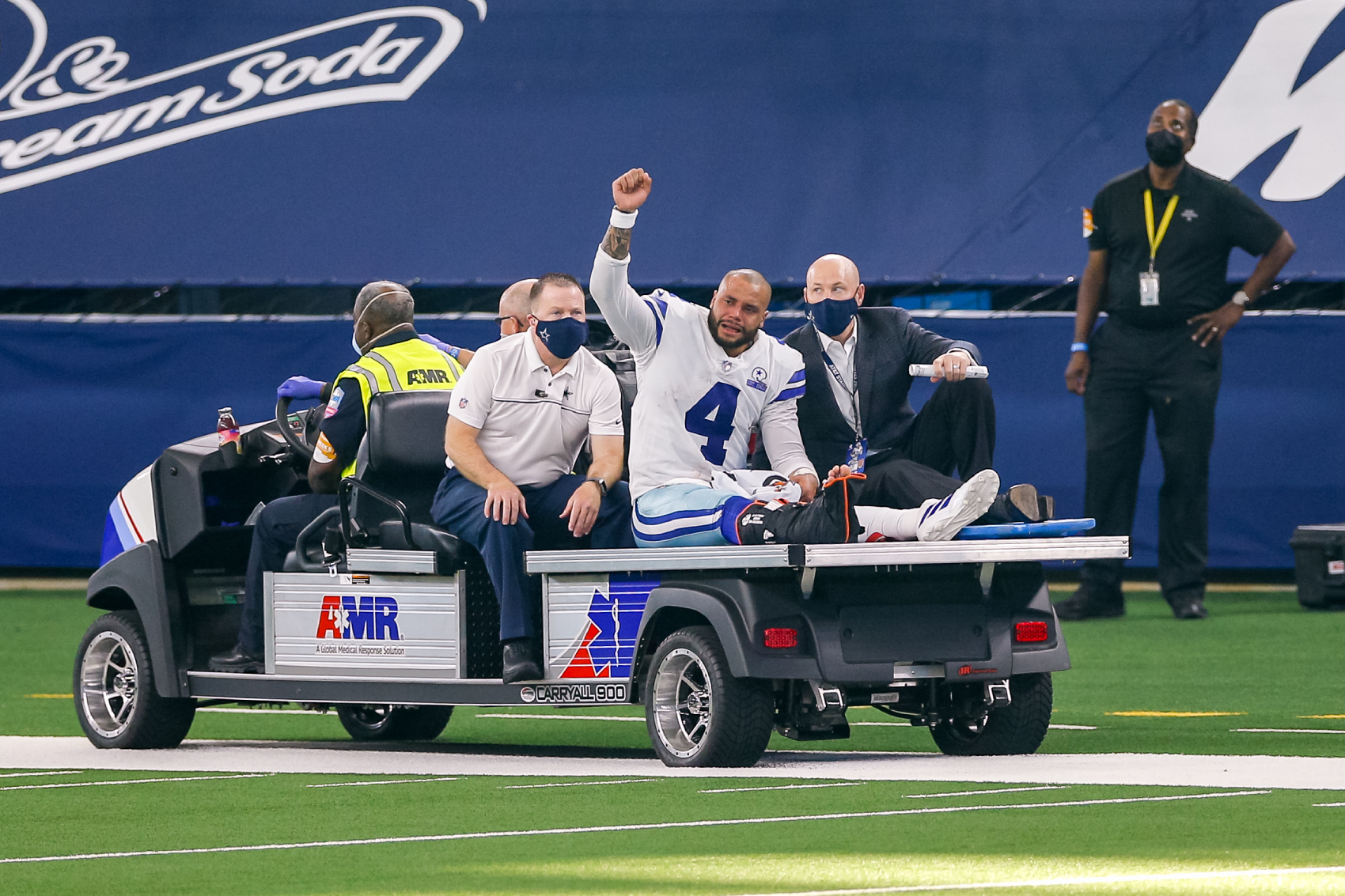 Dak Prescott Received a Compassionate Offer From an NBA Star Following His Gruesome Injury
Dallas Cowboys QB Dak Prescott recently suffered a gruesome injury. He has since received a compassionate offer from an NBA star.
Dak Prescott won't be on the field for the Dallas Cowboys for the rest of the season after suffering a gruesome injury during the Cowboys' Week 5 game against the New York Giants. Prescott has since received many messages of love and support from people hoping that he gets well soon. One person to recently send him a message — as well as a compassionate offer — was NBA star Gordon Hayward.
Dak Prescott suffered a gruesome injury against the New York Giants
During the third quarter of the Dallas Cowboys' Week 5 game against the New York Giants, the Cowboys ran a quarterback draw with Prescott. As Prescott got tackled by Giants defensive back Logan Ryan, his ankle got caught underneath Ryan. After the play, video showed Prescott's foot facing the wrong direction.
According to ESPN, the Cowboys later announced that Prescott suffered a compound fracture and dislocation of his right ankle. This means that the bone penetrated the skin. Adam Schefter of ESPN also reported that Prescott underwent surgery on Sunday evening.
"He's in very good spirits," Cowboys head coach Mike McCarthy said, according to ESPN. "I know he's excited to get home and start the journey back, as you would expect from Dak, but he's doing OK."
ESPN reported that Prescott's recovery will reportedly be four to six months, but McCarthy said that he will "challenge any timeline".
"My focus is more on Dak, and make sure he gets the mental and emotional support because he's such a great teammate," McCarthy said, according to ESPN. "He's the one that's always reaching out and doing so much for others. I think it's important for us at this time — and not just during these first couple days — but just to make sure that he's getting the support from us to help him on his journey back."
Gordon Hayward suffered a similar injury
Hayward was coming off the only All-Star season of his career. He averaged a career-high 21.9 points per game for the Utah Jazz during the 2016-17 season, to go with a career-high (at the time) 5.4 rebounds.
However, during his first game with the Boston Celtics in 2017-18, Hayward went down and had an injury pretty similar to Prescott's.
He then had a long road to recovery, as he missed the rest of the season, and then wasn't quite himself in his first season back in 2018-19, only averaging 11.5 points per game. In 2019-20, though, Hayward had a much better season, as he averaged 17.5 points per game and shot a career-high 50% from the field to go with a career-high 6.7 rebounds.
After Prescott's injury, Hayward sent Prescott a compassionate offer.
Gordon Hayward reached out to Dak Prescott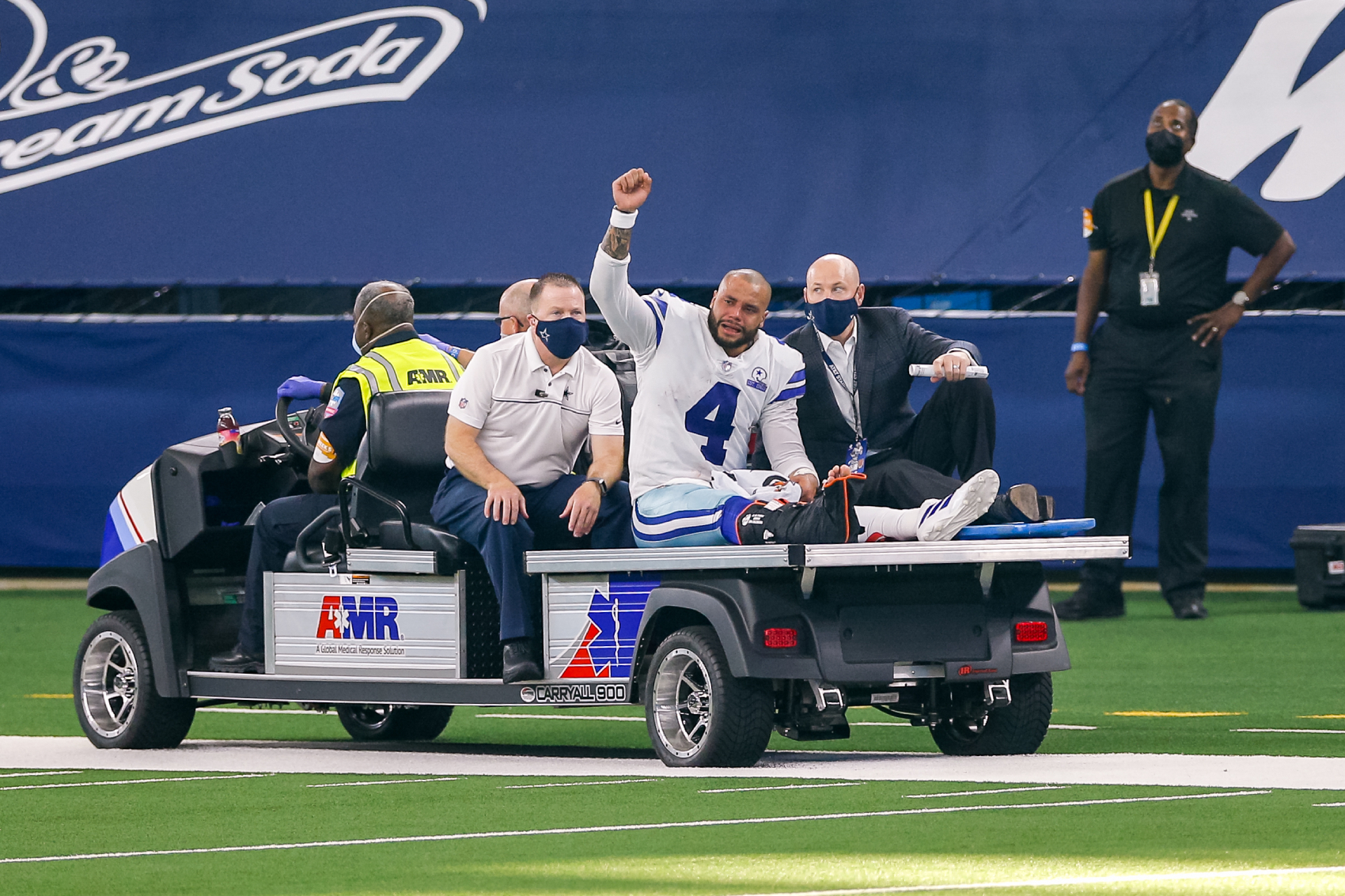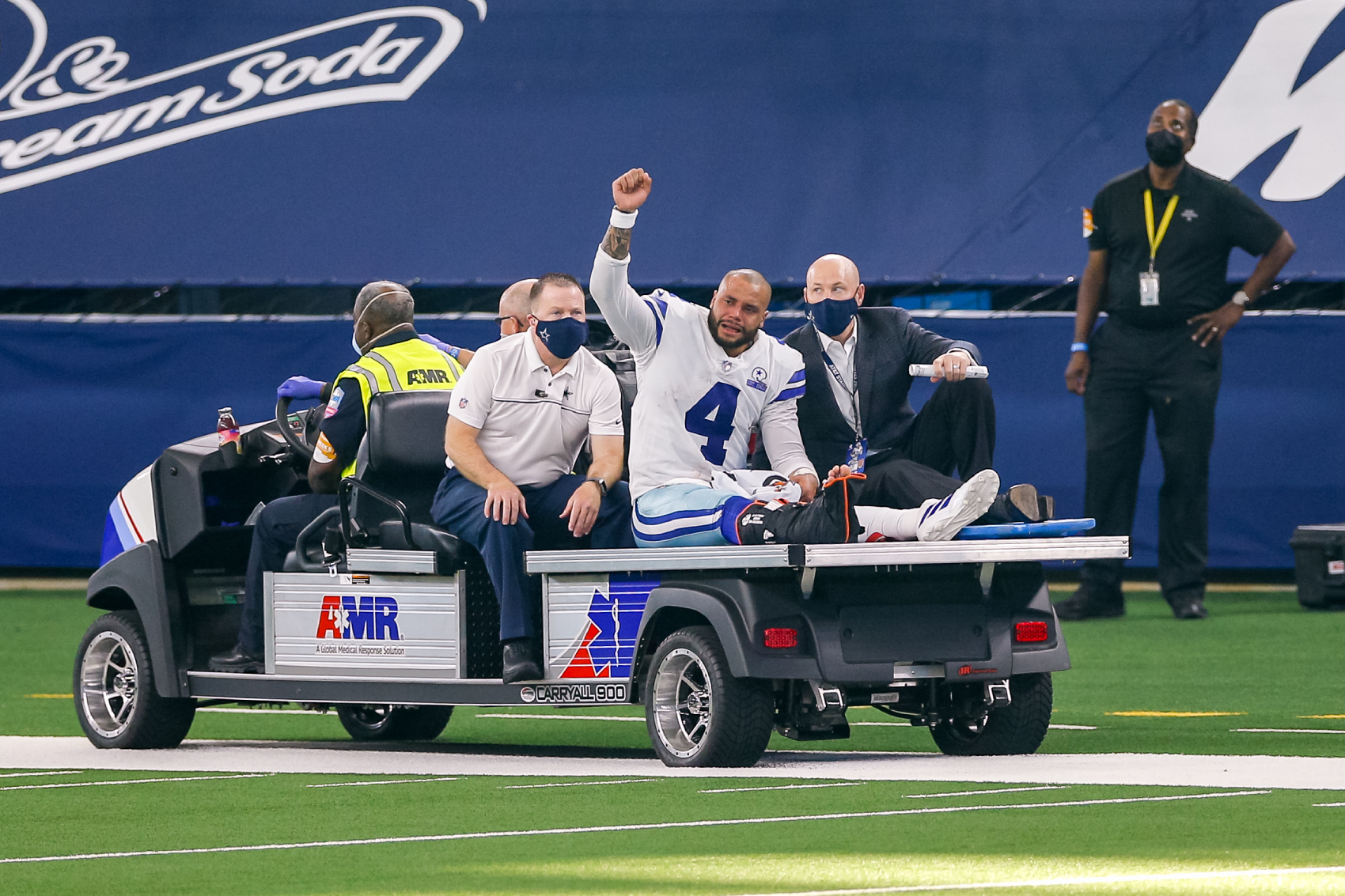 Hayward recently reached out to Prescott via Twitter and sent him a heartfelt message.
"After my injury, hearing from [Paul George], a guy who had been through it, made a huge difference," Hayward tweeted. "[Dak], if there's anything I can do to help, don't hesitate to reach out. You're not alone!"
Paul George suffered a gruesome injury similar to Prescott's and Hayward's during a USA Basketball scrimmage in 2014. He missed all but six games for the Indiana Pacers in 2014-15 but has since become one of the NBA's top players yet again. His support ultimately seemed to be helpful during Hayward's recovery. Now, Hayward is trying to pay it forward.
Dak Prescott is about to have a long road back to the football field. At least he knows that he isn't alone.
Stats courtesy of Basketball Reference