Dak Prescott Returns From a Gruesome Injury But His Biggest Fear Will Be Off the Field
Dak Prescott was firing on all cyclinders in Weeks 1 through 4 of the 2020 NFL season before suffering a devastating season-ending ankle injury. The Dallas Cowboys quarterback has proven that he's tough. Despite playing against physically-imposing athletes week after week, Prescott is genuinely terrified of something else that has nothing to do with football.
Dak Prescott revealed he is afraid of people in costumes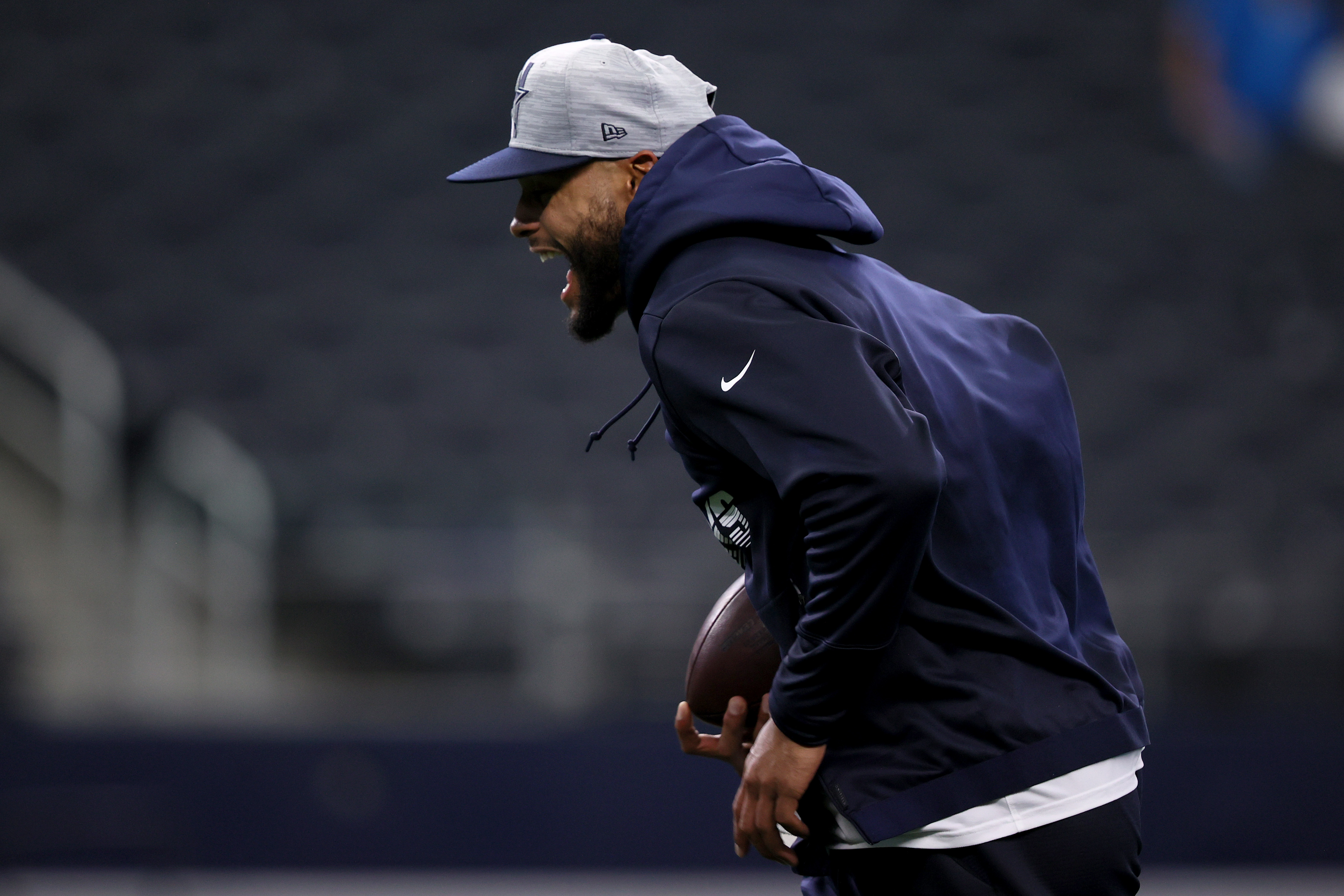 The Cowboys were the talk of the town this offseason. HBO's Hard Knocks spotlighted America's Team as they prepared for the 2021 NFL season. Dak Prescott revealed one of his biggest fears in a clip from the series.
One of the best NFL quarterbacks if afraid of mascots. The two-time Pro Bowler had a conversation with running back Ezekiel Elliott and delivered his admission. "You think that's that person in the costume, you don't know who the f*** he is," said Prescott per the New York Post.
He harkened back to his childhood and how his fear of people in costumes impacted him then. "That's why I never did anything haunted. I used to tell my mom: 'That's the perfect place to kill somebody. Why would I do that?" he said.
As crazy as it sounds, Prescott has a point. Some people in costumes can be creepy. It's an interesting choice for his biggest fear, though, especially considering fierce pass rushers are trying to inflict punishment on him every play.
Hopefully, when the Cowboys play the Minnesota Vikings on Halloween, the signal-caller will be able to keep his composure.
Prescott should be terrified of getting injured again
Football is a physical sport by nature. Still, it doesn't make it any easier to watch gruesome injuries as they happen. Dak Prescott suffered a horrific ankle fracture which cut his 2020 season short. Now, he's set to return against the Tampa Bay Buccaneers on Thursday night football.
In an interview with NBC's Maria Taylor, he mentioned how scared he was after the injury happened. "Why can't I feel my toes? Will this foot ever work the same?" he said of his thoughts after he lost feeling in his foot.
Rehab and the outpouring of support helped Prescott get through this difficult time. "I was so appreciative of it. I just knew that I had too many people behind me wanting me to get through, and pushing me to get through it that it just made it all that easier," said the 28-year-old quarterback.
The Cowboys have made headlines throughout the offseason for several reasons. However, Dak Prescott dominated many of them. There have been conflicting reports about whether or not the Mississippi State product would be ready for the season opener.
According to The Athletic's Jon Machota, Cowboys owner Jerry Jones said that Prescott has "really looked crisp" and "does not look rusty."
The Thursday Night Football matchup will be his first game back, so emotions are sure to be running high. Dallas has to make protecting their star quarterback a priority in 2021.
Defenses Prescott will face in 2021 that should scare him
Prescott and the Cowboys offense won't have an opportunity to ease into things as they face the defending Super Bowl champions. The Tampa Bay Buccaneers boast one of the most complete defensive units from top to bottom. Todd Bowles' defense finished eighth in total defense in 2020. It also was tied for fifth in takeaways.
Linebackers Devin White and Lavonte David will be flying all over the field. Jason Pierre-Paul, Shaquil Barrett, and Ndamukong Suh bearing down on Prescott would be a scary sight as well.
The Cowboys will follow it up with a Week 2 tilt with the Los Angeles Chargers. Former Rams defensive coordinator Brandon Staley took over as head coach and has plenty of talent to work with. LA lost Melvin Ingram in the offseason, but Joey Bosa is still there to provide a fierce pass rush. Kenneth Murray is a dynamic linebacker who is poised to make a leap in year two.
The Chargers also are getting Derwin James back, who has battled injuries. When healthy, he has the potential to be one of the best safeties in the league. The secondary also features Chris Harris Jr. and Defensive Rookie of the Year candidate Asante Samuel Jr.
Dallas will also have to play the Washington Football Team twice. That's not going to be fun. The Football Team's defense is hungry. They finished fourth in total defense. Led by Chase Young and Montez Sweat, Washington has the best defensive line in football. The front office added Kentucky's Jamin Davis in the draft, giving this defense yet another athletic playmaker.
These three matchups will be tough sledding for Dak Prescott and the Cowboys.
All stats courtesy of Pro Football Reference.
RELATED: Tom Brady Shared Some Surprising Comments About Dak Prescott, Which Should Have Cowboys Fans Feeling Quietly Optimistic