Dak Prescott Should Leave the Dallas Cowboys If 1 Team Gives Him a Call
Dak Prescott did not get a long-term deal from the Dallas Cowboys this offseason. Without a long-term contract, Prescott could leave the Cowboys after the 2020 season or the 2021 season. Yes, the Cowboys have an absolutely stacked offense. However, if one particular team gives him a call, Prescott should absolutely consider leaving the Cowboys. 
Dak Prescott has exceeded expectations on the Dallas Cowboys
RELATED: Jerry Jones Just Got Another Stern Message From a Star Player on the Dallas Cowboys
Prescott was a fourth-round pick by the Cowboys, so there weren't huge expectations for him coming into the league. He has become an absolute star, though.
In his rookie season in 2016, Prescott earned a Pro Bowl selection and earned the AP Offensive Rookie of the Year award as he threw for 3,667 yards, 23 touchdowns, and only four interceptions. He helped lead the Cowboys to a 13-3 record too, getting them to the playoffs.
Prescott's numbers were not as great in 2017, and the Cowboys missed the playoffs, as he threw for 3,324 yards, 22 touchdowns, and 13 interceptions. However, he earned another Pro Bowl selection in 2018, throwing for 3,885 yards, 22 touchdowns, and only eight interceptions. Prescott led the Cowboys to a 10-6 record that season too, and they won a playoff game.
The Cowboys missed the playoffs in 2019, but Prescott had a spectacular season. He threw for 4,902 yards, 30 touchdowns, and 11 interceptions. His passing yards were second in the entire NFL, and his touchdown passes were fourth.
His play has certainly warranted a long-term contract.
The Dallas Cowboys and Dak Prescott could not get a deal done
RELATED: The Tragic Death of Former Cowboys Receiver Terry Glenn
The Cowboys opened negotiations with Prescott's agent in the spring of 2019. The sides, however, have not had any significant negotiations since March, according to ESPN. At that time, sources said that the Cowboys offered Prescott $34.5 million a year. However, they want him to sign a five-year deal, while Prescott reportedly wants a four-year deal.
Prescott and the Cowboys' executive vice president, Stephen Jones, reportedly had a brief conversation before the deadline to get the deal done. However, they could not come to an agreement. That means that Prescott will play the 2020 season with the Cowboys on the $31.4 million exclusive franchise tag.
It also means that Prescott could now leave the Cowboys after the 2020 season or, if the Cowboys use the franchise tag on him again next year, he could leave after the 2021 season. The tag next year would cost the Cowboys nearly $38 million, according to ESPN.
So, if Prescott does end up leaving the Cowboys, what team should he go to?
He should seriously consider going to the Indianapolis Colts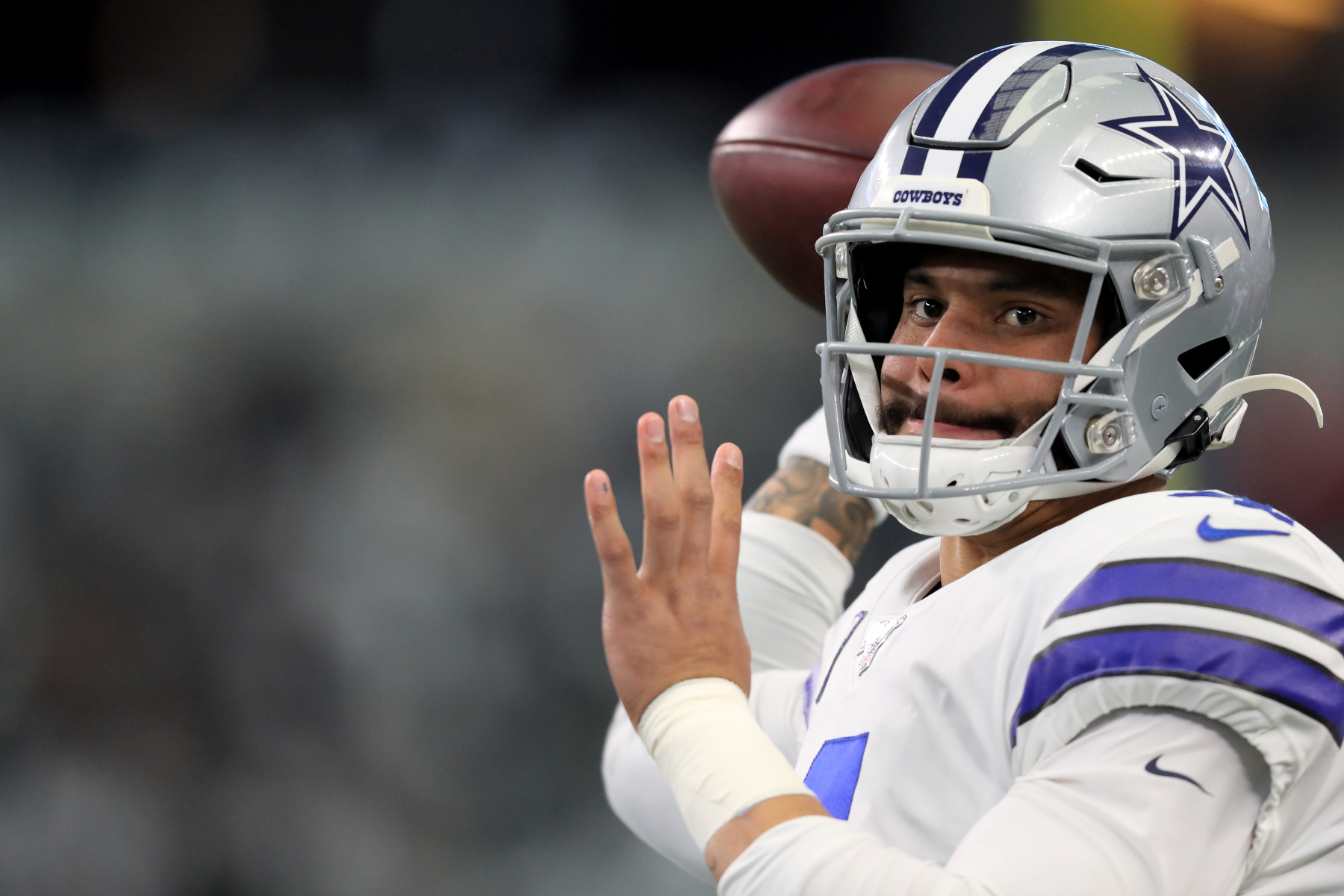 RELATED: Cowboys Owner Jerry Jones Is Still Married to His College Sweetheart
The Cowboys' offense is stacked. They have running back Ezekiel Elliott, and wide receivers Amari Cooper, Michael Gallup, and CeeDee Lamb.
However, if the team does not want to give him the contract that he wants, and that he feels he deserves, then Prescott should absolutely consider signing with the Indianapolis Colts. In fact, USA Today even reported that the Colts are the betting favorites to be Prescott's team in 2021 per Bet Online.
The Colts have one of the best general managers in the NFL in Chris Ballard, who has built a really talented offense with the best offensive line in football, per rankings from Pro Football Focus. So, Prescott would absolutely be protected extremely well and would have plenty of time in the pocket. 
He wouldn't have Elliott in the backfield anymore, but the Colts have two really talented running backs in Marlon Mack and rookie Jonathan Taylor. They should also have some nice weapons for him to throw to in receivers T.Y. Hilton and Zach Pascal (they both have expiring contracts), as well as tight end Jack Doyle and rookie receiver Michael Pittman Jr.
Head coach Frank Reich knows how to find success with a talented quarterback too. Andrew Luck threw for 4,593 yards and 39 touchdowns in 2018 under Reich after not playing at all in 2017.
In addition to a dominant offense, the Colts have some stars on defense in Darius Leonard and DeForest Buckner.
With all of these pieces, and with Ballard being devoted to building a winner in Indianapolis, the Colts could be an excellent fit for Prescott if the Dallas Cowboys don't want to pay their star QB.
Stats courtesy of Pro Football Reference