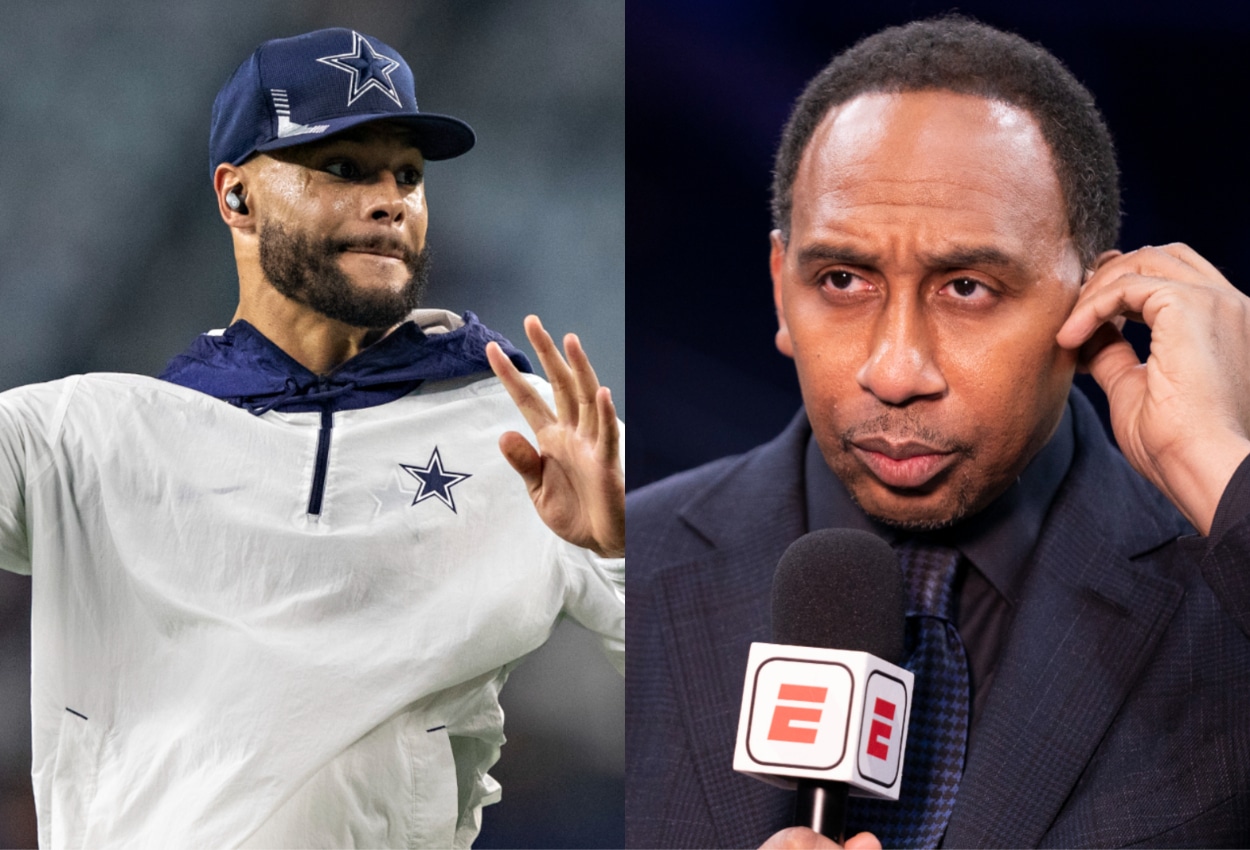 Dak Prescott Sternly Put on Notice by Cowboys Hater Stephen A. Smith
Dak Prescott has only won one playoff game in his career, so Stephen A. Smith had a stern message for the Dallas Cowboys QB ahead of the 2022 NFL season.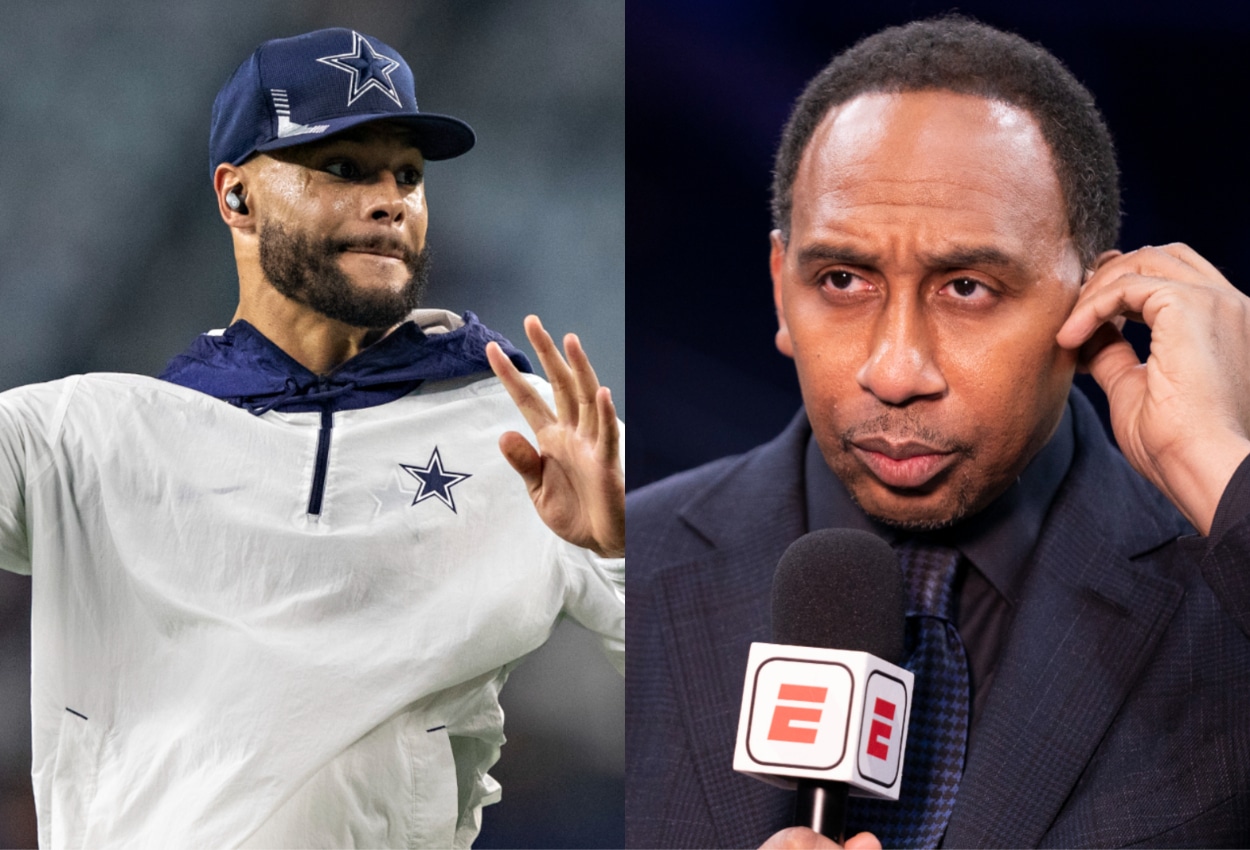 Any player who wears the iconic Dallas Cowboys star likely feels tremendous pressure. It comes with the gig. The Cowboys are arguably the NFL's most popular team and almost always have high expectations.
But throughout the past two decades, Dallas has disappointed its fans more times than not. It has failed to make it further than the NFC Divisional Round every year since 1996. 
Quarterback Dak Prescott has continued that underwhelming trend, winning just one playoff game in his six years as the Cowboys' starter. So, considering his lack of postseason success, ESPN commentator and Cowboys hater Stephen A. Smith wants more from him.
Smith recently had a direct message for Prescott while appearing on his show First Take.
Stephen A. Smith put Dak Prescott on notice
Stephen A. Smith recently appeared on First Take and discussed which quarterback he believes is under the most pressure heading into the 2022 season.
Smith – who has frequently hated on the Cowboys for years – made his answer simple: It's Dak Prescott.
"I'm sick of him," Smith said on the May 31 episode. "It's time somebody says this. And I can say that in all seriousness because I completely supported him getting his money. … But when the hell you gonna show up?"
The commentator noted how Prescott and the Cowboys looked great toward the end of the 2021 regular season, one in which they finished 12-5 overall. The team won five of its final six games and scored 56 points in a Week 16 win over the Washington Commanders and 51 in Week 18 against the Philadelphia Eagles.
Dallas scored just 17 points in its home Wild Card Round loss to the San Francisco 49ers.
"It's America's team, bro; you're in the spotlight all the damn time," Smith added. "We see these elite quarterbacks. Well, when you gonna be elite? I'm talking about when it counts. … Dak Prescott is a great talent and a great leader, but we need it in the moments that count most. Enough of this, 'I'm that guy,' but when it really, really counts you're going home. He got to step up."
It's time for Dak to take the Cowboys deep into the playoffs
As Smith said, Prescott was great during the 2021 regular season, completing 68.8% of his passes for 4,449 yards and 37 touchdowns.
In the playoffs against the Niners, he completed just 53.5% of his passes and threw for only 254 yards, one touchdown, and one interception. The Cowboys had the No. 1 offense in the entire NFL last season, scoring 31.2 points per game. Why couldn't they score more than 17 in the playoffs?
Dallas has a nice squad. CeeDee Lamb and Michael Gallup are talented receivers, and Ezekiel Elliott and Tony Pollard have a dangerous one-two punch in the backfield. The Cowboys lost Amari Cooper and offensive lineman La'el Collins this offseason but still have plenty of talent for Prescott to work with in 2022.
Defensively, their star-studded unit consisting of DeMarcus Lawrence, Micah Parsons, and Trevon Diggs should have more than enough skill to hold its own against NFC powerhouses.
So, should the Cowboys be the favorites in the NFC? Absolutely not. But it's put up or shut up time for Prescott and company. Making the playoffs is no longer good enough. They need to finally contend for a championship.
Stats courtesy of Pro Football Reference