Dak Prescott and Tom Brady Impressively and Quietly Just Slung Their Way Into NFL History Yet Again
Well, you certainly have to give Dak Prescott and Tom Brady credit because it's clear they understand their roles as football players and as entertainers.
The two superstar quarterbacks impressed in a Week 1 showdown, one which ended with Brady's Tampa Bay Buccaneers emerging with a last-second 31-29 victory over Prescott's Dallas Cowboys. Not only did both play well to start the 102nd season in NFL history, but they also joined an exclusive club in the process.
Dak Prescott and Tom Brady made NFL history in Week 1
Those who have Brady and Prescott on their fantasy football teams certainly got their money's worth in Week 1.
In his first game back from a severe ankle injury, Prescott completed 42 of his 58 passes for 403 yards, three touchdowns, and an interception. Brady, who is still going strong at 44 years old, went 32-of-50 for 379 yards, four touchdowns, and two picks. Both quarterbacks recorded over 27 fantasy points in ESPN PPR leagues.
The duo also managed to make an impressive round of history in the process. Both quarterbacks threw over 50 passes in a game, with Prescott's 58 attempts tying the career-high he set in a 49-38 loss to Baker Mayfield's Cleveland Browns last October.
Thursday's opener marked only the fourth time in league history that both teams attempted at least 50 passes in a game. Prescott, who turned 28 in July, became the club's sixth member.
Now, we know what you're asking. If this is only the fourth time it's happened, shouldn't there be seven or even eight quarterbacks in that group? Well, that's where we have some explaining to do.
Brady previously accomplished the feat alongside Peyton Manning in 2014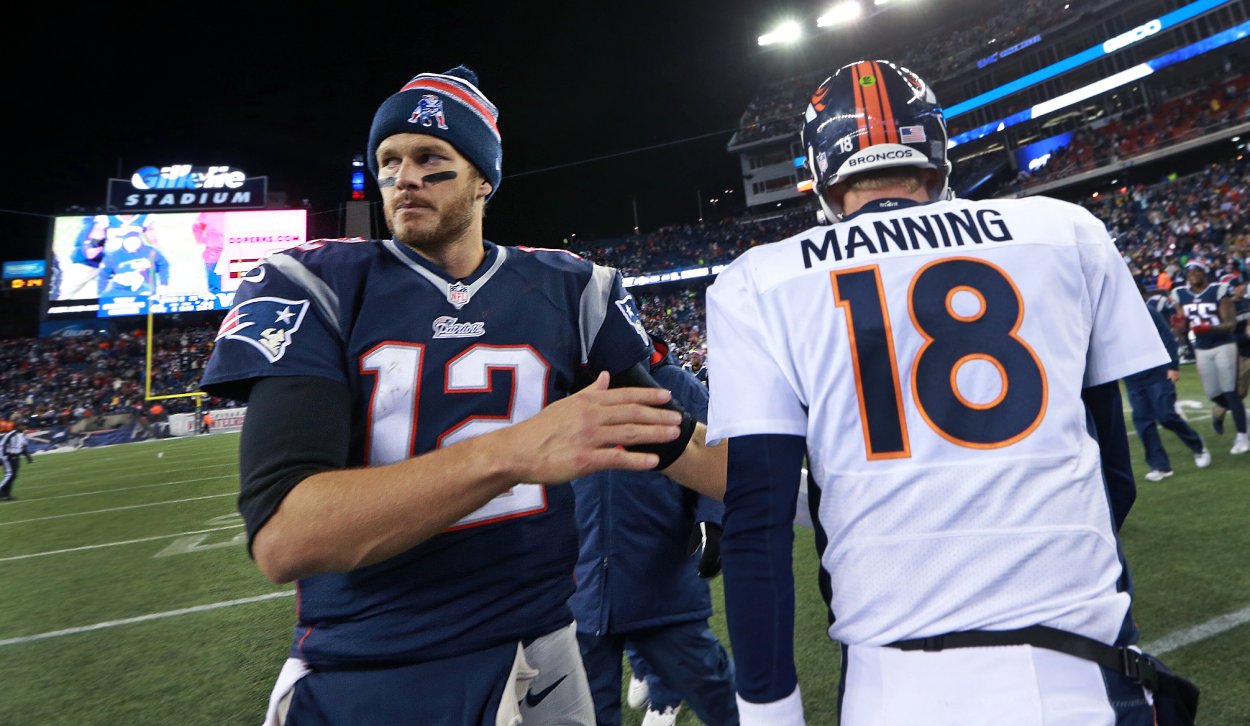 The rivalry between Brady and Peyton Manning feels like forever ago, and for a good reason. The two last squared off in January 2016, when Manning's Denver Broncos took down Brady's New England Patriots in the AFC Championship Game.
A little over a year earlier, the two legendary quarterbacks had a notable battle in Foxborough, Mass. Both players attempted over 50 passes in the Patriots' 43-21 victory on Nov. 3, 2014.
Brady went 33-of-53 for 333 yards, four touchdowns, and one interception on Sunday Night Football. Manning hit 34 of 57 passes and totaled 438 yards, two touchdowns, and two interceptions in the loss.
Just to give you an idea of how fast time flies, Prescott was still at Mississippi State when that game occurred. Now, he's among the league's highest-paid players, and Manning is in the Pro Football Hall of Fame.
You're likely extremely familiar with the other quarterbacks involved in that club
Believe it or not, that high-profile showdown between Brady and Manning wasn't the first time two teams attempted over 50 passes in a game. However, it did mark the first time two quarterbacks accomplished the feat.
How is that possible, you wonder? On Dec. 29, 2002, Drew Brees and the then-San Diego Chargers hosted Matt Hasselbeck and the Seattle Seahawks. Seattle used a 21-point fourth quarter to force overtime before ending the season with a 31-28 victory.
Hasselbeck completed 36 of 53 passes for 449 yards, two touchdowns, and two interceptions in the victory. Brees, a second-year quarterback from Purdue, threw three touchdowns on 49 attempts. However, rookie receiver Reche Caldwell had a 20-yard completion, meaning both teams each attempted over 50 passes.
No technicalities were involved for a Week 16 matchup between the Cincinnati Bengals and Miami Dolphins on Dec. 22, 2019. Bengals quarterback Andy Dalton went 33-of-56 for 396 yards, four touchdowns, and no interceptions in a 38-35 overtime loss. Dolphins signal-caller Ryan Fitzpatrick completed 31 of his 52 attempts for 419 yards, four touchdowns, and an interception.
We know how sports work by now. In a few months, we'll be writing about how Brady and New York Jets rookie Zach Wilson teamed up to accomplish the feat for the 10th time in league history.
Like Sportscasting on Facebook. Follow us on Twitter @sportscasting19.
RELATED: Old Man Tom Brady Fired a Veiled and Grouchy Shot at Justin Fields and Modern NFL Quarterbacks' 'Bad Habits'