Even as Dak Prescott Puts Tony Romo in Rear View, Dallas Cowboys QB Is Focused on What Really Matters
To say that Dak Prescott and the Dallas Cowboys finished the regular season strong would be an understatement. Dallas capped off the campaign with a 56-26 win over the Philadelphia Eagles. And sure, Philly was resting many players with a postseason berth already locked up, but a win is a win in the NFL no matter how you come across it.
Dallas' offense once again flashed explosive potential as far as the scoreboard is concerned, putting up 50+ points for the second time this season. While the Cowboys' normally opportunistic defense didn't get in on the touchdown fun in this game, Prescott's five-touchdown performance more than made up for that.
Dak Prescott's five touchdown passes helped him make Dallas Cowboys history
Prescott didn't even realize he went into the history books after he tossed his fifth touchdown of the game, a pass into the left flat to running back Corey Clement, who walked in for a touchdown.
It was Prescott's fifth touchdown dime, but also his 37th touchdown pass of the season, which vaulted him ahead of Tony Romo for the most regular-season touchdown passes thrown in franchise history. Romo threw 36 in a 2007 campaign that saw the Cowboys go 13-3.
"I thought they were saying congrats for five touchdowns, to be honest," Prescott said after the game, according to the team website. This was referencing the celebration on the sideline after the touchdown throw.
His teammates could have been congratulating him for all sorts of reasons, to be honest. Yes, Prescott went into the Dallas history books on Saturday night, but he also had himself a heck of a game.
The five touchdowns are impressive, but just as remarkable was Prescott's efficiency. He completed 21-of-27 passes for 295 yards, averaging 10.9 yards per pass. He finished the game with an incredible QBR of 98.6 and was sacked only once.
In typical Prescott fashion, the quarterback brushed off the individual honor.
"Obviously, knowing who's come before me and who's played the quarterback position here before me, I'm just the beneficiary of a lot of hard work, great play calling, offensive line protecting, bunch of different guys making plays," he said.
Prescott appears to be hitting his stride at the right time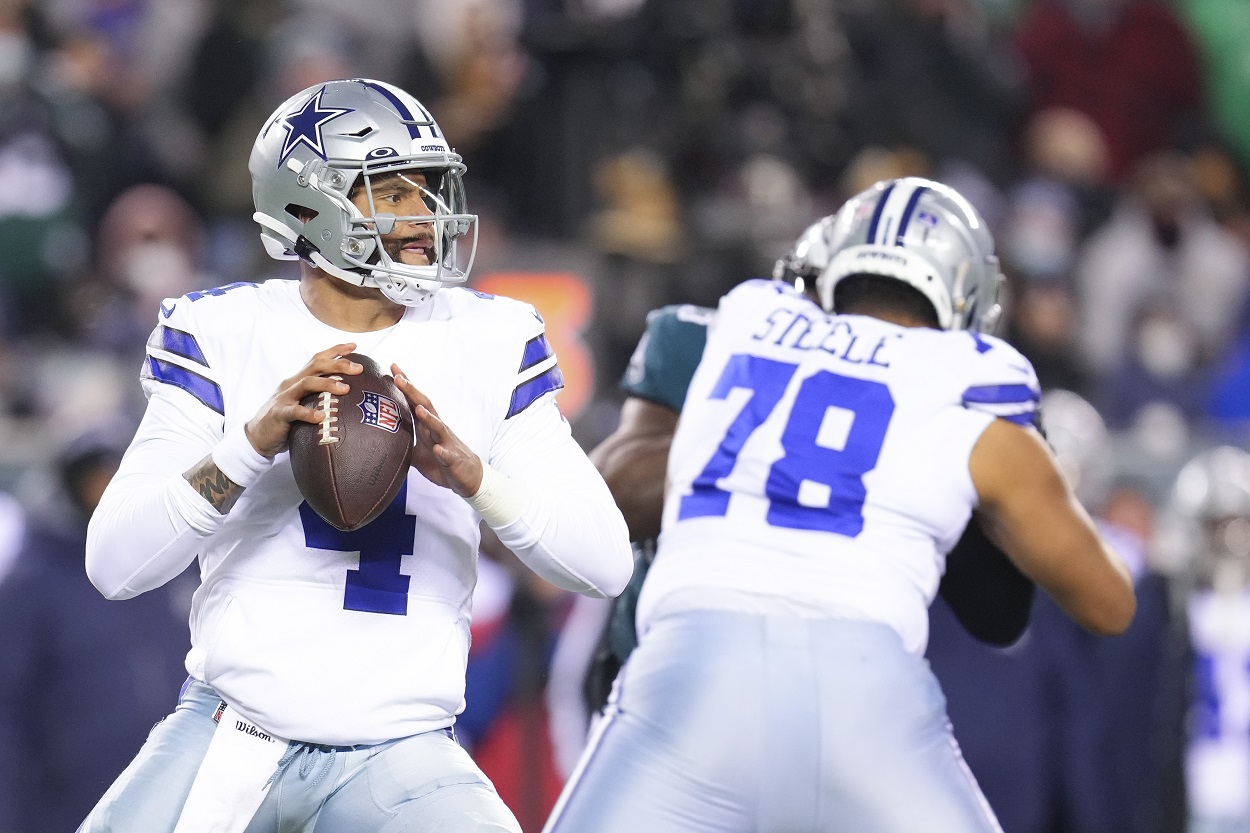 Outside of the Week 17 clunker against the Arizona Cardinals, Dallas has been playing its best football as of late, and that's how you want it to be as you enter the playoffs. The Cowboys finished the regular season with a 12-5 record, having won five of their last six games.
Perhaps even more critical for Dallas is the fact that Prescott, who looked to be struggling midway through the season, has seemed to regain his stride as an upper-echelon quarterback.
He hasn't thrown an interception in four-straight games. That's impressive enough, but he's also tossed 13 touchdowns in this stretch with an average passer rating of 72.13%, and an average adjusted QBR of 76.73%.
Prescott finished the season with 4,449 passing yards with 37 touchdowns and 10 interceptions. He completed an average of 68.8% of his passes and will finish amongst the top quarterbacks in the league in terms of yards thrown, touchdowns, and QBR.
"I think he's special. He's a special man," head coach Mike McCarthy said after the game. "What's exciting is we have a lot of growth in front of us. He's still a young QB that has a lot of excellent football in front of him."
Prescott and the Cowboys are focused on what really matters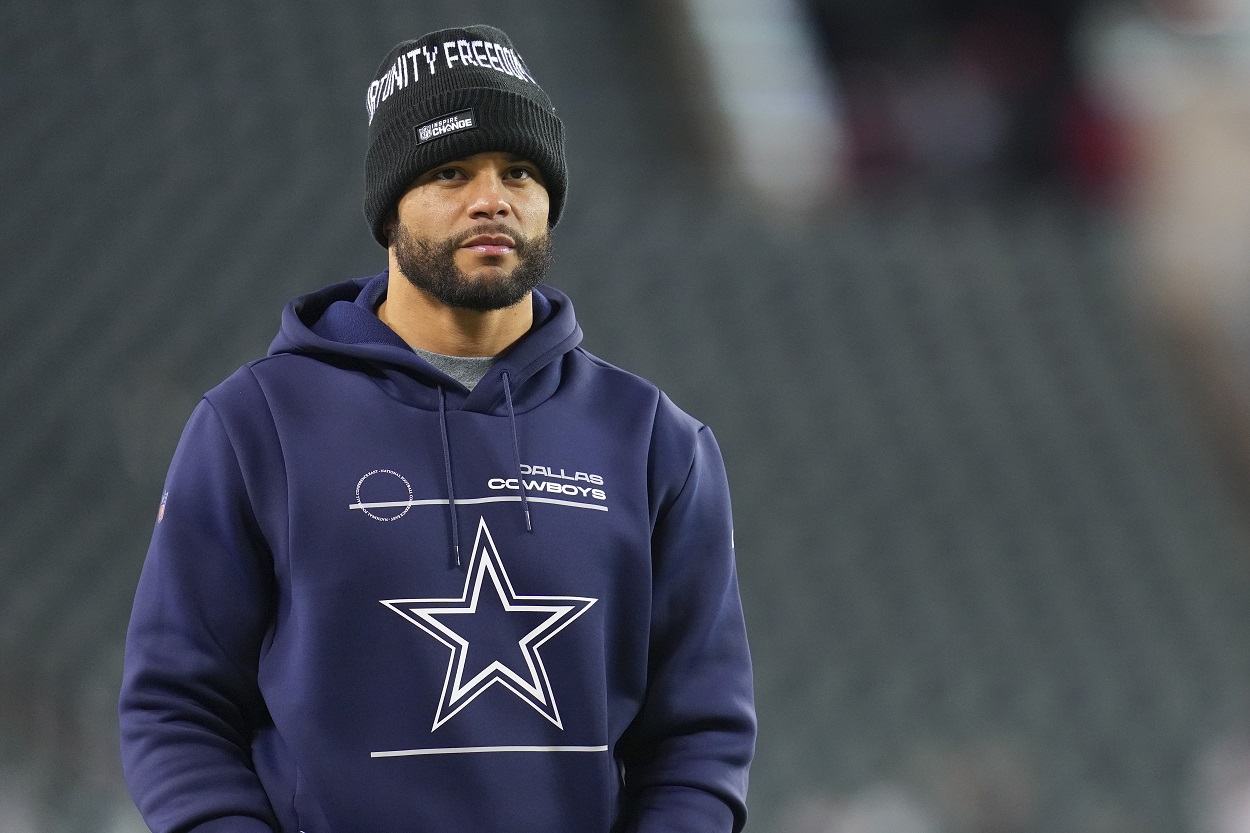 One of the universal truths about the NFL playoffs is that sometimes the best team doesn't make it all the way through to hoist the Lombardi Trophy. The phrase "any given Sunday" applies doubly in the playoffs, where a bad matchup or just simply an "off day" can sink a team, even against an inferior opponent.
That's what makes the last few weeks leading up to the playoffs so important. You want to be hitting your stride as a team in mid-January. What you did in September and October simply doesn't apply anymore.
Frankly, regular season stats, or even wins, don't mean much anymore, either.
The playoffs are a brand new season where anything can happen. Prescott seems to understand that on the heels of a great regular season for the Cowboys. Not only did Dallas win the NFC East for the first time since 2018, but the Cowboys will finish as one of the top teams in the NFC as a whole. Still, none of that is relevant anymore, at least not for a team with higher aspirations like Dallas.
"The stats and all that, the way we finished was great. It's what we wanted to do, build momentum, get in a rhythm – but none of that matters anymore," Prescott said. "You get into this tournament, and it's one game at a time. It's must-win. So that's the focus.
"You've got to turn the page," Prescott continued. "You can't hang your hat on the regular season or 12 wins or winning the division, because none of it matters."
Stats courtesy of ESPN and Pro Football Reference.