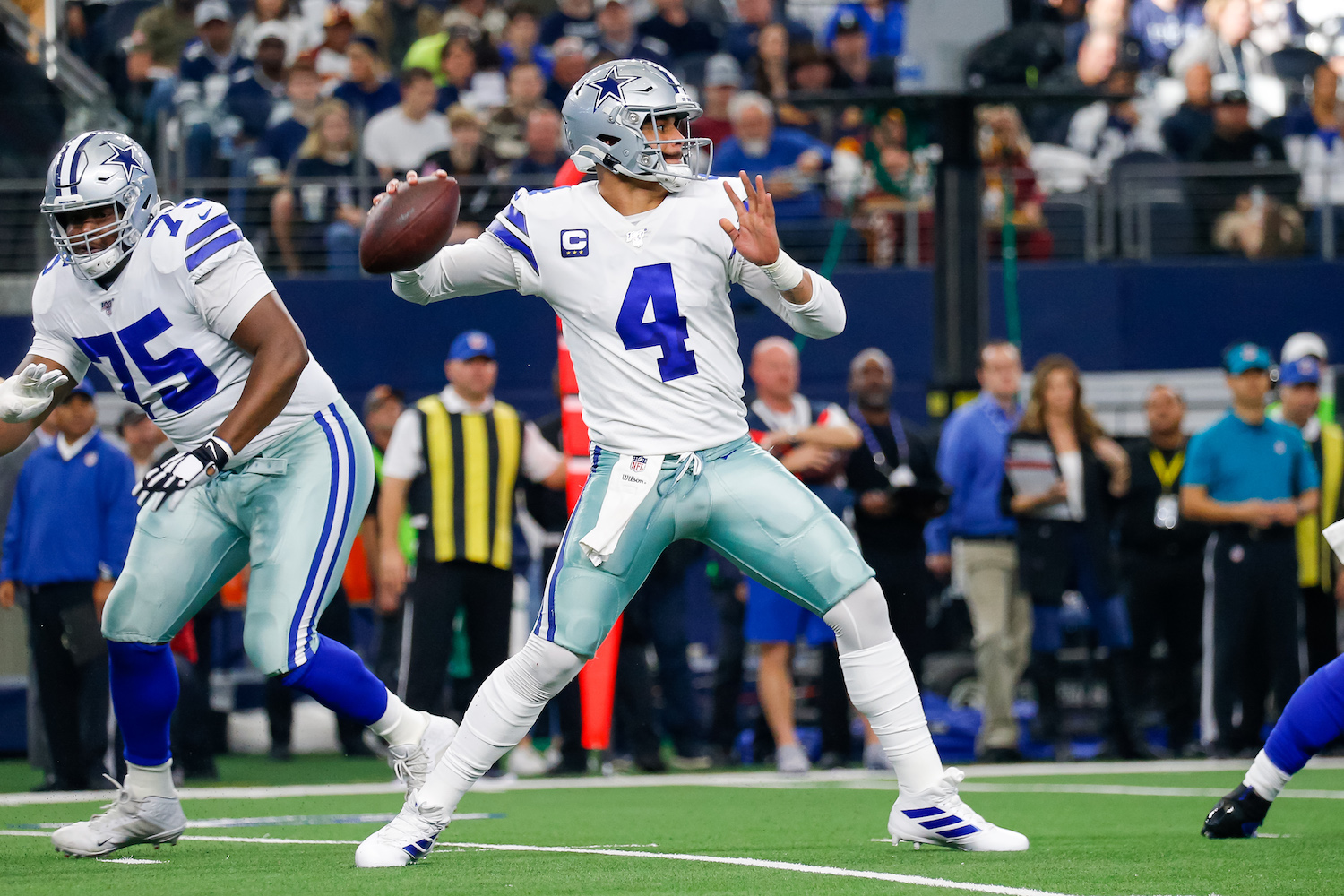 Dak Prescott Wants Out of Dallas According to Former Cowboys Coach
There was a bad vibe coming from the Dallas Cowboys when the team failed to sign a long-term deal with Dak Prescott. Now, according to one former Cowboys coach, there's a reason why. Prescott wants out.
When the NFL July 15 deadline came and went and Dak Prescott was locked into the $31.4 million franchise tag he signed with the Dallas Cowboys in late June, many around the NFL were surprised the two-time Pro Bowl quarterback and Cowboys couldn't agree to terms on a long-term deal. The perplexing impasse caused speculation by the media and created concern for Cowboys fans.
Prescott, however, recently said "he looked forward to working along Coach McCarthy, the staff, and my teammates to be the best team we can be in pursuit to our goal of a Super Bowl." That was then and this is now. According to one former Cowboys coach, Prescott is not happy in Big D, he hasn't been in months, and wants out.
Dak Prescott and Cowboys can't agree on long-term deal
For weeks there had been speculation about whether or not the Cowboys and Jerry Jones would sign Dak Prescott to a long-term deal. When the Kansas City Chiefs signed Patrick Mahomes to a monster contract, that ratcheted up the pressure and put a bigger spotlight on the Cowboys. 
The deadline came and went. A long-term deal never happened. According to the NFL Network's Jane Slater, the Cowboys reportedly offered Prescott a five-year extension with an annual price tag in the $33-35 million range, with over $100 million guaranteed. Prescott wanted a four-year deal instead. 
"I'm told #Cowboys QB Dak Prescott was involved at the last minute in an effort to get a long term deal done but it was up against the 3pm CST deadline per source informed," Slater wrote. She later added Prescott told her he spoke with Stephen Jones and tried to get a deal done but is "grateful and blessed to be a Cowboy and working & moving forward to do whatever he can to help the team win a Super Bowl."
Fans including Prescott's brother not happy with Dallas Cowboys
With the deadline missed, Cowboys fans were not happy. One fan, in particular, took to Twitter to express his disappointment in the situation, and his remarks caught the attention of those following the latest developments. Prescott's brother, Tad, didn't try to disguise his frustration with Jerry Jones and the Cowboys. 
"There is a reason I was never a @dallascowboys fan growing up or before they drafted @dak after today, who knows how much longer I'll be cheering for them," he wrote. 
John Williams, a writer for Inside the Star, summed up the whole Prescott-Cowboys drama on Twitter. 
"Dak telling the Cowboys. I'm not willing to settle. I'll bet on myself… yet again," Williams wrote. "Cowboys telling Dak. We're not willing to budge. Cowboys aren't going to like what they have to pay next year."
Dak Prescott wants to leave the Cowboys
Just days before Dak Prescott is scheduled to report to training camp, there's news out of Dallas on why a long-term deal never happened. Prescott is unhappy and hasn't been for a while. According to former Dallas Cowboys scout and employee Bryan Broaddus, he has spoken with multiple former coaches, and Prescott "was disappointed that Garrett was relieved of his job."
On the radio station 105.3 The Fan in Dallas, Broaddus said one former Cowboys coach offered up a blunt and grim response when asked if Prescott wanted to be in Dallas long-term. 
"At this point, no, I don't think so. However, he won't say it or show it. The kid is a stud and is mentally strong," Broaddus quoted the coach.
If this is true, then that would make sense that, as some reports indicated, the amount of negotiations behind the scenes had been limited at best. Prescott doesn't want to sign anything long-term in Dallas because he doesn't envision spending much more time with the Cowboys. It's a potentially interesting plot twist to a saga that appears to be getting hotter than a summer training camp day in Texas.