Dak Prescott Won't Just Let Any Company Sponsor Him
Dak Prescott knows what he wants. The Cowboys quarterback, who recently experienced a compound right ankle fracture and dislocation, is still in a bit of a stalemate in contract negotiations after the Cowboys gave him the franchise tag. Although the injury may change his future in the NFL, Prescott is always candid about getting what he deserves. 
This doesn't end on the football field, either. Prescott recently sat down with Graham Bensinger to discuss his selectivity when it comes to endorsement deals. 
Dak Prescott's NFL career
RELATED: Who Are Dak Prescott's Parents?
Prescott is still just 27 years of age despite being in his fifth NFL season. The fourth-round pick by the Cowboys shocked the world by securing the starting spot over Tony Romo and making Dallas commit to him going forward. He finished his rookie season with 3,667 passes and 23 touchdowns against just four interceptions. Not only that, the Cowboys were 13-3 on the season. 
With the keys in his hand, Prescott continued his impressive streak. He had good accuracy, a high football IQ, and the tools needed to face anything thrown his way. While the Cowboys failed to reach the same level of success that they did during his rookie year, Prescott has been a consistent, dominant presence on the team for the better part of four years. 
His 2019 campaign, which was held back by an underwhelming defense and secondary unit, was Prescott's best year yet. Not only did he throw for 4,902 and 30 touchdowns, but he did so against only 11 interceptions while there were already rumblings of a contract dispute. That dispute bled into the offseason, and after failing to reach an impasse, the Cowboys laid the franchise tag on him.
However, with a new coach and this looming over his head, Prescott is already performing well in year five. Through two games, he already has 700 yards and two touchdowns against zero interceptions. Off the field, however, he's making other deals.
Dak Prescott on selecting his sponsors
Graham Bensinger likes to speak about the NFL journey through off-field matters too. He recently sat down with Prescott and talked about how he manages his brand through good times and bad. However, when talking about endorsement deals, Prescott explained that he won't just take on any deal. He explained his process to the web show host. 
When asked about his first business move with a sponsor, Bensinger asked the quarterback what his first big move was. Prescott said that Pepsi approached him as a sponsor as soon as he won the Pepsi Rookie of the Year award. All of his ensuing deals, however, had to feel right for the fifth-year quarterback.
Instead of blindly taking any deal that's thrown his way. Prescott explained the importance of building up trust before he enters any agreement. 
"It's all about relationships," said the quarterback. "It's all about getting to know the people. I don't want to sponsor or be represented, or partner with a brand that doesn't represent who I am, and I don't represent who they are."
The mindset has paid off. Prescott has several lucrative deals from these relationships he's forged.
Prescott's endorsement deals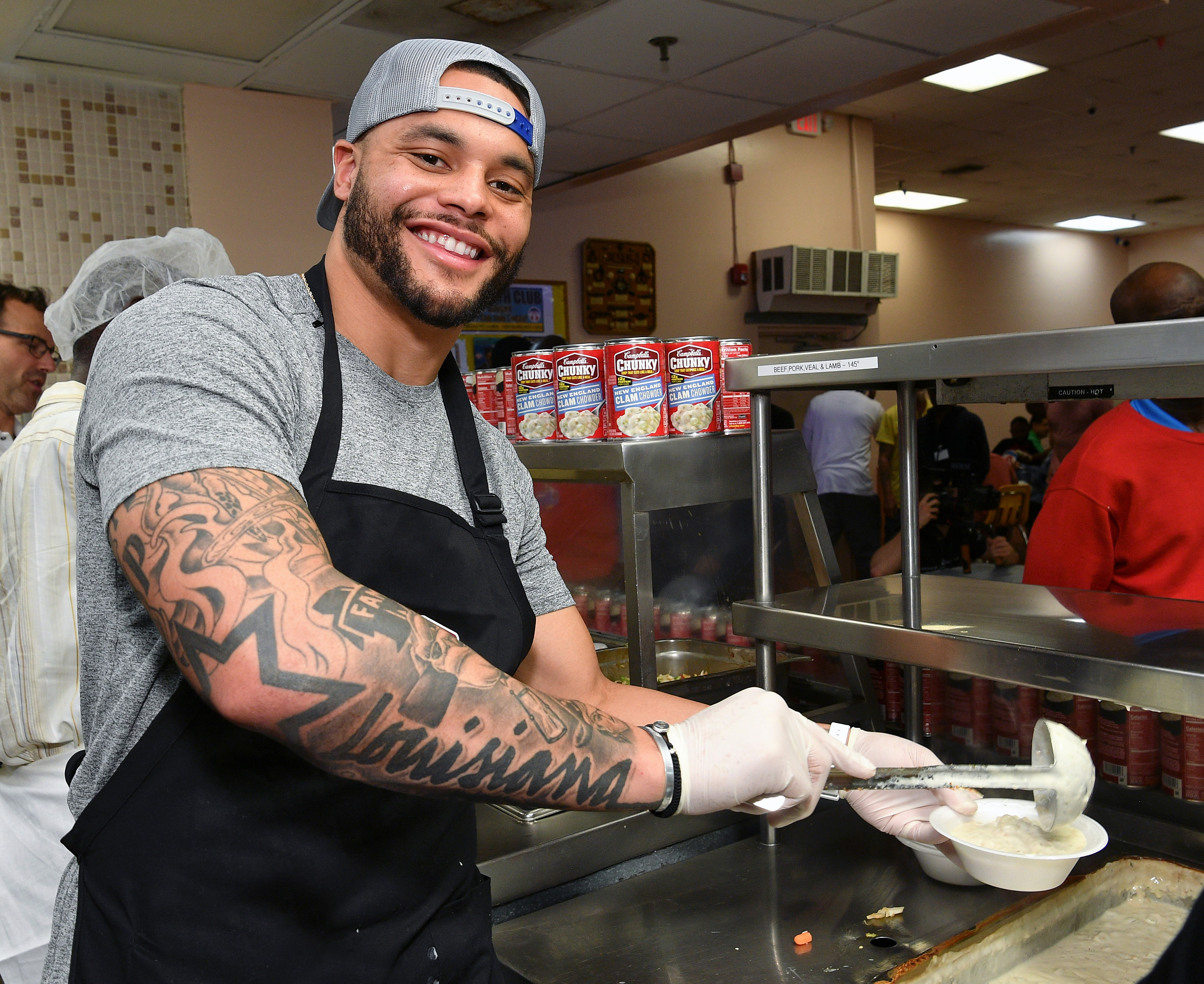 RELATED: Alex Smith's Miracle Return Just Proved Dak Prescott Can Overcome His Devastating Injury
As a fourth-round pick still working out his second deal, reports Dallas Sports Fanatic, Prescott makes more money off his endorsement deals than on his NFL ones. His first major deal after Pepsi was with Dannon, who inked him for a deal that paid him five-times his 2017 NFL salary. Since then, Prescott has gone across the board with endorsement deals. 
From AT&T to Adidas, Beats by Dre to Campbell's Chunky Soup and Direct TV, Prescott has inked 11 endorsement deals in his young career, and all of them pay him handsomely for his support.
Prescott's still trying to prove his place as one of the best quarterbacks in the NFL. His eventual recovery from his gruesome ankle injury will determine how his time in Dallas plays out.