Dak Prescott's Shoulder Surgery Will Lead to a Banner Season in 2022
Dallas Cowboys quarterback Dak Prescott had surgery on his left shoulder this offseason. Suprise. 
Fans and media members alike were shocked when head coach Mike McCarthy announced the Prescott news at the 2022 NFL Combine. 
How big a deal is the surgery? Will Prescott be good to go for the start of the season?
For now, it sounds like everything is A-OK, and that's reason enough to believe that Prescott will have an incredible year in 2022.
Dak Prescott had surgery on his non-throwing shoulder
The fact that the surgery was on the non-throwing shoulder is really the key takeaway here. You don't want to mess with a quarterback's shoulder or his legs. Unfortunately, Prescott has plenty of experience in the leg department, having missed a majority of 2020 with a broken ankle.
The shoulder surgery, per McCarthy, was a simple "clean-up". In fact, it was so inconsequential that Prescott has already been rehabbing and working out with teammates back in Dallas.
"He's back at it. He's been in the building," McCarthy said, per NFL.com. "Actually, he was one of, I think we had, one of eight players that had postseason surgery. He had a clean-up of his left shoulder, so it's something that needed to be done. So he's rehabbing that. He's starting his process of getting back into it."
As far as injury updates go, they don't get much more positive than that. Of course, if you're Jerry Jones, you'd rather your franchise quarterback never have to go under the knife, especially considering Prescott's injury history.
Better now than Week 5, though, right?
Prescott has been battling with injuries for the last two seasons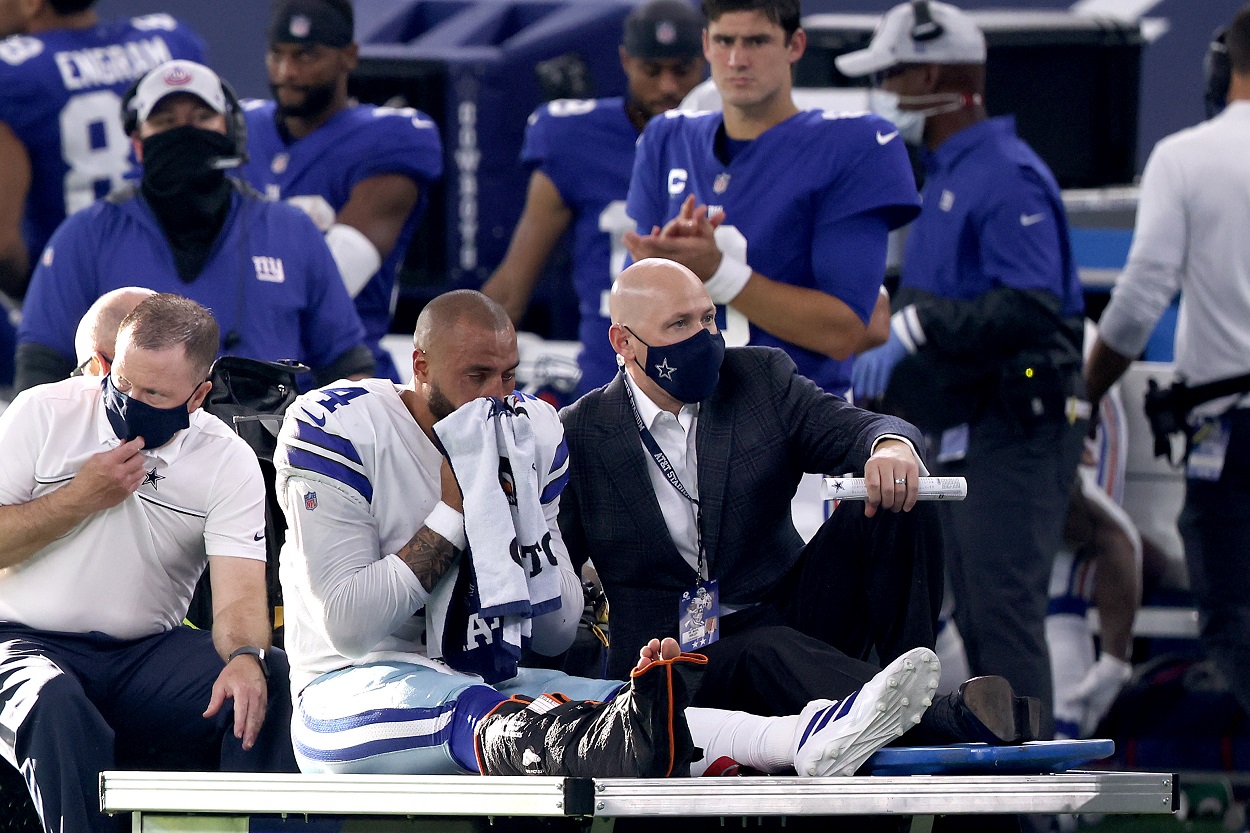 Full-strength is not something that Prescott has seen for some time now. He hasn't made excuses, and it's worth noting that McCarthy didn't either.
McCarthy said he didn't think the shoulder injury impacted Prescott's play in 2021. It did sound like it was nagging enough during the season that Prescott felt it needed to be addressed in the offseason, though.
"It's just something he felt like he needed to get cleaned up," McCarthy said.
Add the shoulder to the list of ailments that have plagued Prescott over the past few seasons. The ankle fracture was the big one. He suffered it in October of 2020, and it cost him the rest of that campaign. He missed all but five games that season as the Cowboys sputtered to a 6-10 record with Andy Dalton at the helm.
Questions surrounding his comeback were one of the main storylines of the 2021 preseason, but the ankle injury was quickly left in the dust by a right shoulder sprain he suffered in training camp that kept him out for the rest of the preseason. Despite that shoulder injury, Prescott started 2021 looking great, and he continued to be one of the better quarterbacks in the league before suffering a right calf strain in Dallas' Week 6 win over the New England Patriots. He sat out the following week's game and then proceeded to have a pedestrian stint of games upon his return that saw the Cowboys go 1-3 during the month of November.
To Prescott's credit, when the season ended, he said it wasn't the calf that hurt his play. It was just…his play.
"I wouldn't say it lingered as long as people gave me the excuse of it," he said on The Rich Eisen Show, as transcribed by the team website. "I went through a period in the time right there in the season and just didn't play my best ball, and people tried to say it was it the calf. The calf got better. I did everything that I needed to do for it to heal."
For those keeping track at home, that's a broken ankle, two shoulder injuries, and a calf strain in two seasons. Another way to look at it is this: That's two surgeries in just as many years.
Why this surgery will actually be a good thing for Prescott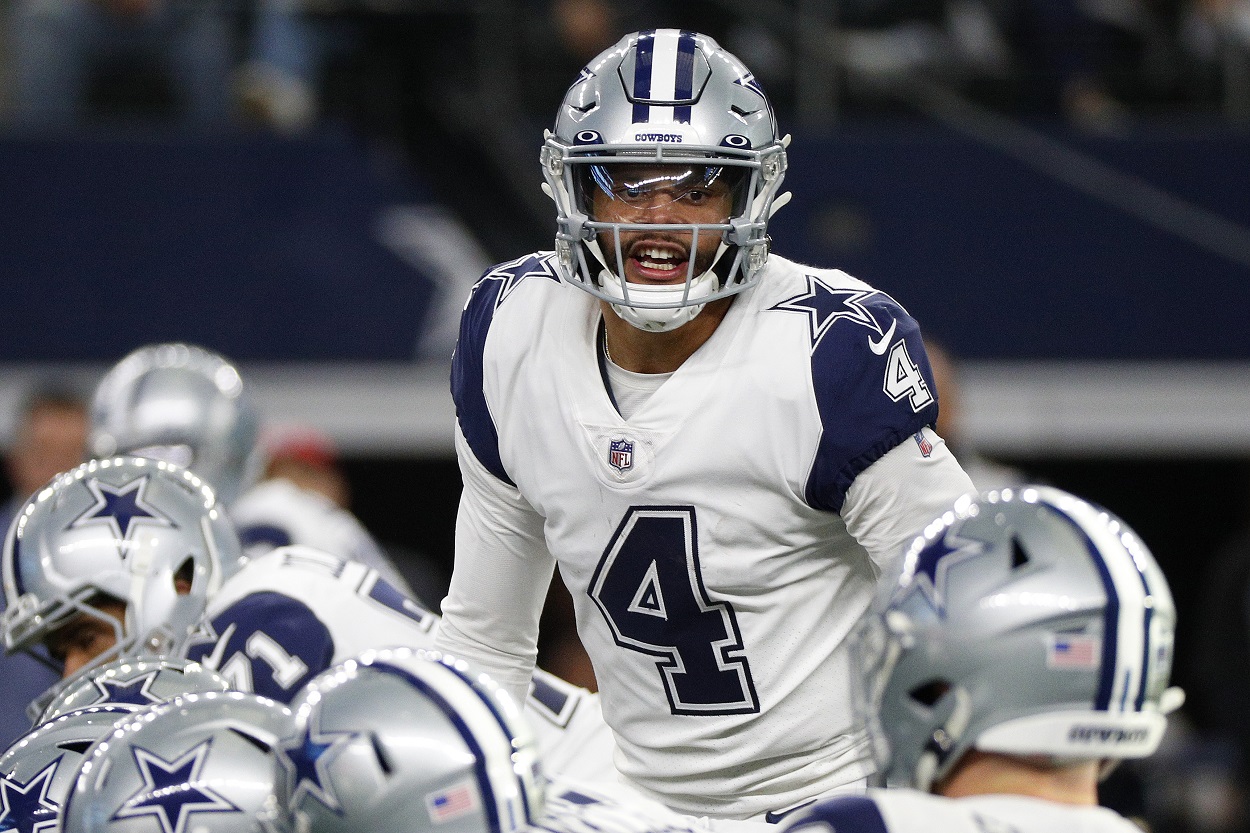 If there's any silver lining to Prescott going under the knife, it's that it happened in February and not August. Prescott now has seven months to fully heal up, and it sounds like he's already rehabbing, which is a great thing.
He has seven months to not just heal up but get into the best football shape of his life. He's now an entire season removed from the broken ankle, and it stands to reason that both shoulder injuries and the calf injury from last season should all be a distant memory by the time training camp rolls around.
Barring any other injuries this offseason, which would be the worst-case scenario for Dallas, there's a terrific chance Prescott enters the 2022 regular season as healthy as he's been in years.
The roster is going to look different this season and he may not have the whole complement of offensive weapons that he had in 2021. We know he'll have both Ezekiel Elliott and CeeDee Lamb, at least, as well as a defense that should continue being one of the best in the league under defensive coordinator Dan Quinn. 
A fully healthy Prescott should scare the rest of the NFL. He was banged up much of last season but still broke Tony Romo's regular-season touchdown record, as he threw for 4,449 yards and 37 touchdowns with just 10 interceptions in 2021.
That was Prescott's best statistical year yet, and he did it with two hurt shoulders, a strained calf, and coming off a catastrophic leg injury.
If he stays healthy, expect 2022 to be a banner season for the $40 million man. 
Stats courtesy of ESPN and Pro Football Reference. Contract information via Spotrac
RELATED: Cowboys: Dak Prescott, Ezekiel Elliott, and Mike McCarthy All Face Huge Offseasons