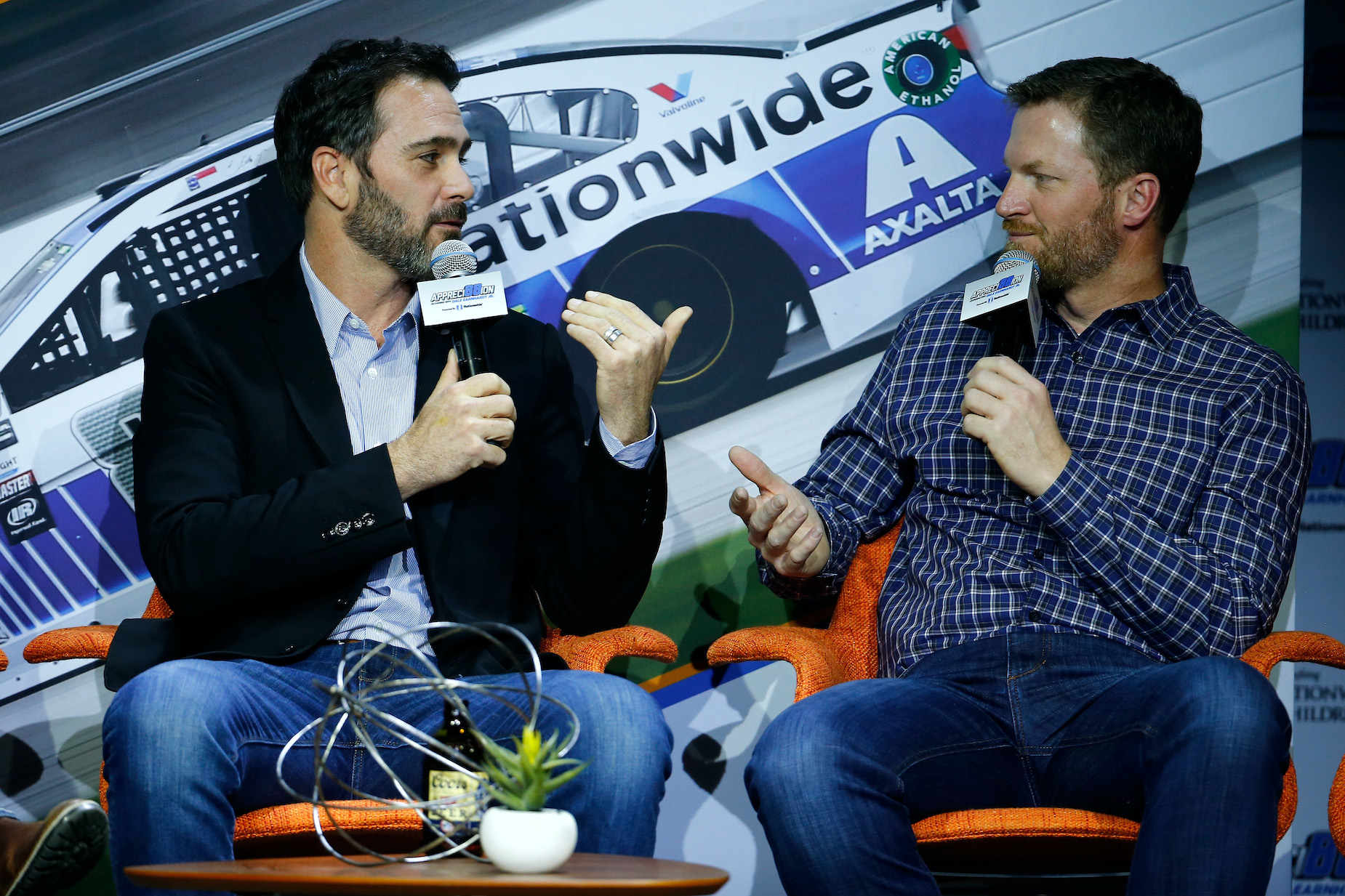 Dale Earnhardt Jr. Once Admitted That He Was Jealous of Jimmie Johnson Because of Something Completely Unrelated to NASCAR
While Dale Earnhardt Jr. had a legendary NASCAR career, he was still envious of Jimmie Johnson during the 2017 offseason.
In the world of modern motorsports, few names are bigger than Dale Earnhardt Jr. While he's no longer driving full-time, Junior put together quite the NASCAR career; although he never claimed a Cup Series championship, he won more than his fair share of races and built up a substantial net worth along the way. That resume, however, didn't prevent him from being jealous of Jimmie Johnson.
While it's understandable for another driver to be jealous of Jimmie Johnson's on-track success, Dale Earnhardt Jr. focused on something else. In fact, he was envious of something that had nothing to do with racing.
Jimmie Johnson has one of NASCAR's best resumes
Whether it's fair or not, many professional athletes are judged by the number of championships they have—or have not—won. Based on that standard, Jimmie Johnson is one of the top talents ever to set foot on a NASCAR track.
Johnson grew up racing motorcycles and showed a knack for winning from an early age. He later moved on to off-road racing and, despite some potentially fatal bumps in the road, continued to find success. Eventually, though, the time came to seek out a new challenge.
While Johnson briefly considered transitioning into IndyCar racing, he settled on stock car racing instead. After getting his start in the American Speed Association, he quickly stepped up to the Busch Series; then, in 2002, he stepped up to the Cup Series with Hendrick Motorsports. From there, the rest is NASCAR history.
Thanks, at least in part, to the 'milk and cookies meeting,' Johnson became one of the most successful drivers that NASCAR has ever known. He won 83 races during his time on the Cup Series circuit, taking home a record-tying seven championships, setting the standard for modern success.
Dale Earnhardt Jr. admitted that he was jealous of Jimmie Johnson's beard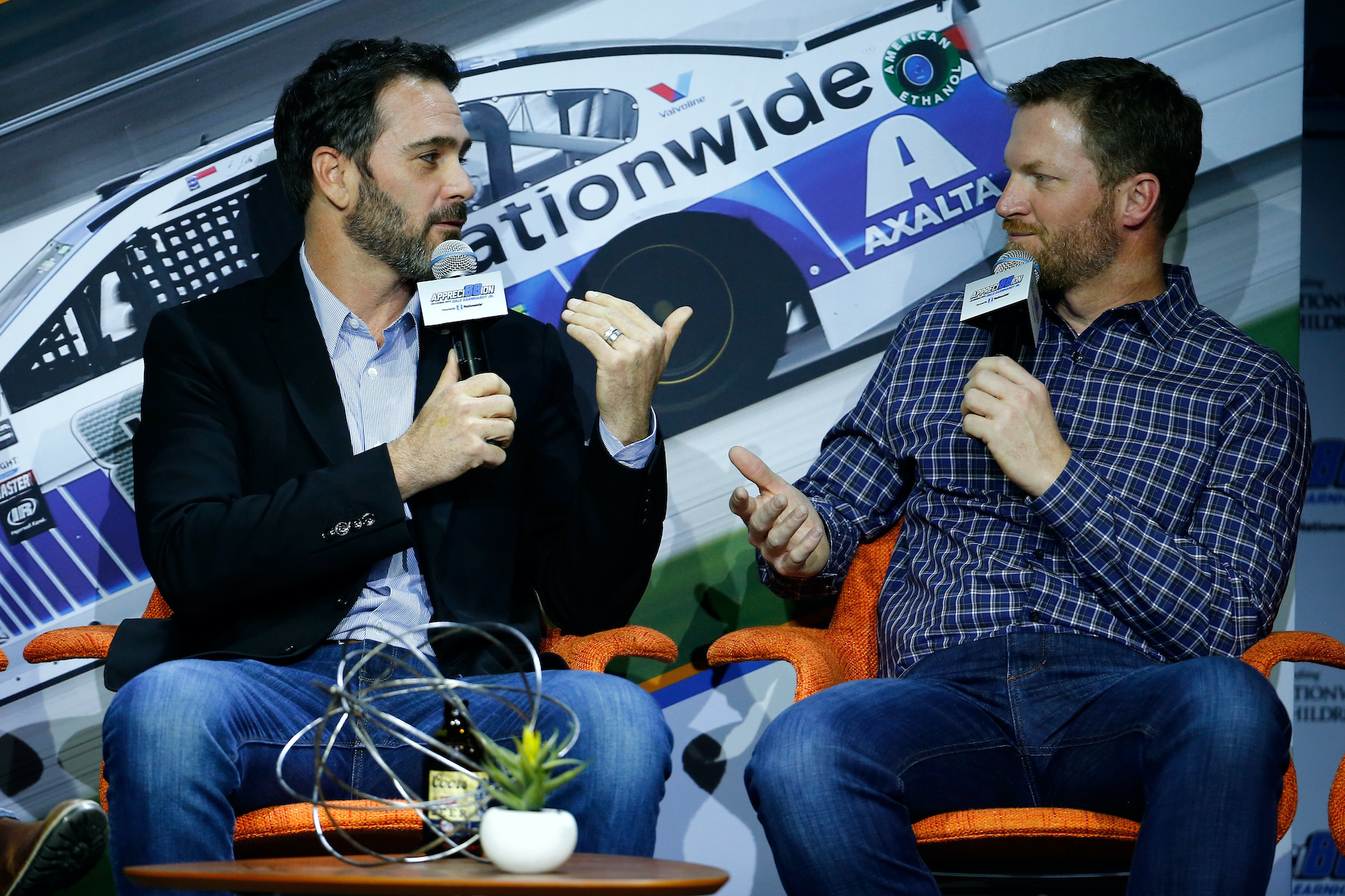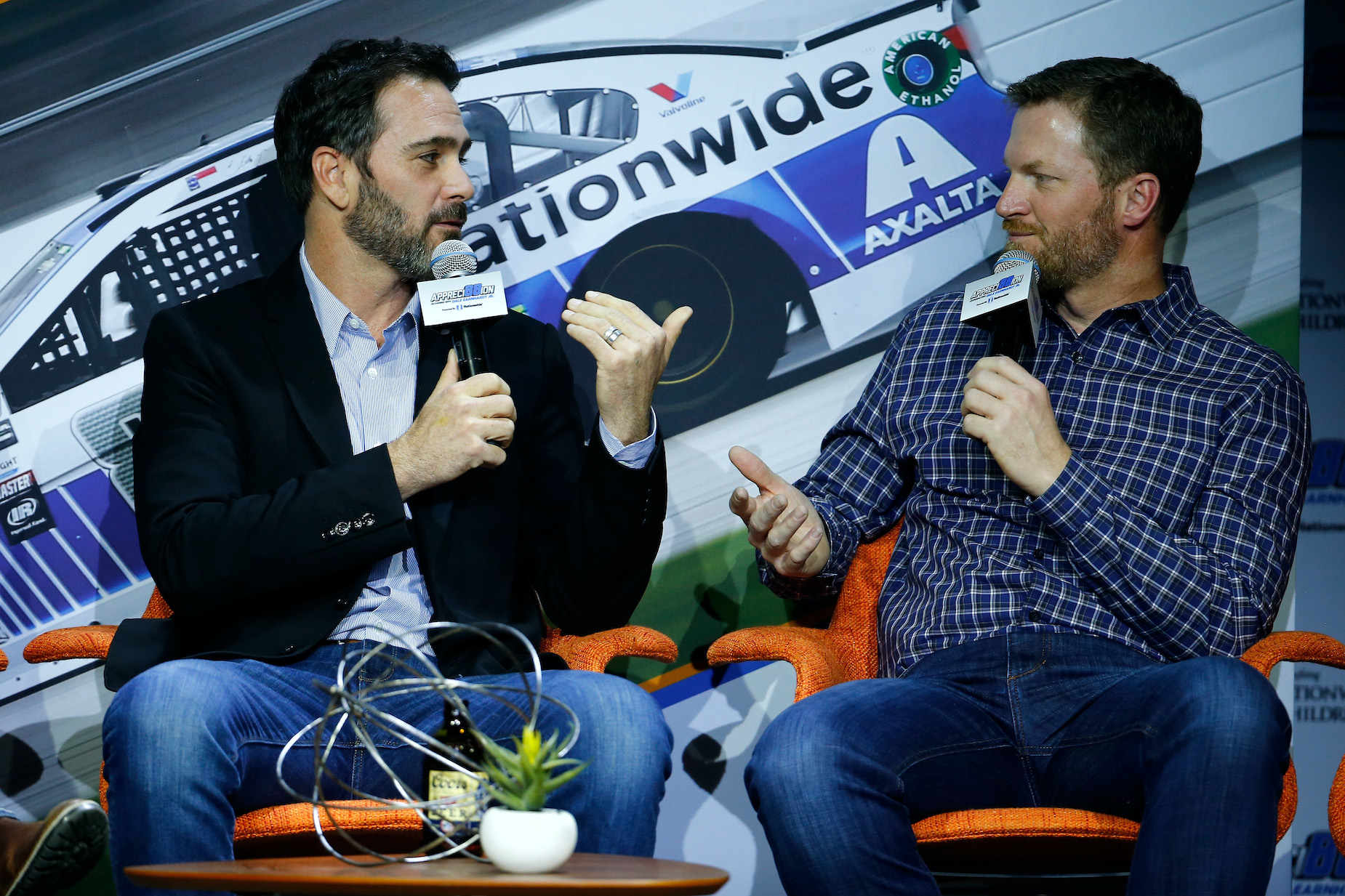 Given Jimmie Johnson's track record, it's understandable for other NASCAR drivers to be somewhat jealous of his success. Dale Earnhardt Jr., however, was envious of something completely unrelated to racing.
Ahead of the 2017 Cup Series campaign, Johnson spent the offseason in Aspen, Colorado. Whether he was inspired by the climate, the old west, or simply the fact that he wasn't racing every other weekend, the driver grew out his beard. Junior, it seems, took notice.
"If I'd known he was going to come so strong, I would have worked on mine a little more," Earnhardt said, according to Hendrick Motorsports. "I certainly do envy what Jimmie's got going on."
Earnhardt was apparently so taken by Johnson's beard that he even advised him against shaving it.
"He sent me a picture of him skiing, and he said he was getting ready to knock this beard off, and I said, 'You better have that in Daytona because you get more drafting help," Junior said. "I would keep it if I were him. He's hung onto it; I don't know if he's taken my advice or what. I'm certainly pro-beard."
Dale Earnhardt Jr. doesn't have that much to be jealous about
Looking at Jimmie Johnson's beard, it's easy to understand why Dale Earnhardt Jr. was envious. In the grand scheme of things, though, he doesn't have too much of a reason to be jealous.
Although Johnson has him beat in terms of wins and championships, Junior still has an impressive racing resume. He's won 50 races across both levels of NASCAR competition and, perhaps even more impressively, monopolized the Most Popular Driver title. That, in turn, helped him rake in plenty of money, building up an estimated $300 million net worth.
It's also worth noting that Dale Earnhardt Jr. can grow a pretty solid beard himself. As the cliche says, though, beauty—or, in this case, jealousy—is in the eye of the beholder.