Dale Earnhardt Gave Michael Waltrip a Stern Lesson in His First NASCAR Cup Series Race Without Saying a Word
As founder and owner of Dale Earnhardt Incorporated, Dale Earnhardt Sr. gave Michael Waltrip the ride that led him to his first career victory at the ill-fated 2001 Daytona 500. Long before any of that, though, in 1985, Waltrip was a brash young newcomer who hadn't had his senses knocked into him. In his first-ever Cup Series race, Earnhardt showed Waltrip exactly why people called him "The Intimidator."
The King gives Michael Waltrip a chance
RELATED: Bill Lester Is Making an Unprecedented and Exciting Return to NASCAR After 14 Years
By 1985, Michael Waltrip looked to be on the same highly-successful path as his much-older brother, Darrell. Despite having little to work with, he achieved much success on local racing circuits, particularly at the Kentucky Speedway. In 1983, Michael won the Darlington Dash Series championship.
He was ready to make the jump to the NASCAR Busch Series when, at some point, he bumped into Kyle Petty — the son of "The King", Richard Petty. Words were exchanged, and eventually, Michael secured a job at Petty Enterprises. Later, Richard's wife, Linda, convinced Michael to move into their house temporarily to avoid having to drive 45 minutes from his house in Kentucky to their team garage.
When Michael told Richard of his intention to move into the Cup Series by way of the Busch Series, Richard discouraged him from taking that path.
In the recently-released documentary Blink of an Eye, Michael recalls that Richard told him, "'If you wanna be a Cup driver, you gotta get in a Cup car. You're wasting your time…running in the Busch Series. You wanna be a Cup driver, you just start right now.' And that's the first time I'd ever heard that. I thought I had to run the Busch Series."
Dale Earnhardt teaches Michael Waltrip a lesson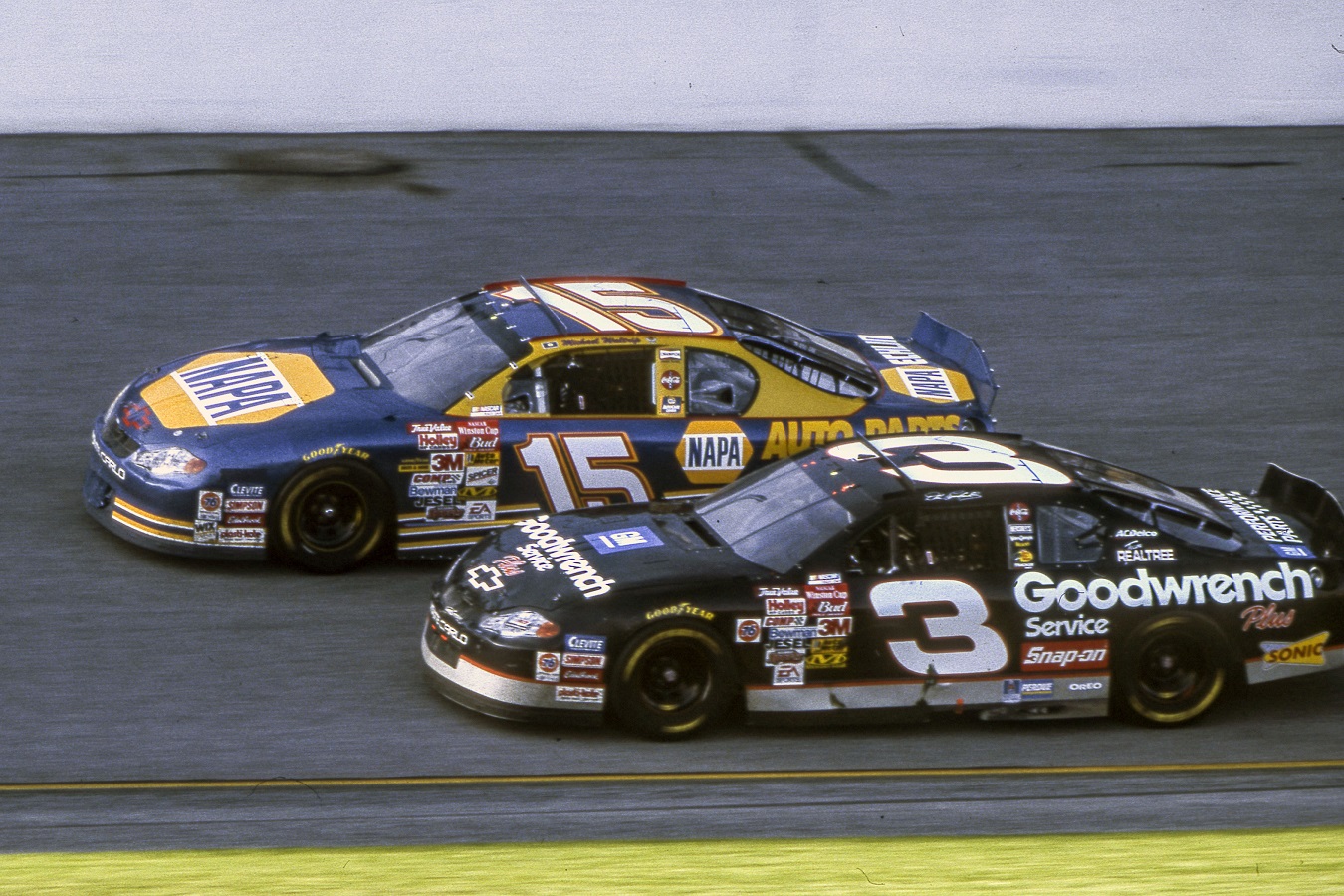 RELATED: Jennifer Jo Cobb Showed Immense Courage When She Quit a NASCAR Only 10 Minutes Before It Began
In the summer of 1985, Waltrip pulled some strings with Cup Series car owner Dick Bahre to get himself a part-time ride. His first-ever test in Cup racing was the toughest test of all — the World 600 at Charlotte. He qualified the no. 23 car in 24th place. Meanwhile, his older brother Darrell started in fourth.
Toward the middle of NASCAR's longest race, the younger Waltrip's underpowered Chevrolet faded toward the back of the field. That's when he came across the yellow-and-blue Chevrolet of Dale Earnhardt, who was still sponsored by Wrangler Jeans at the time.
That's when the 22-year-old nearly made a catastrophic mistake. Waltrip turned his car toward the right as Earnhardt tried to lap him, nearly causing a collision that took them both out of the race. This, of course, provoked the wrath of The Intimidator, leading to a scary moment for Waltrip when the two drivers came side-by-side.
We're running 160 miles an hour, remember, but he's pointing straight at me with his open-face helmet and his bubble goggles, and it scared the (expletive) outta me. Man, I almost wrecked Dale Earnhardt. That would be bad on many levels. And his warning to me was, "Focus." It wasn't like, "You dumb(expletive)." It was more like a lesson to me.

Michael Waltrip, Blink of an Eye
Coincidentally, Michael's older brother, Darrell, won the race. Earnhardt finished 4th, while Michael finished 28th.
Waltrip and Earnhardt form a strange friendship
Things did not get much easier in the coming years for Michael Waltrip. He failed to record a top-five finish until 1988, his third year of full-time Cup Series racing. But Waltrip's relationship with the Intimidator took a strange twist after a Busch Series race in 1990.
At Bristol Motor Speedway in April, Michael came dangerously close to losing his life. After making contact with Michael Pressley, Waltrip's career crashed into a specific spot between the outside wall and the track exit gate. The car disintegrated around him at impact, but incredibly, Michael only received minor injuries.
At the infield care center, Waltrip received an unexpected visitor — Dale Earnhardt, the same driver who scared the "stuff" out of him five years earlier.
"He came in there and looked at me and just shook his head and he said, 'You're one tough son of a (expletive), I'll tell ya that,' and turned around and walked out," Waltrip recalled, with tears in his eyes. He and Earnhardt would remain close friends until the latter's untimely death in 2001.
For those curious, you can re-watch Blink of an Eye for yourself on Tubi.TV.
Statistics courtesy of Racing-Reference.