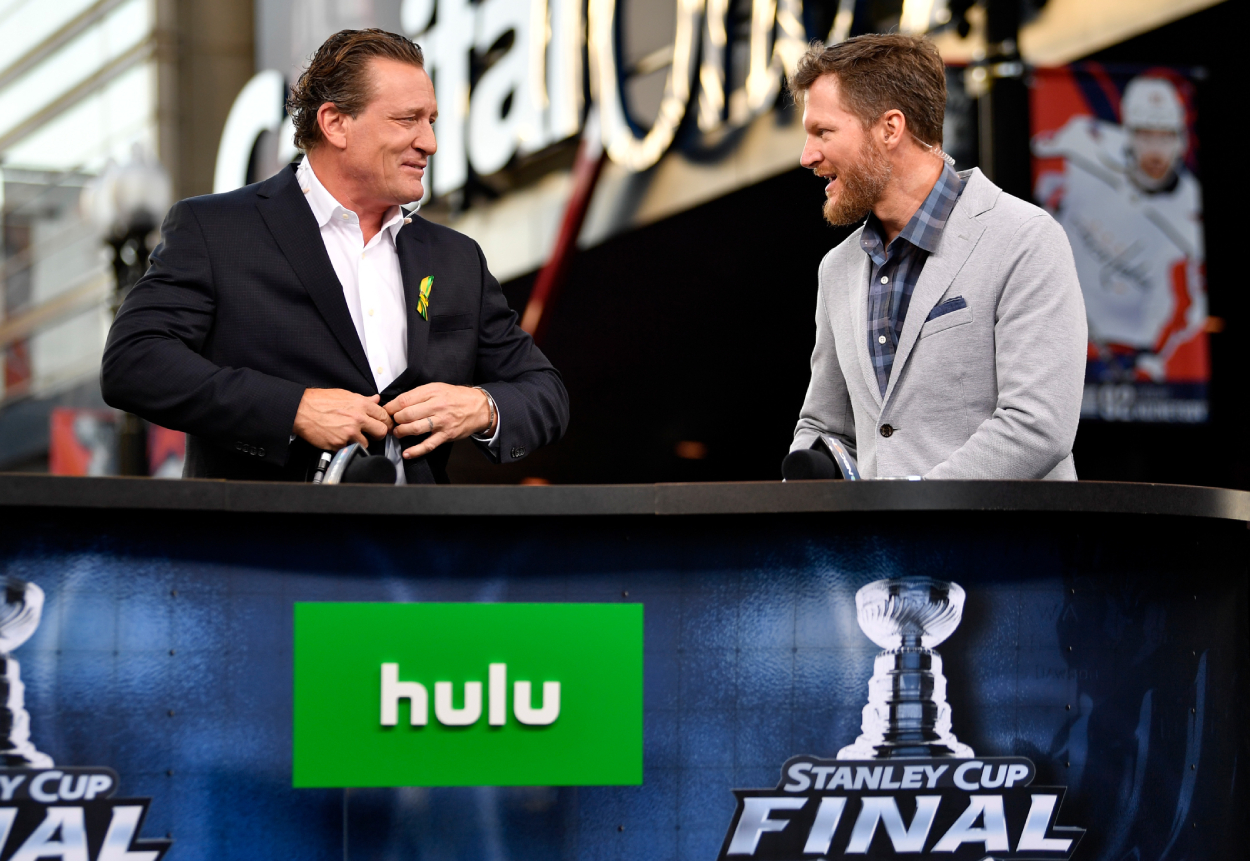 Dale Earnhardt Jr., the Broadcaster, Revealed His Favorite Announcers: 'I Like Joe Buck'
Dale Earnhardt Jr. has done a pretty good job up in the broadcast booth.
It's no secret Dale Earnhardt. Jr. had one heck of a NASCAR career. He's a 2021 inductee of the NASCAR Hall of Fame and has a pair of Daytona 500 victories in his back pocket. Earnhardt Jr. is also excelling in his post-racing career as a broadcaster, and he once revealed his favorite sports announcers.
Dale Earnhardt Jr. goes from the track to the booth
Dale Earnhardt Jr. continued the family tradition in racing, taking over for his late father, Dale Earnhardt Sr., who was killed during the final lap of the 2001 Daytona 500. Earnhardt Jr. was a star in his own right. He will join his father in the NASCAR Hall of Fame as a member of the 2021 class. The ceremony was scheduled to take part in February but was pushed back due to the COVID-19 pandemic.
After Junior's retirement from full-time racing in 2017, he joined NASCAR on NBC as a color commentator for the 2018 season. He had previously worked as a guest analyst in 2016 doing NASCAR Cup and Xfinity race broadcasts on Fox and NBC.
Earnhardt Jr. has shined in the booth. He's hoping his broadcasting career can be as long as his racing career. "I just hope I can be good enough to be able to stick around and do it as long as I want," Earnhardt Jr. said in August, according to The Orlando Sentinel.
Junior revealed who he looked up to as sports broadcasters
Dale Earnhardt Jr. said his latest career in the broadcast booth is something he takes very seriously. He said it's tough for him to realize talking about NASCAR is a job. "Just as important, maybe not to everyone but to me it'd be as important, as my driving career,'' he said, according to USA Today. "One day I want it to be something I'm as proud of as my driving career. You sit up there and you talk like you're hanging out with your buddies about what you're watching on the track. I can't believe that that's a job.''
Earnhardt Jr. said he had his favorite announcers when he was growing up. "John Madden I always thought was awesome,'' he said. "He just talked like he was talking to me and you. You felt like if you were going to sit down and watch a game with him, he would talk the same way, that he wouldn't be any different than he was in the booth.
"I like Joe Buck. I know there's a big divide on people that like Joe Buck and people that don't like Joe Buck. But I love his cadence and tone and professionalism and he's smart. Even though I'm a (Washington Football Team) fan, Troy Aikman does a good job. Obviously, everybody's in love with Tony Romo, and he's doing an amazing job too. He's really awesome. I think he'll be around for a really long time.''
Earnhardt Jr. getting some praise of his own for his work in the booth
Jeff Burton has been Dale Earnhardt's broadcasting partner and he has nothing but praise for the Hall-of-Fame driver for his work in the booth. Burton believes Junior will be one of the greats. "Dale Jr. will be known as being as good of a broadcaster, if not better, than he was as a driver or any of the other great things he has done for the sport," Burton said, according to The Orlando Sentinel.
"He's brought energy, enthusiasm, excitement, and passion to our broadcasts, and his ability to communicate that is damn good. He has raised the bar for every one of us. He's made us all work harder and he's made us all do better."
Earnhardt Jr. emerged from his father's shadow to become a NASCAR Hall of Famer. He's off to a great start to becoming one of the best in the broadcasting business as well.