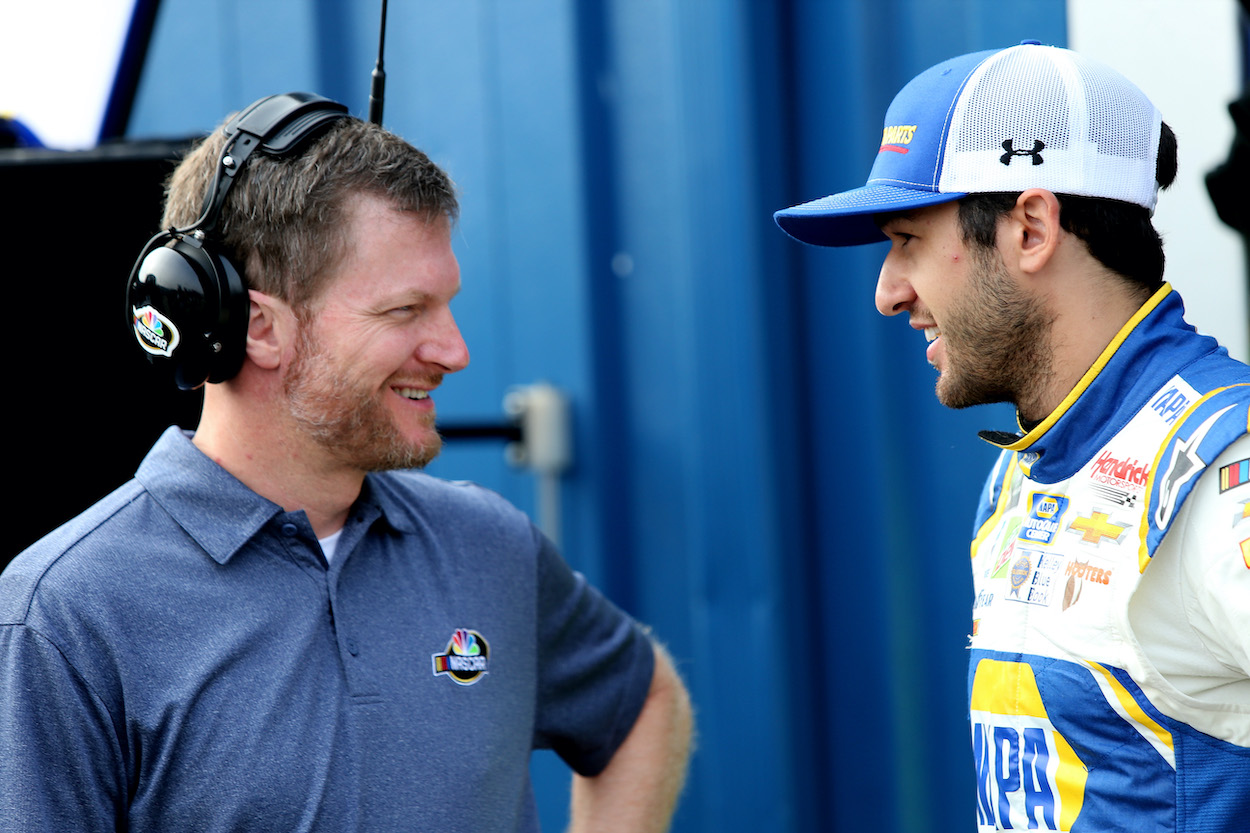 Dale Earnhardt Jr. Calls Himself out for Embarrassing Reaction and Cussing on Live TV During Super Bowl Pregame Show
Dale Earnhardt Jr. was scared while visiting Universal Studios during the Super Bowl Pregame Show and called himself out for his cussing reaction.
Dale Earnhardt Jr. played a big part in NBC's Super Bowl Pregame Show. The NBC NASCAR analyst and Rutledge Wood drove around LA, checking out some of the hot spots in and around town. During one stop at Venice Beach, the new Hall of Famer impressively showed off his strength on the bench press.
However, not everything went according to plan on their trip. During a later stop at Universal Studios, Earnhardt had an embarrassing moment that he later admitted caused him to cuss on live television.
Dale Earnhardt Jr. stops for some weightlifting at Venice Beach
Dale Earnhardt Jr. and Rutledge Wood started off their tour around town at a local skate park before making their way to the world-famous Venice Beach.  
During their stop at the outdoor gym, the two-time Daytona 500 winner surprised Wood and those watching at home when he laid down on the bench and attempted to lift 315 pounds. 
With two weightlifters on either side spotting him, Earnhardt lowered the bar down on his chest and then, with a grunt, elevated the bar and 315 pounds off his chest until his arms were fully extended and the spotters guided the bar back on the rack.
Wood was impressed at the former driver, whose neck and face had turned bright red. 
"How 'bout that?" Earnhardt confidently replied. 
Earnhardt scared at Universal Studios
During another stop later at Universal Studios at Jurassic World, Earnhardt and Wood visited with Jurassic Park star Jeff Goldblum and talked about the upcoming Jurassic World Dominion movie, scheduled for release this summer.  
Facing the camera but standing with their backs to a pair of doors located directly behind them, Earnhardt asked Goldblum what it's like working with the dinosaurs, unaware that one of the doors behind had opened and a velociraptor was quietly but quickly approaching.
"Aaah!" Earnhardt screamed as he noticed the dinosaur closing in behind him.  
"Holy cow!" Wood replied, as he scrambled to get away. 
The raptor flashed its teeth with a quick snap at the pair while Goldblum tried to "calm" the creature. Earnhardt then revealed that their fear was genuine.
"That didn't happen during rehearsal during the week," the former driver said. 
"That did not happen," Wood said, nervously laughing.  
Dale Earnhardt Jr. calls himself out for cussing
Moments after the segment ended, the broadcast showed a slow-motion replay of the dinosaur's appearance and the pair's reaction, with Jac Collinsworth calling out Earnhardt for his response. 
"Junior is all good at 200 miles per hour," Collinsworth said. "Just don't come up in that blind spot though." 
Not long after, Earnhardt called himself out on Twitter for his reaction and something he did that the cameras didn't pick up. 
"I think I just cussed on live tv (again)," he tweeted. 
However, if Earnhardt did cuss as he claimed, it was not audible. 
Cussed on TV after win and paid hefty price
When Earnhardt referred to cussing on live television "again," it took NASCAR fans back to 2004 and his win at Talladega. During the postrace interview, the reporter asked him what it means to win at the superspeedway for the fifth time.
"It don't mean s*** right now," he said. "Daddy's won here 10 times."
That single four-letter word proved costly as NASCAR docked him 25 points and fined him $10,000. The fine wasn't as problematic as the lost points, which knocked him out of first place and behind Kurt Busch in the season standings.
This time around, Earnhardt doesn't have to worry about losing points or money. However, he still might lose some sleep.
Like Sportscasting on Facebook. Follow us on Twitter @sportscasting19.