Dale Earnhardt Jr. Channeled the Spirit of His Father in an Encounter with ESPN's Marty Smith
Throughout his 18-year NASCAR career, Dale Earnhardt Jr. rarely displayed the fiery temperament of his "Intimidator" father. Early in his career he had to shake off the reputation of being an undisciplined "party boy" who couldn't keep his mind on the track. But one off-track incident in 2012 with ESPN reporter Marty Smith provided a reminder that Junior really did have his father's blood running through him.
Marty Smith cuts off Jeff Gordon repeatedly on ESPN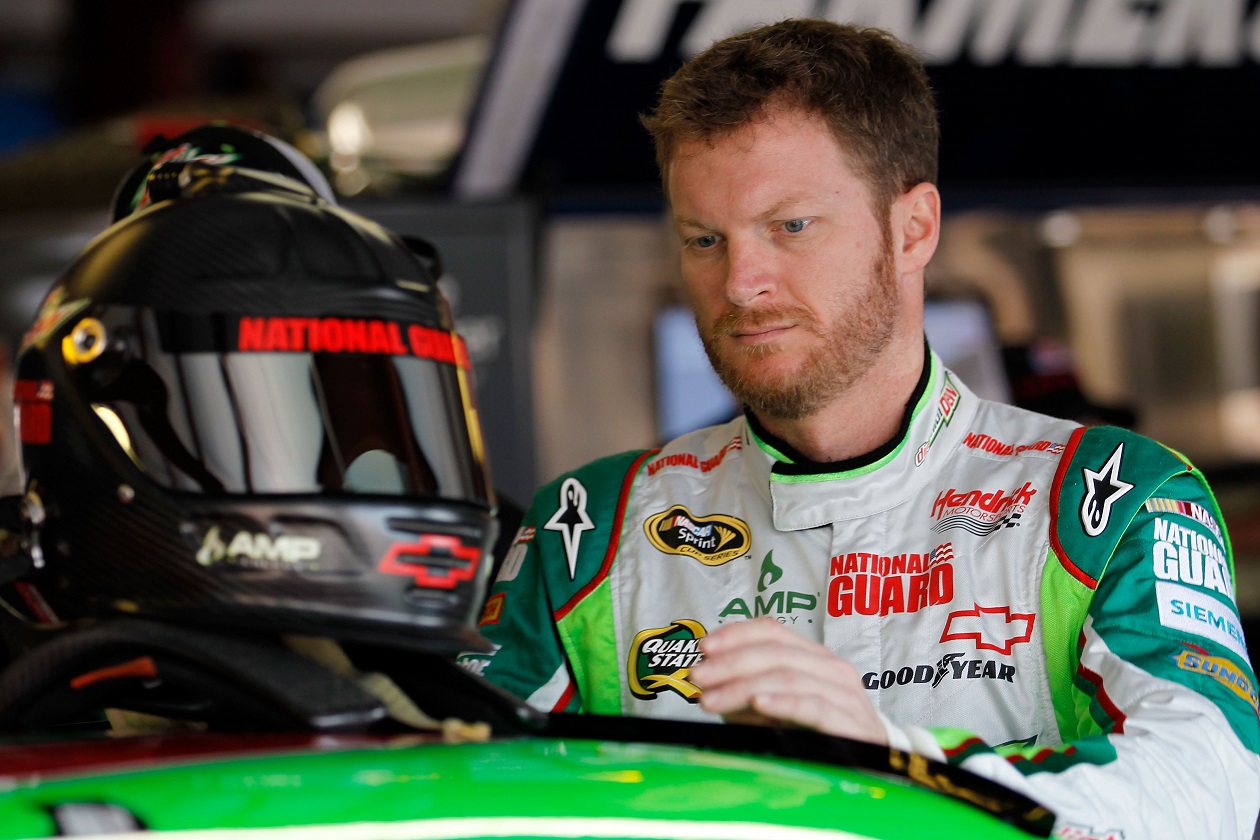 RELATED: Denny Hamlin Recalled 'Closed-Off' Dale Earnhardt Jr. in His Smoking Days and Revealed What Brought Him Out of His Shell
Last week, Marty Smith appeared as a guest on the Dirty Mo Media podcast Door Bumper Clear. He doesn't provide exact dates for this story, but from vague clues, we can gather that this happened during the weekend of the 2012 Coke Zero 400 at Daytona. That race took place July 7 of that year.
At the time, ESPN held part of the NASCAR television rights and aired the daily series, NASCAR Now. Marty Smith became a fixture on NASCAR television as one of ESPN's reporters, a position he held for all eight seasons of the network's stint in NASCAR.
At some point that weekend, Smith interviewed Jeff Gordon for a pre-taped segment. In the moment, Smith thought it had gone well.
"I felt like I had prepared well for this interview, and I wasn't going to let Jeff veer off of the path that I wanted the interview to go," said Smith. "And when that happened, I would cut Jeff off, and I would try to steer it back my way. Well, I thought I was just some kind of bada**, because I felt like it went really well."
Dale Earnhardt Jr. to Marty Smith: 'You need to shut up'
RELATED: Dale Earnhardt Jr. Can't Escape the Itch to Compete on a NASCAR Track
If Jeff Gordon had any objection to how the interview went, he must not have shown it. Nevertheless, the segment did not air until the following week, when NASCAR descended upon Loudon, N.H.
One driver took notice of the segment, and he wasn't happy. It wasn't Gordon, but it was his Hendrick Motorsports teammate, Dale Earnhardt Jr. When Smith hung around Earnhardt's car to try and get an interview after the Lenox Industrial Tools 301, the driver took the opportunity to register his objections.
"He goes, 'You need to shut up, man. You need to stop interrupting people,'" said Smith. "He goes, 'I was watching the interview you did with Jeff, and there were things he was saying that I wanted to hear his opinion. I wanted to hear him finish, and you cut him off. You need to stop cutting people off. It's rude.'
"I felt an inch tall. And you wanna know why I felt an inch tall? 'Cause I knew he was right."
Marty Smith has a history of conflict with NASCAR drivers
Dale Earnhardt Jr. isn't the only driver that Marty Smith has had a run-in with over the years. In fact, Smith had another tense encounter mere weeks before Earnhardt dressed him down at New Hampshire.
At the June 2012 Nationwide Series race at Michigan, Kurt Busch finished third, meaning he needed to make a mandatory post-race appearance at the NASCAR media center. However, the elder Busch brother was in a foul mood and didn't feel like it. Making matters worse, this occurred just after Busch had served a one-week suspension for threatening another reporter.
Smith and an ESPN camera crew chased him down, which led to a heated exchange. At one point, according to ESPN, Busch remarked, "You ever hear of sarcasm?"
ESPN has been out of NASCAR since 2014. Despite this, Marty Smith stayed with the network and has been part of its college football coverage since 2015.