Dale Earnhardt Jr. Considered a Purchase That Would Take Honoring the Troops To a New Level
Throughout his NASCAR career, Dale Earnhardt Jr. frequently posed with military members and thanked them for their service.
The sports world, especially in the 20 years following the events of Sept. 11, 2001, has found numerous ways to support the armed forces. But in the fall of 2012, Earnhardt Jr. and Brad Keselowski, another NASCAR driver, had an idea that would take the idea of honoring the troops to a new level.
Dale Earnhardt Jr. showed interest in buying a tank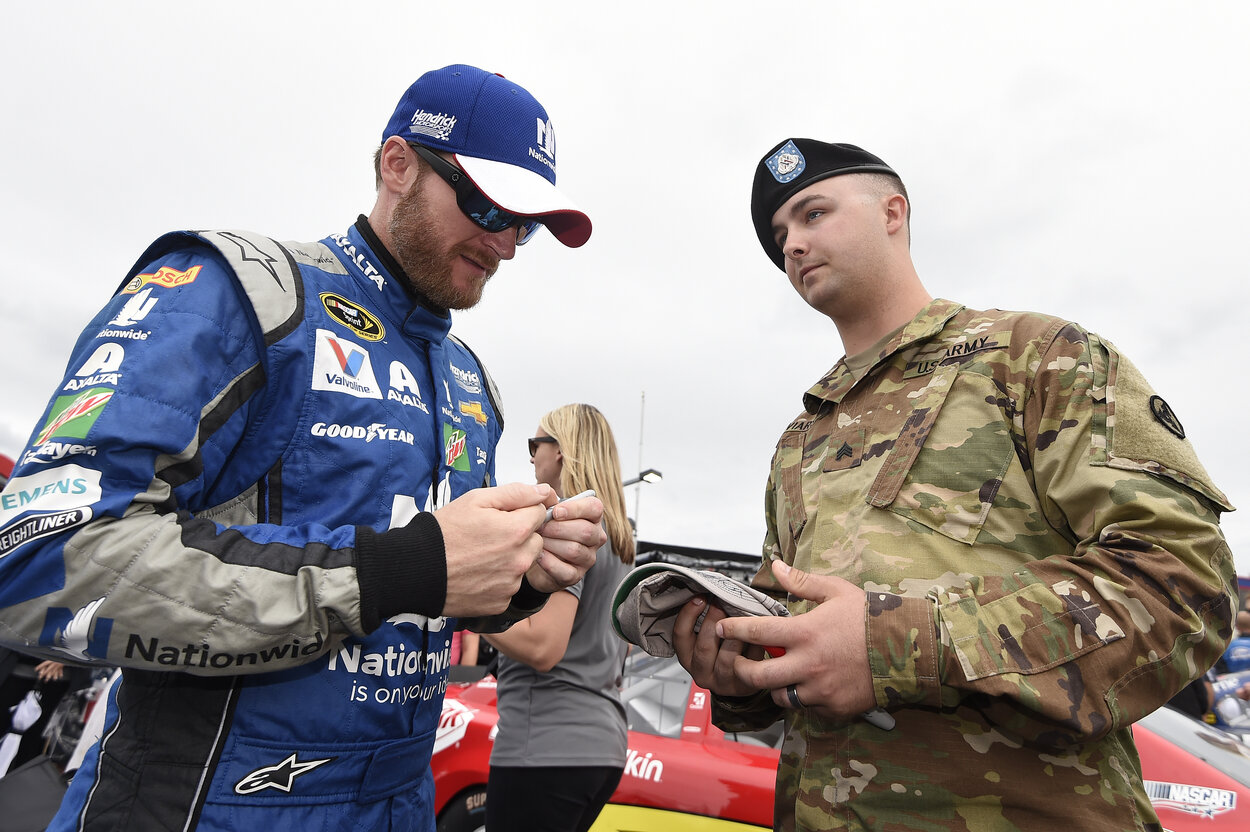 Dale Earnhardt Jr. has no shortage of vehicles, from the cars he drove during his Cup Series career to a collection of classic automobiles.
But in the fall of 2012, Earnhardt had an idea for a new purchase. It wasn't a boat, or a private plane, or even a custom scooter.
Nope, Earnhardt was interested in buying a tank and keeping it at his home in North Carolina. But when Earnhardt discussed the concept with USA Today, he admitted he was on the fence about following through with the purchase.
Why the hesitation? Earnhardt said that he wanted fellow NASCAR driver Brad Keselowski, his neighbor, to buy his tank first.
"Brad will have gone through the process and know some of the short cuts. I'm expecting buying a tank to be quite a financial commitment. So maybe he can learn some of the short cuts, and I can get one for $40,000, so I won't have to pay as much. Then we can follow each other around in our tanks."
Those are the joys of being a successful NASCAR driver. Even someone as wealthy as Earnhardt wanted to save a few bucks where he could when considering buying a tank.
Brad Keselowski and Earnhardt nearly engaged in a tank war
Brad Keselowski and Dale Earnhardt Jr. certainly intended to take advantage of all that came with owning a tank.
USA Today interviewed Keselowski in that same story from 2012. Keselowski, who lived adjacent to Earnhardt, said he hoped to engage in a tank war, of sorts, with his neighbor.
"Obviously living where I do around Dale Jr., I thought it'd be cool if we both got a tank and just chased each other around in the woods with them. I promised myself if I won (the title), I'd buy one whether Dale did or not."
Keselowski told Jimmy Kimmel in 2013 that he intended to buy a $200,000 tank, the Hellcat, from World War II. As of March 2021, it is not yet known if Keselowski ever followed through and bought the tank.
However, in February 2017, Keselowski and Joey Logano — along with their wives — rode a tank before that year's Daytona 500.
Dale Earnhardt Jr. chose to stick with his classic cars, instead
Those who lived near Dale Earnhardt Jr. and Brad Keselowski in North Carolina should probably be grateful that there were no tank chases between them.
Earnhardt instead stuck to traditional collector's items for NASCAR drivers. The racing legend has a classic car collection and has also received gear, including vehicles, that belonged to his late father.
Are those as fun as a tank? No, probably not. Are they safer and more cost-effective? Yes, most likely.
Like Sportscasting on Facebook. Follow us on Twitter @sportscasting19.