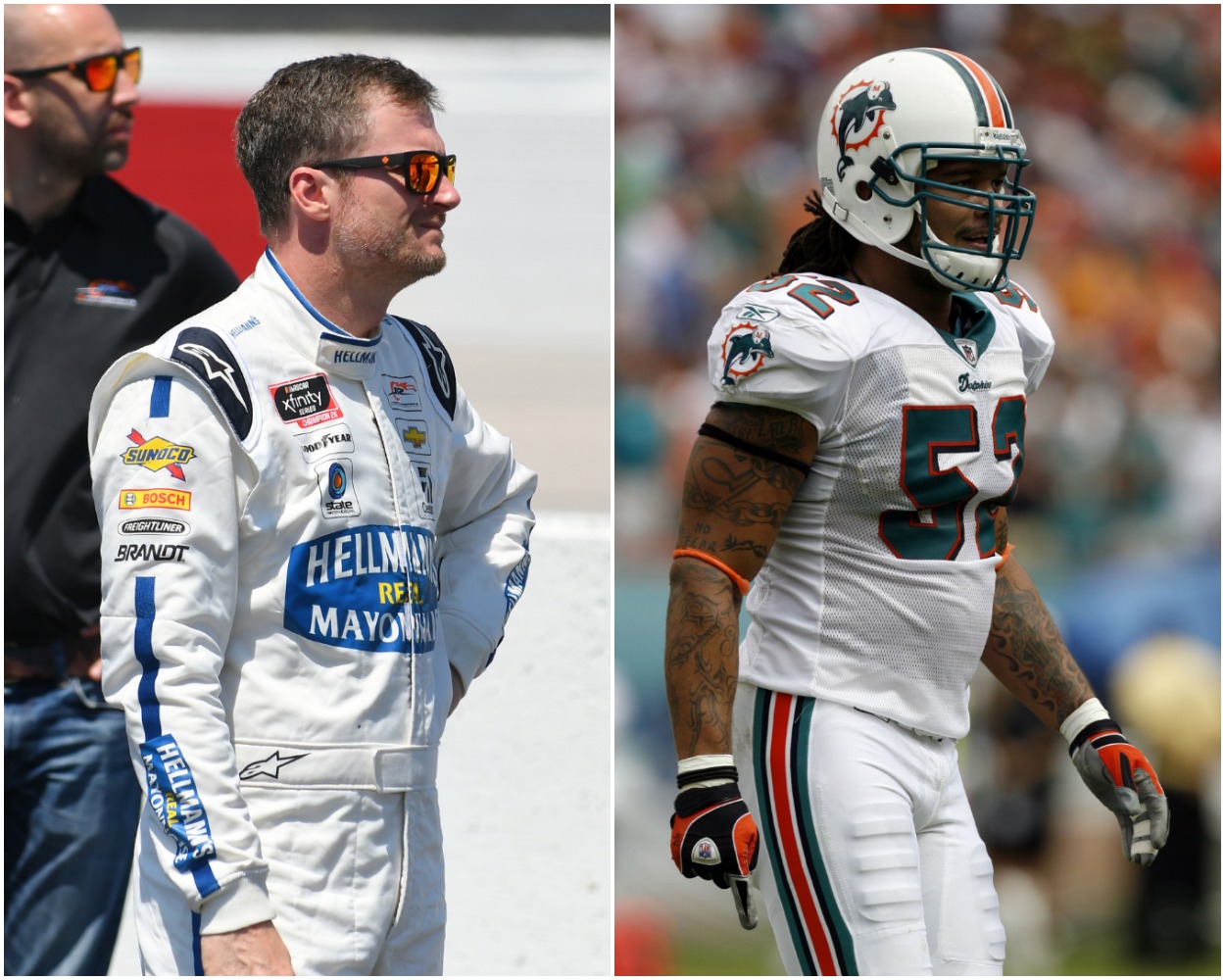 Dale Earnhardt Jr. Impressively Converted Former NFL Player Channing Crowder Into a Believer That NASCAR Drivers Are Athletes
Dale Earnhardt Jr. drove former NFL player Channing Crowder and other players to show them that NASCAR drivers are athletes. When it was over, Crowder was a believer.
Bubba Wallace appeared in March on the I Am Athlete podcast co-hosted by former NFL players Brandon Marshall, Channing Crowder, Fred Taylor, and Chad Johnson. During the interview, Crowder repeated a line started by Donovan McNabb back in 2013 that suggested NASCAR drivers are not athletes. 
That interaction caught the attention of Dale Earnhardt Jr. and he reached out to Marshall. After Marshall appeared on Earnhardt's podcast last month, the two-time Daytona 500 winner returned the favor and visited with the I Am Athlete crew for an episode of their show at Charlotte Motor Speedway, which included ride-alongs for each player at high speeds.
When Crowder's ride ended, his perspective had noticeably changed.  
Channing Crowder tells Bubba Wallace he doesn't think NASCAR drivers are athletes 
In March, Bubba Wallace appeared on the I Am Athlete podcast and talked about his career with the four co-hosts, all former NFL players. At one point during the interview, Crowder confronted Wallace on whether NASCAR drivers should be considered athletes.
"I got to be honest, Bubba. Golfers, race car drivers, like athletes?" Crowder questioned. "This is something that I can't say that you're an athlete of sports."
"You think you can go 190 mph with 42 other cars?" Chad Johnson, a six-time Pro Bowler and notable NASCAR fan, interjected. 
"I believe I could go out on the skirts and come on around," Crowder responded, defending his position. "I've done 150 or 160 in a car. Convince me. Change my mind, Bubba."
"But you can't do it with words. You have to take him in the car," Johnson proposed. 
Dale Earnhardt Jr. reaches out to Brandon Marshall
Dale Earnhardt Jr. watched that exchange between Wallace and Crowder. He felt compelled to act and reached out to Brandon Marshall, who appeared on the Dale Jr. Download just a few weeks later. 
During that interview, Earnhardt and Marshall discussed their plans for later in the day, which included the two-time Daytona 500 winner taking the six-time Pro Bowler and his fellow former NFLers for ride-alongs around the track at Charlotte Motor Speedway as a part of an upcoming episode for the IAA podcast. Marshall admitted the fastest he had ever traveled in a car was 120 mph, and he was nervous about riding with Earnhardt. 
When told the first ride would be the slowest because it would allow Earnhardt to get a feel for the track and get up to speed, which by the final laps would be around 170 mph, Marshall volunteered to go first.
"I don't need that," Marshall said. "Just give me 120. Remember, I told you that's my max."
Earnhardt drives four players and changes Crowder's mind
Earnhardt's initial contact with Marshall turned out to be the beginning of something bigger. IAA announced last week that it is collaborating with NASCAR and will present a special I AM NASCAR series that will feature interviews with top drivers and air on the IAA YouTube Channel. The first episode with Earnhardt aired Monday. 
The episode starts with all four drivers riding around the Charlotte track with Earnhardt, and Crowder naturally went last. During that final run, the former linebacker's face contorted as he endured the g-forces. When the car came to a stop, Crowder fist-bumped Earnhardt. "Oh boy. That's some power there, boy. Goodness gracious."
Before Crowder exited the vehicle, Johnson didn't hesitate and asked the question to which everyone gathered around wanted to know the answer: "Hey, are they athletes now?" 
"They hellified drivers," Crowder responded to laughter from the players and applause from Earnhardt. 
A few minutes later, the group sat in chairs for a roundtable discussion. Marshall started the conversation and told Crowder, based on their experience on the track, he owed Earnhardt and all NASCAR drivers an apology.
"I will say it is a hard skillset," Crowder said without admitting he was wrong. "The athletic part, the physical, pulling it out of you, I can't go all the way to athlete, Dale, but I will say, to drive that car as fast as you do, into those turns, and around this track was amazing to be a part of. So I will take the respect level up a couple of notches."
Moments later, Taylor pointed out how Crowder had looked up the actual definition of an athlete, which is someone who is proficient in a physical activity, such as racing. Based on that alone, NASCAR drivers would be considered athletes. Crowder agreed. And a new believer was born.
Like Sportscasting on Facebook. Follow us on Twitter @sportscasting19.