Dale Earnhardt Jr. Drove Nearly the Entire 2002 Season Concussed and Told No One
The tragic accident that claimed the life of Dale Earnhardt would not be the last brush with death in the Intimidator's family. Indeed, it seemed the icy hand of death tried to claim Dale's son multiple times throughout his career. One of those times led to a concussion for Dale Jr. at a race at California Speedway in 2002, which he hid from the public for nearly the entire season.
Disaster strikes Dale Jr. at California
The 2002 NAPA Auto Parts 500 at California Speedway will go down in history as Jimmie Johnson's first career win. But just before the finish, on lap 228, misfortune struck NASCAR's most popular driver.
Late in the 200-lap race, Earnhardt Jr. was not having a good day as it was. He was on track for a finish in the low-20s, at best. With 22 laps to go, his race went from bad to worse when he accidentally turned into the front of Kevin Harvick's car. The resulting collision sent Earnhardt Jr. into the outside wall at 130 miles per hour.
Eerily, the crash involved two drivers who had a direct connection to Dale Earnhardt — both Dale's son, and Harvick, the driver who took over Earnhardt's seat.
While Earnhardt Jr. took down his window net, he was far from okay. As can be heard on recently-unearthed team radio from that day, he repeatedly shouted, "Help me!"
Dale Jr. suffers silently through 2002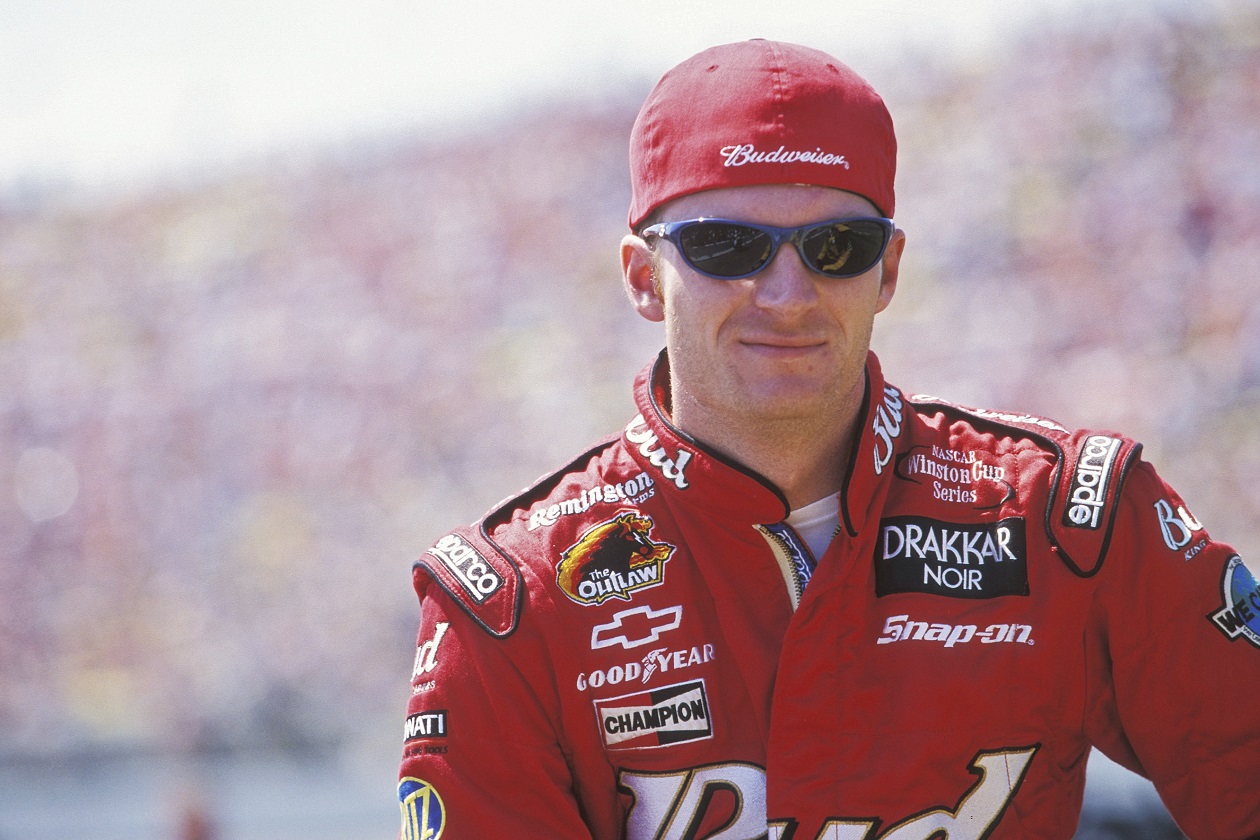 Right away, Dale knew something wasn't right. His speech was slurred and his reaction time slowed — the basic signs of a concussion. The symptoms affected his performance on the racetrack as well. Once thought to be a title contender, "Little E" suffered through a disappointing 2002. After the 22nd race of the season at Watkins Glen, he sat at a dismal 17th in the standings.
It just so happened that one of Earnhardt Jr.'s teammates at D.E.I., Steve Park, had gone through something similar. He had suffered a traumatic brain injury as a result of a freak accident at Darlington in September 2001.
"Steve, he couldn't hide his injury and he dealt with so much over it and he's never going to be the same," Earnhardt told ESPN. "I didn't want to go through that, so I didn't tell anybody."
It wasn't until September that he publicly disclosed his condition in an interview with USA Today. Within a week, he regretted his decision to do so. "I kind of hate that I brought it up," he told ESPN. "I didn't expect it would be this big a deal."
More head trauma for Earnhardt Jr.
Sadly, this would not be the last concussion Earnhardt suffered. In fact, concussions would be a recurring issue in the latter stages of his career.
More than a decade after the California incident, a second concussion would force Earnhardt Jr. out of the car. At the Talladega race in October 2012, he was caught up in a 25-car "Big One" on the final lap. In a much more safety-conscious NASCAR, Earnhardt's concussion was immediately diagnosed this time around. He was forced to sit out the next two races.
Four years later, it happened again — this time as a result of a crash at Michigan in June. The symptoms were severe enough to force him out for the remainder of the season. This had the awkward effect of temporarily forcing Jeff Gordon out of retirement to drive eight of the remaining races in Earnhardt's no. 88. This was the only time Gordon ever drove a car other than no. 24 in the Cup Series.
Statistics courtesy of Racing-Reference.