Dale Earnhardt Jr. Gets Incredibly Personal on Podcast and Reveals Hilarious Vacation Story About Why He Peed on His Wife
Dale Earnhardt Jr. doesn't steer away from getting personal on his podcast, the Dale Jr. Download. Among the topics, he's detailed his struggles with concussions from accidents racing in NASCAR. He's offered specific details about his father, Dale Sr.'s angry outbursts on and off the track. This week, Earnhardt took it to an entirely different level when he revealed a story about his summer vacation and why he peed on his wife.
Dale Earnhardt Jr. doesn't shy away from talking about his personal life
Each week Dale Earnhardt Jr. always has a lengthy and interesting conversation with a guest on his podcast, the Dale Jr. Download. During those discussions, Earnhardt likes to ask questions of his guests and probe into the why of a certain topic or situation. 
While those stories about his guests are undoubtedly enlightening and entertaining, it's during the first part of the show, or open segment, when Earnhardt shares accounts of his personal daily life that can sometimes prove to be more entertaining than the conversations with his guests. 
In the past, he's talked about his relationships with family and friends, big purchases he's made, and his experiences as a broadcaster with NBC. 
Dale Earnhardt Jr. explains why he peed on his wife during vacation
On the latest episode of his podcast, Earnhardt revealed one of the most personal stories he's ever told, and it was about his wife, Amy. He prefaced the conversation by saying he had received her "approval." His listening audience is glad he did because it was comedy gold. 
Earnhardt set the scene, describing how he, Amy, and their three-year-old daughter Isla were on vacation on the beach, sitting under an umbrella, looking like your typical "family on the beach." While watching his wife and daughter near the water, he said it appeared as if Amy had stepped on something.
"Amy comes hobbling out of the beach up to the umbrella and she's like, 'I got stung by a jellyfish. Stepped on one.' She's in pain. Bad pain," he said.
"I'm nervous about this," Earnhardt's podcast co-host Mike Davis admitted. 
"It was her idea, Mike," Earnhardt said, reminding his co-host of his wife's prior approval and encouragement to tell the story. "She was in bad pain, and she said, 'Do you think that will work if you tee-teed on it?'"
Earnhardt said there were people on the beach all around, including a family to the left and a couple on the right. That didn't matter. He wanted to provide his wife relief and started maneuvering their things into position to shield them from the view of those nearby. 
After Earnhardt did the deed, he said his wife was grateful. 
"Her words, and I quote, saved her life," he said. "She was in so much pain and she said it worked immediately." 
Question-and-answer session about the incident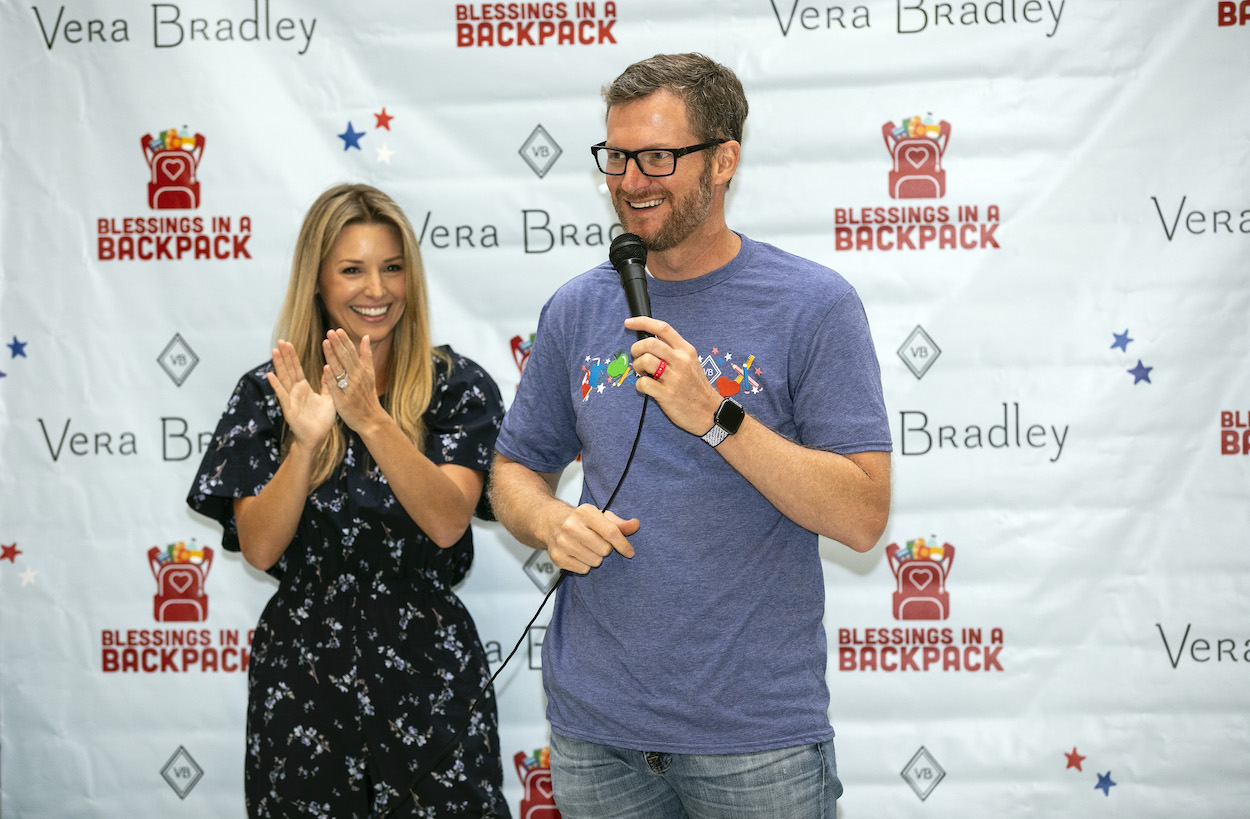 After vaguely describing what happened, Davis and others on the podcast wanted more details.
"Who peed on her?" Davis inquired. 
"I did," Earnhardt admitted. 
"You peed on your wife? On the beach?" Davis asked in disbelief.
"In front of everybody?" another member of the show Leah Vaughn asked, followed by a laugh.
"Yes," Earnhardt answered affirmative to each question. "She was hurting."
"No, I got it," Davis responded. 
"No, no, no, no. You can't understate the pain of a jellyfish sting," Earnhardt interrupted, justifying his actions. 
"Got it, you're a hero," David sarcastically responded and drew laughter. 
"In her eyes. And in her words, I saved her life," Earnhardt repeated.  
The whole exchange was hysterical and will go down as one of the most memorable moments in Dale Jr. Download history.
Earnhardt will always be viewed by his fans as an icon for what he did on the track. For his wife, he'll always be viewed as her husband, the father of their children, and a hero that one summer vacation at the beach.  
Like Sportscasting on Facebook. Follow us on Twitter @sportscasting19.