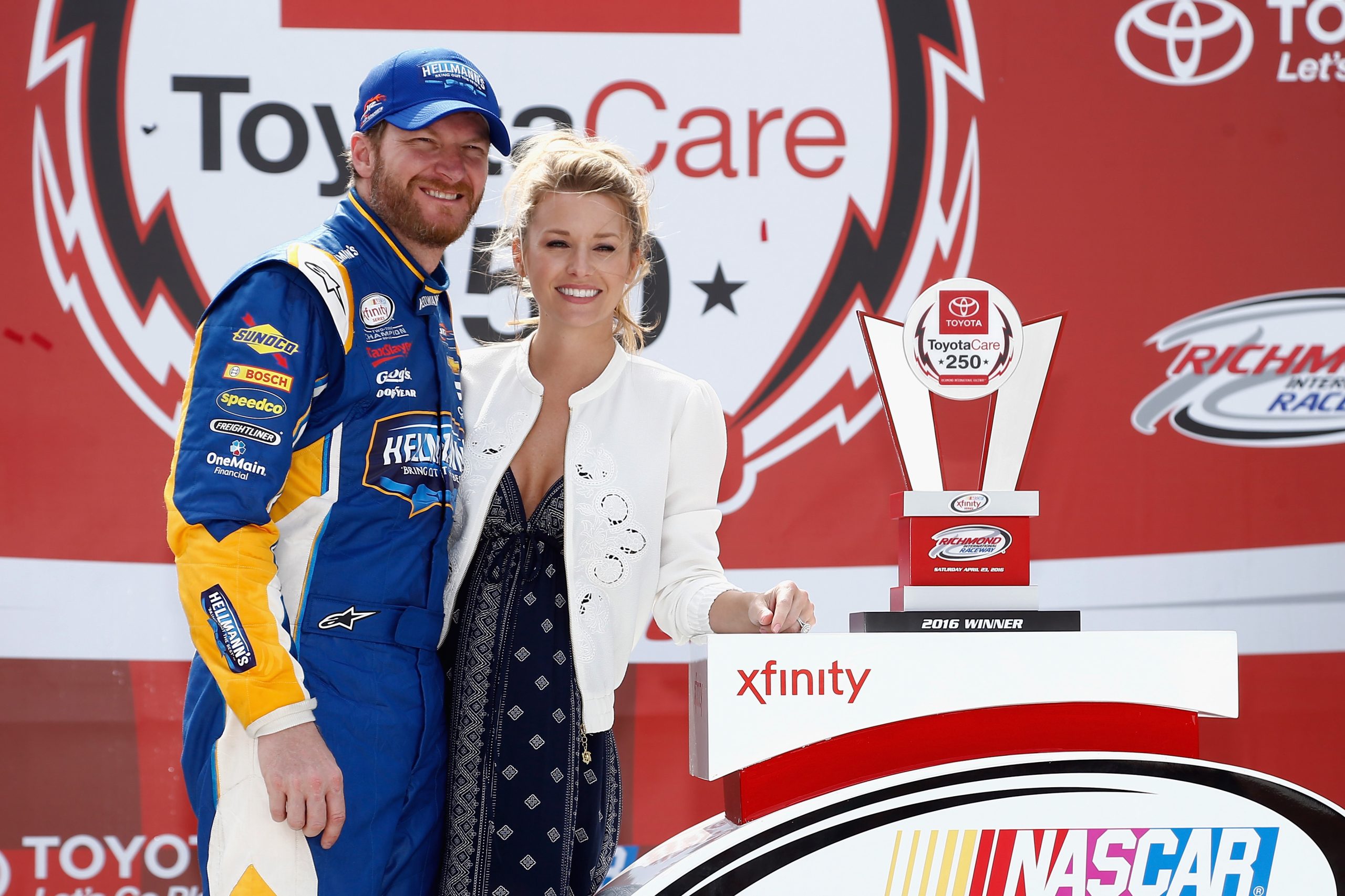 It Wasn't Much, but Dale Earnhardt Jr. Got Exactly What He Wanted on His 1st Father's Day
Dale Earnhardt Jr. was happy with his not-too-glamorous first Father's Day gift.
What do you get a man who has everything? You get him what he wants. That's exactly what Isla Earnhardt, daughter of Dale Earnhardt Jr., did back in 2018. With the help of her mother Amy, (Isla was only three months old). Isla made breakfast in bed a special moment for her father. The breakfast part, however, was toned down quite a bit, but it didn't matter because the NASCAR legend got what he wanted.
Dale Earnhardt Jr. has become a big family man after retirement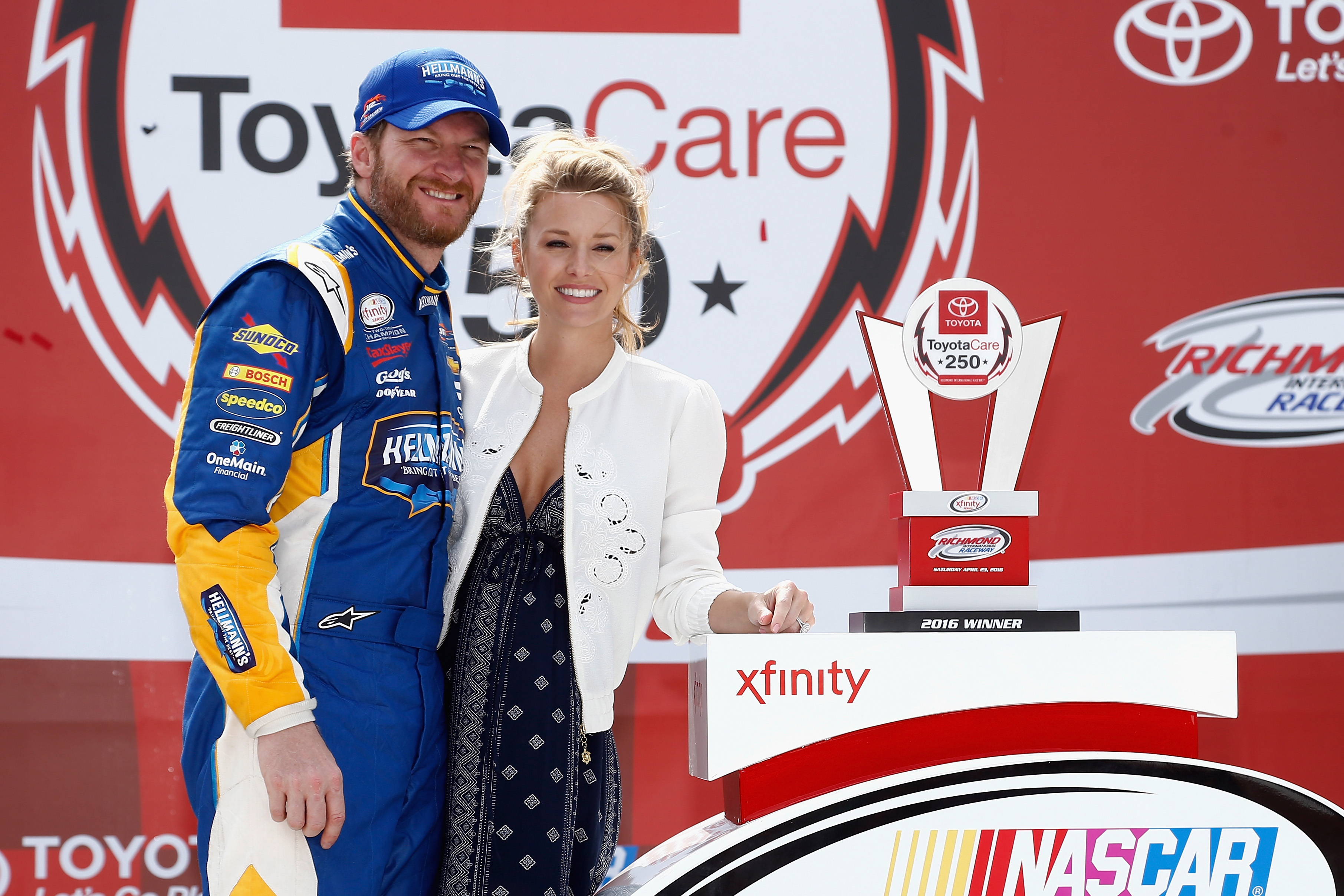 After Earnhardt Jr. retired from full-time NASCAR racing after the 2017 season, the Earnhardt family grew. Junior married Amy in 2016, and the couple announced in 2017 they were expecting their first child. Isla Earnhardt was born in April of 2018. In October of 2020, they had their second daughter, Nicole.
Driving a race car for a living can be tough. During an episode on The Dan Patrick Show last June, he also admitted parenting can be difficult as well.
"(Isla) is getting hard-headed," he told Patrick. "We're really transitioning into that phase where we have to kinda decide how we want to discipline her. She's starting to get to the point where she needs to understand not to do this, that, and the other. When we tell her don't do that, don't grab that, don't pick that up, she does it. She thinks it's funny or it's a game.
"We need to sort of figure out how to… parenting's tough, man. We need to figure out how to help her understand, you know, what the rules are and when we mean business. I don't know exactly the right way to do it, but we're learning on the fly."
Dale Earnhardt Jr. got exactly what he wanted for on his 1st Father's Day – a Fig Newton
It's understandable that three-month-old Isla was likely on a tight budget, but what wasn't understandable – at least at first – was why Junior would request a Fig Newton for breakfast on Father's Day.
"I did get breakfast in bed," Junior said to his co-host Mike Davis during an episode of his Dale Jr. Download podcast. "Well, it was a Fig Newton and a cup of coffee."
Davis appeared perplexed and asked why he got that.
"Well, that was what I wanted," Junior said. "Apple cinnamon, man. It's real good. It's the Nature's (Bakery). It's the one that used to sponsor Danica (Patrick). Nature's Bakery, they're good.
"So I'm laying in bed, and Amy brings that up to the bed, and hands me Isla. And she's wearing this little 'Hey, Daddy' onesie. And Isla was in a great mood, and we just laid in bed. Looked at Isla, and she's smiling. She's just now getting to where she smiles. She's smiled at Amy a few times, but she smiles at me a lot, so I can tell when Isla's in a smiling mood. And it's rare, it's not often. But maybe one time every day, I'll catch her when she's like ready to have fun."
Junior's family keeps him busy after racing
Despite retiring from full-time racing in 2017, Earnhardt Jr. still has a lot on his plate. He's a co-owner of an Xfinity team and he's broadcasting NASCAR races for NBC. He has his own podcast and he's got appearances and marketing to do. With all that, he's got two young girls at home that also keep him active.
When he had his first child, Isla, he admitted he didn't have much of a clue about parenting.
"I've no strategy," he said during an interview with Autoweek in 2018. 'I'll let Amy take point, follow her direction. I'll know when I need to take lead. We do chat about how we may parent but nothing will be better than live action and experience."
As Isla grew, his strategy stayed the same. It was learn as you go along.
"We need to sort of figure out how to …parenting's tough, man," he said on The Dan Patrick Show in 2020. "We need to figure out how to help her understand, you know, what the rules are and when we mean business. I don't know exactly the right way to do it, but we're learning on the fly."