Dale Earnhardt Jr. Has Granted Over 250 Wishes Through 'Make-A-Wish'
Dale Earnhardt Jr. may be semi-retired, but his extra time off the track isn't exactly leisurely. His longtime dedication to charity has gone into overdrive. Many athletes raise money for charities and participate in programs like Make-A-Wish. But Earnhardt Jr. doesn't simply do this in his spare time; he arguably puts charity at the center of his life. Let's explore the ways he impacts the lives of countless children.
Dale Earnhardt Jr.'s unbelievable dedication to Make-A-Wish
Earnhardt Jr. has blown past 250 appearances on behalf of Make-A-Wish. This is such an unprecedented rate of service that the charity named an award after him, the Dale Jr. Indomitable Spirit Award. This yearly honor recognizes one outstanding partner with the organization, for their uniquely relentless dedication to helping terminally ill children.
Earnhardt Jr. earned the recognition when he crossed 244 appearances. He'd also donated $500,000 at that point, not to mention further donations organized by his foundation. The titular "wishes" cost between $6,000 and $10,000 each time. So his large charitable sums account for helping many children beyond those he's met personally.
Earnhardt Jr.'s longtime dedication to charity
Since 2007, the Dale Jr. Foundation has created countless opportunities for disadvantaged citizens to improve their lives. In addition to the $500,000 for Make-A-Wish, the foundation has contributed $8 million to a variety of causes. Most, although not all, are focused on children.
Make-A-Wish focuses on the terminally ill. The Dale Jr. Foundation is broader, providing support to schools and impoverished children. They accept requests of all kinds that align with its mission statement. The main branded initiatives spearheaded directly by the program include Sock It to Childhood Cancer and a targeted community support program called Driven Nation.
His innovative Ride With Dale Jr. program allows fans to buy raffle tickets with the winning ticket providing the opportunity to take a drive with Earnhardt Jr. Every purchase raises money for the foundation.
How Earnhardt Jr. and other sports stars help children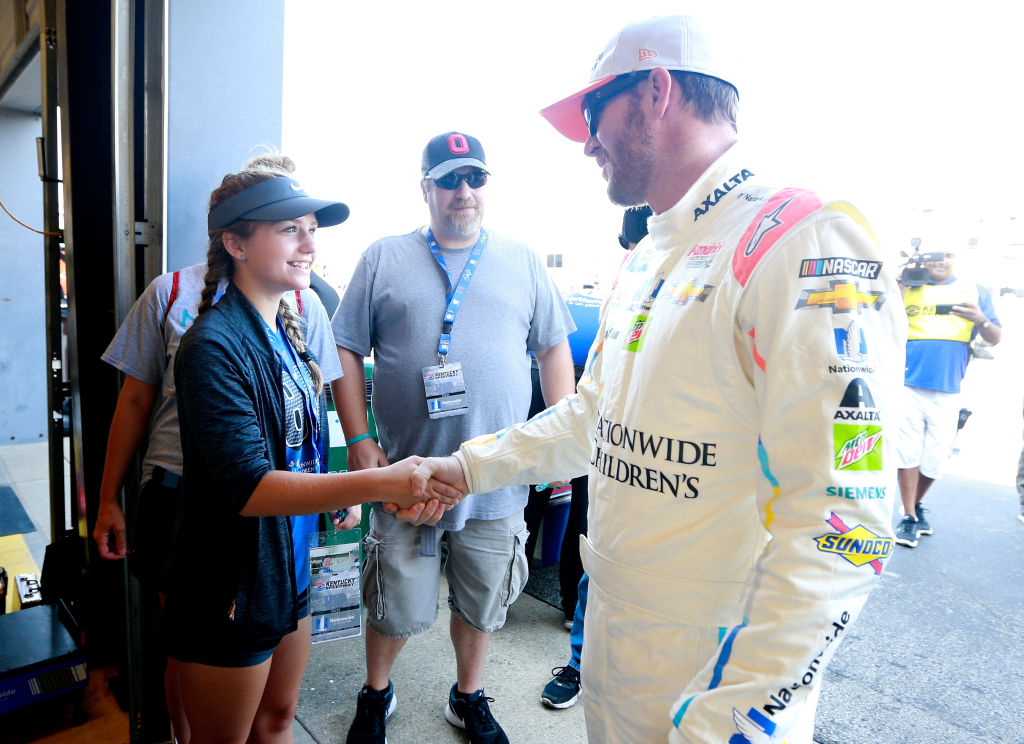 On and off the racetrack, Earnhardt Jr. has had brushes with death. This may give him deep empathy for the Make-A-Wish kids he works with. His family history also gives him perspective on deep personal loss. He offers something to his charity work that few sports stars can.
A few out there operate on his level, though. The Chicago Cubs' Anthony Rizzo is another major participant in Make-A-Wish, in both his adopted home Chicago and his home region in south Florida, reports Bleacher Nation. Known for rushing from games to visit kids, the first baseman is a cancer survivor himself.
Rizzo also attended a high school eventually blighted by a mass shooting after he had become a MLB player. Knowing many of the families involved, he provided a uniquely personal, uplifting speech as a prelude to his charity work there. People like Earnhardt Jr. and Rizzo, who can speak with survivors and the terminally ill from the perspective of surviving tragedy themselves, regularly engage in heroics that almost make their work in sports seem small.
They set a crucial example for people who don't necessarily have public attention on them by default. Non-famous people, like this cancer survivor who raised $10,000 for Make-A-Wish, pay it forward. Earnhardt Jr. has encouraged 250 of those people via Make-A-Wish appearances alone. Every one of those families knows what it means to have someone there at the darkest moments. And we're all better for it.