Dale Earnhardt Jr. is 'Done Taking Risks,' Next Gen Car Tests Not Alluring Enough to Spark NASCAR Resurrection
As quickly as Dale Earnhardt Jr. excited fans by acting as a pest to get permission to run Kyle Larson's Next Gen car during this week's NASCAR Cup Series test session, he quickly dashed their hopes for a pending return.
With two short lines, he made his intentions clear.
Sorry, fans.
Dale Earnhardt Jr. on his Next Gen test drive experience: 'No impact' 
"I'm old, 47 years old …," Earnhardt told reporters after the second day of testing, reported by nascar.com. "… I'm done taking risks." 
Instead, he used the experience at Daytona International Speedway on Jan. 11-12 to develop into a better-prepared Xfinity Series owner and broadcaster for NBC Sports. Not pave the way for a career resurrection. 
But what about the thrill of getting back behind the wheel? 
"No impact," he added. 
Things are different now than when he chased his hall-of-fame father's affection on the track. Dale Earnhardt Sr. may have been one of the top drivers of all time, but as a father, he wasn't always around for his son. 
Earnhardt Jr. follows his father into the NASCAR Hall of Fame, but he's not retracing his parental miss-steps. 
"You know, I've got two little girls that I love being around," he said.
Earnhardt's wife and daughters remain big reason for not returning to NASCAR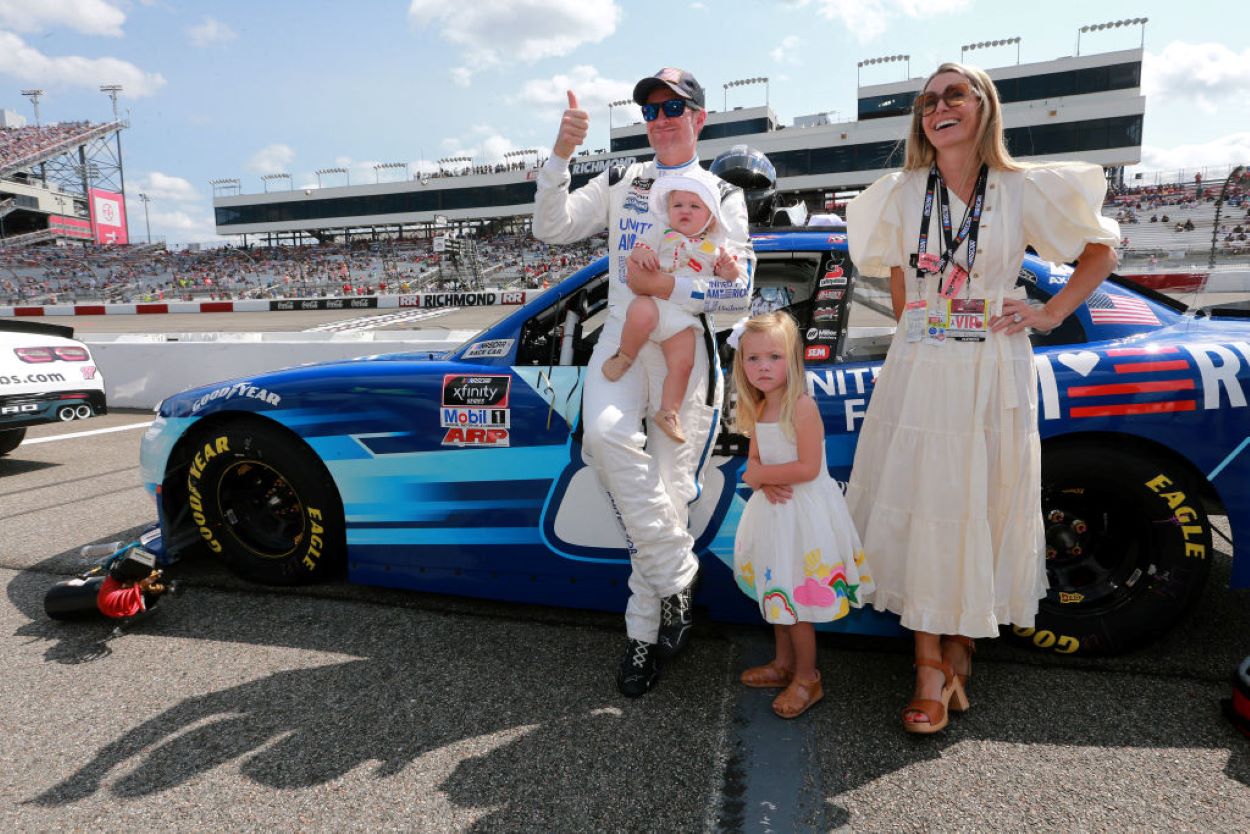 His daughters, Nicole Lorraine and Isla Rose, are not his only emotional detour. His wife, Amy, paid her matrimonial dues the final decade of Earnhardt's career.  
"I put my wife through a lot to race, you know …?" he said. "I just don't know that at 47 years old I would be willing to take the necessary risks out on the race track that a young guy like William Byron would be willing to do." 
As Hendrick Motorsports' projected No. 3 pilot, Byron, 24, drove with Earnhardt during the Next Gen car tests. Earnhardt recognized the two significant differences between the two. 
"… He's young, he's a risk-taker, and I'm done taking risks," Earnhardt said, putting a knife into the fans' hearts who yearn for him to return to NASCAR. 
Even if that means running on a limited basis or just the Daytona 500, Earnhardt still may race in one Xfinity Series race in '22, as he has the past few seasons, but a Cup start remains an unlikely stretch.
Earnhardt pleaded with Chad Knaus for the Daytona test driver gig  
The Daytona opportunity opened up with Byron's three teammates, Larson, Chase Elliott, and Alex Bowman, away racing midget machines at the Chili Bowl Nationals in Tulsa, Oklahoma.
Of course, it took a little extra effort to get the gig. Earnhardt begged Chad Knaus for a chance, texting the Hendrick Motorsports' vice president of competition multiple times.
Finally, Knaus agreed.
Immediately, NASCAR-related social media platforms skidded out of control with rumors of Earnhardt using the test runs as a springboard to a career resurrection.
Sorry, fans.
Like Sportscasting on Facebook. Follow us on Twitter @sportscasting19.