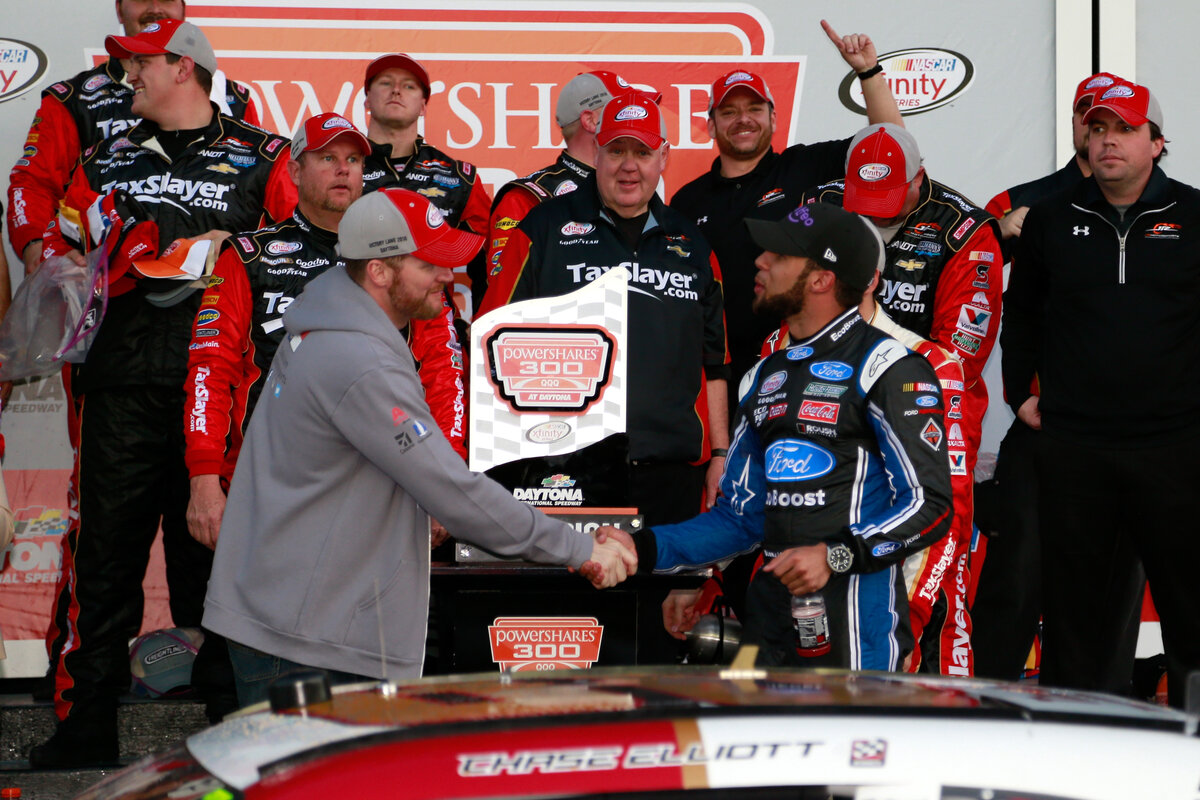 Dale Earnhardt Jr. Just Sent a Powerful Message About Bubba Wallace's Future in NASCAR
NASCAR icon Dale Earnhardt Jr. is very familiar with rising star Bubba Wallace. Earnhardt just sent a powerful message about Wallace's future in NASCAR.
NASCAR legend Dale Earnhardt Jr. is watching Bubba Wallace's career with great interest.
Wallace, the only active Black driver in the Cup Series, is a rising motorsports star and social justice icon. Earnhardt, who is now a broadcaster, just sent Wallace a powerful message about the latter's future in NASCAR.
Bubba Wallace is a rising star in NASCAR
Bubba Wallace is one of NASCAR's rising stars, and for a good reason.
Wallace, who turned 27 in October, has impressed both on the racetrack and as he has grown into a vocal figure. He is the only active Black driver in the Cup Series.
Wallace has nine top-10 finishes in 112 career races since 2017. He finished 22nd last season after two consecutive years of finishing 28th.
All eyes will be on Wallace when the Cup Series starts in February. He will have a chance at posting his first top-20 finish next season.
Dale Earnhardt Jr. is very familiar with Wallace
Bubba Wallace and Dale Earnhardt Jr. aren't strangers, and not because they're both racers.
Earnhardt, who now works on NBC's NASCAR broadcast coverage, has interviewed Wallace numerous times over the years. Wallace has also appeared on the Dale Jr. Download, which is Earnhardt's podcast.
Earnhardt and Wallace had a candid conversation about the state of race in America earlier this year. Wallace was a guest in June and spoke about the death of Ahmaud Arbery, a Black man in Georgia.
Wallace also reflected on the police shooting his cousin in a 2003 incident. The two also discussed NASCAR driver Kyle Larson using a racial slur on camera.
Dale Earnhardt Jr. just sent Bubba Wallace a powerful message
Bubba Wallace will enter the 2021 season hoping to build off last year's improved finish.
Dale Earnhardt Jr. is fully in Wallace's corner as the next racing season draws closer. In an interview with CBS Sports, Earnhardt shared his expectations for Wallace in 2021. 
Earnhardt compared Wallace starting over with Michael Jordan and Denny Hamlin to 23XI Racing to a similar yet different point in Earnhardt's career. After a difficult 2009 season, a frustrated Earnhardt and his crew chief, Steve Letarte, altered their goals.
Earnhardt and his crew prioritized one step at a time instead of focusing on winning the Cup Series.
"So I think that Bubba is definitely not in that position emotionally. He's not in a position where he feels like his career isn't salvageable. He is very excited and very pumped up about this new opportunity but I think that it's a process to get this team to where they want to be and just try not to get too ahead of yourself."
Barring any cancelations or significant alterations to the 2021 NASCAR schedule, next season is slated to begin with the Daytona 500 in February.
Wallace finished second at the Daytona 500 in 2018 but hasn't finished higher than 15 in either of the last two years.
Like Sportscasting on Facebook. Follow us on Twitter @sportscasting19.