Dale Earnhardt Jr. Could Learn Some Anger Management Tips From Jeff Gordon
Despite all the fun for spectators, NASCAR is still highly competitive. So it's no surprise that drivers' tempers occasionally flare during races. One prime example is Dale Earnhardt Jr., notorious for his anger issues. Perhaps he inherited the trait from his father, NASCAR legend Dale Earnhardt Sr., known to have a dark side. But Earnhardt Jr. has shown a softer side too. And if he wanted some tips to temper his anger, he could look to former rival Jeff Gordon.
Dale Earnhardt Jr.'s notorious anger issues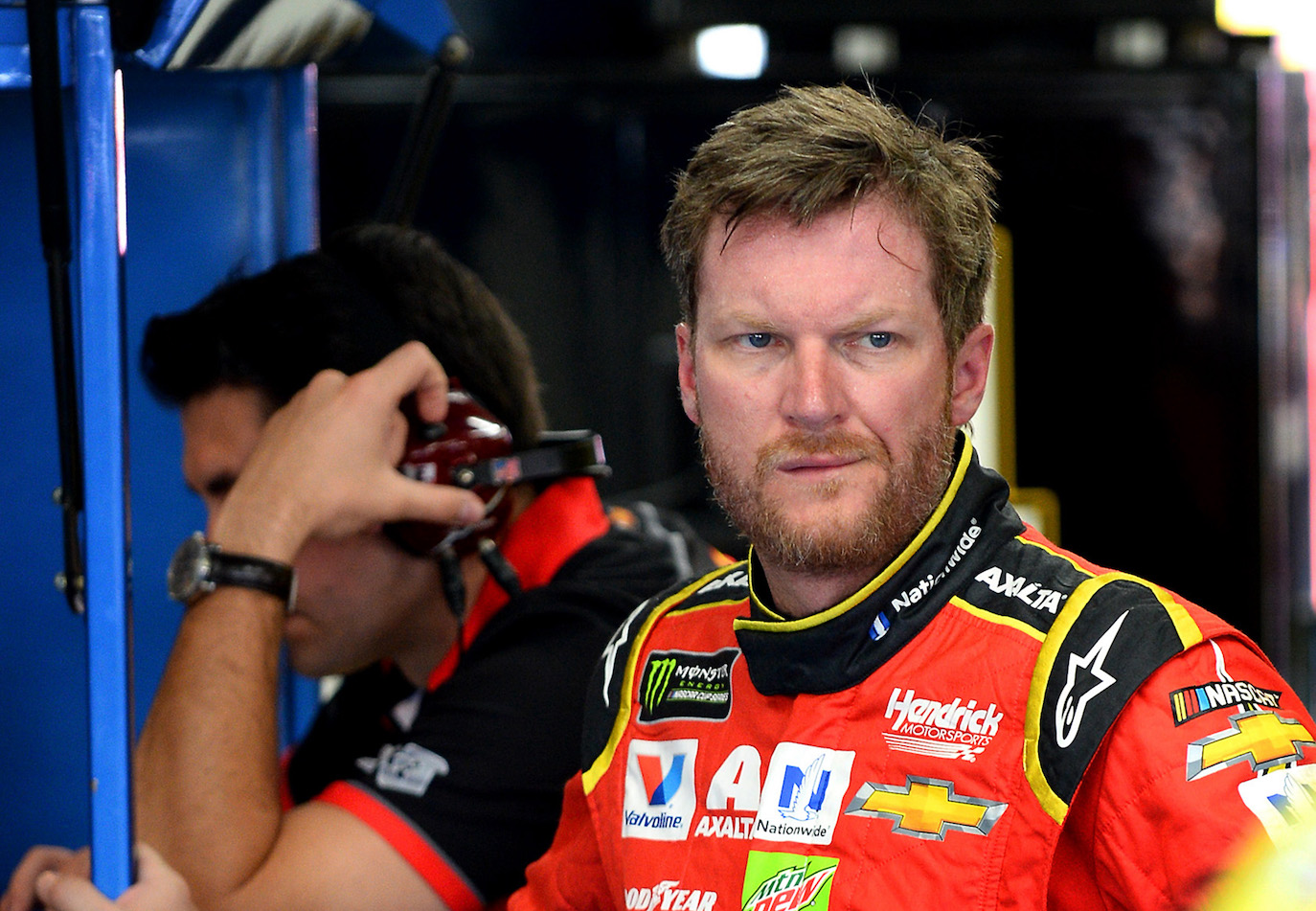 It's no secret that drivers get angry and fight. There were also stories about Earnhardt Sr. and how he rode other drivers' bumpers or even kicked an employee in the knee.
And now Earnhardt Jr. is the subject of similar recountings. That's because he tends to lean heavily on paybacks. For instance, as Jr. recently recounted on his Dirty Mo Media podcast, Kyle Weatherman accidentally ran him into the wall at the recent Richmond race.
Despite acknowledging that Weatherman had tried to avoid something on the track when he unwittingly ran into him, Earnhardt retaliated by hitting Weatherman's back bumper three times. He confessed that he was so angry he wanted to hit him again.
That wasn't Earnhardt's first show of anger, and it likely won't be his last. He's known for holding grudges, although maybe it wasn't unwarranted in the following case.
On February 18, 2001, Earnhardt's father tragically died in an accident at Daytona International Speedway.
That July, Jr. earned his third Cup Series win at the Pepsi 400, also at Daytona. It was an emotional time for him. But he would've enjoyed much more if it weren't for fellow driver Jimmy Spencer, who claimed the win was a staged to honor Earnhardt Sr.
These comments still haunt Earnhardt because the victory should've been one of the greatest moments in his racing career, but he never truly got to celebrate it. He remains upset with Spencer two decades later.
What could Jr. learn from Jeff Gordon?
During his racing career, Gordon proved he was more mild-mannered than many other drivers. When USA Today asked him in 2015, "What's your preferred method of dealing with an angry driver after a race?" he gave a thoughtful and level-headed response.
Gordon said it depended on the situation. But the now-retired driver admitted that if he were at fault, he would acknowledge he messed up by talking to the other driver in the pits after the race or by texting or calling. If he wasn't at fault, he said he would "settle down a little bit and go see them in person the next week."
However, that's always easier said than done. And it wasn't always Gordon's way of handling issues. In fact, he busted his lip in a brawl with Brad Keselowski in 2014. After Keselowski spun Gordon out, he dropped to 29th place at the AAA Texas 500 at Texas Motor Speedway.
But for the most part, Gordon was known for keeping his emotions in check, which Earnhardt could learn to do more often.
The bond between Dale Earnhardt Jr. and Jeff Gordon
Although once fierce competitors, Gordon and Earnhardt have remained quite close, even after Gordon retired from driving for personal reasons. They have a mutual respect that has grown stronger through the years.
However, this past May 10, Earnhardt tweeted about his learning that he had angered Gordon at a 2006 Daytona race by giving him a few "love taps" on the track, and Gordon fussed over the radio. His irritation is evident through his radio commentary after every bump.
Earnhardt joked about how he thought he was helping Gordon, but "now I learn you were up there havin a tantrum." He seemed shocked by Gordon's anger. Later, Gordon replied to the tweet, asking, "Could you not push me on the straightaway?"
Overall, the two took the situation lightheartedly. But had Gordon been prone to anger issues like Jr., the event could have had a much different result.
RELATED: Most of the Lessons Dale Earnhardt Jr. Learned From His Father Had Nothing to Do With Racing