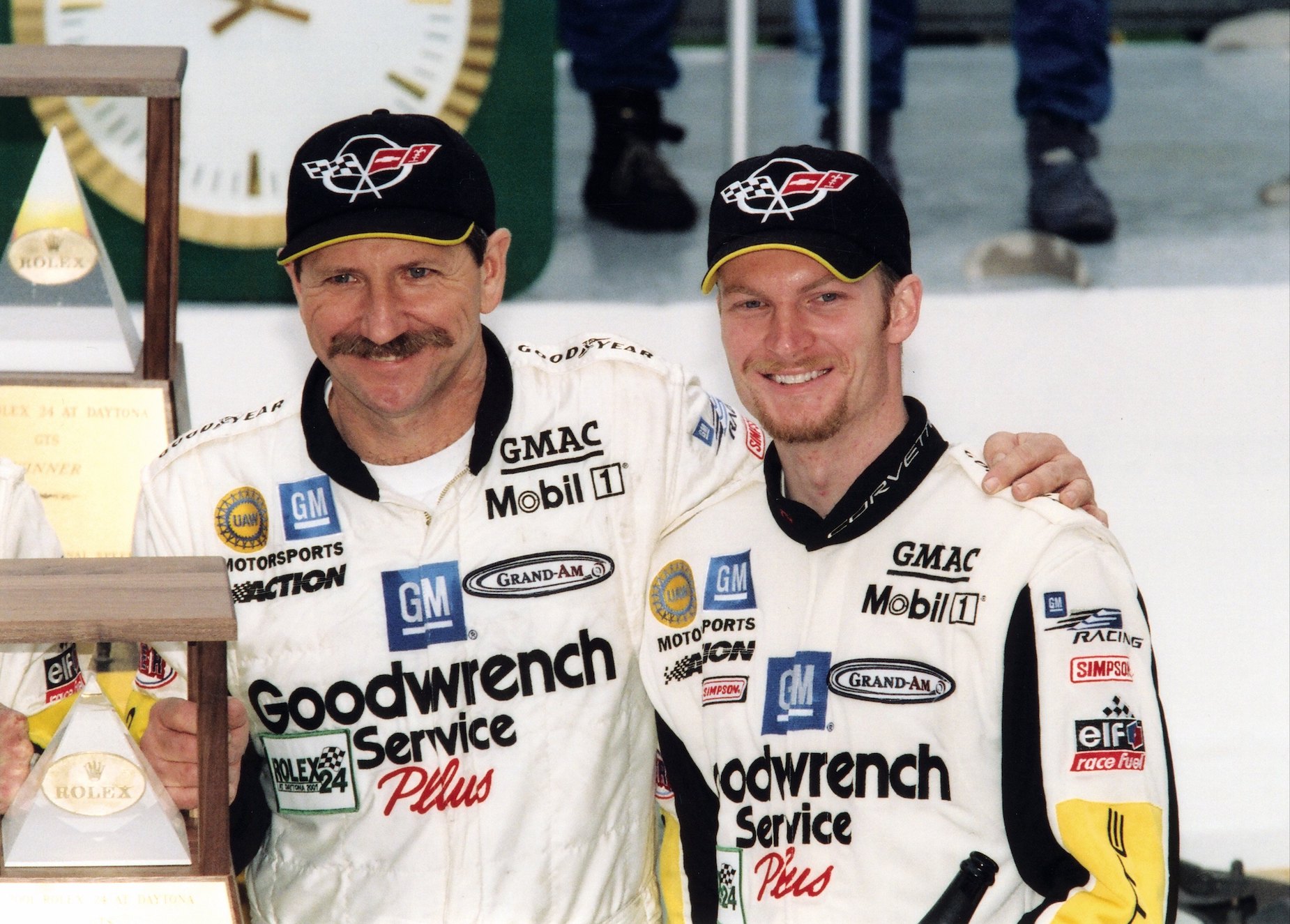 Dale Earnhardt Jr.'s Memorabilia Collection Includes a Priceless Piece That Started as a Joke on the Day His Father Died
While Dale Earnhardt Jr. has plenty of memorabilia from his NASCAR career, one piece dates back to his father's final day on earth.
In the world of modern motorsports, few names are bigger than Dale Earnhardt Jr. During his time on the NASCAR circuit, the driver has built up an incredible net worth. In his memorabilia collection, however, there's a special piece that no amount of money could buy.
On February 18, 2001, Dale Earnhardt Sr. tragically died during the Daytona 500. Before he climbed behind the wheel on that fateful day, though, he signed an autograph on a simple brown hat. That souvenir, which started out as more of a joke than anything else, eventually found its way into Dale Earnhardt Jr.'s possession.
Dale Earnhardt Jr. found both fame and fortune as a NASCAR star
Whether you like it or not, modern professional sports are a big-money business. In the world of NASCAR, no one experienced that more than Dale Earnhardt Jr.
While he only started racing to form a relationship with his famous father, Dale Jr. proved to be a pretty talented driver. He made his Busch Series debut in 1996 and, two years later, stepped up to the jump to the Cup Series.
While Earnhardt Jr. didn't quite reach the same heights as Dale Sr., he still found plenty of success on the track. He claimed two Busch Series championships and won 50 races across both series; the driver also monopolized NASCAR's Most Popular Driver title, winning it an incredible 15 times.
His success, however, wasn't limited to the race track. Thanks to his incredible popularity, Junior had no problem landing big-name endorsements and building up a $300 million net worth. He's also the co-owner of JR Motorsports and a rising star in the media world, which should only help keep the cash flowing.
A priceless memento from the day when Dale Earnhardt Sr. died
Over the years, Dale Earnhardt Jr. had accumulated plenty of souvenirs and trophies from his time on the NASCAR circuit. One of those pieces, however, harkens back to his dad's final day on earth.
As Junior explained in a Twitter thread summarized by the Charlotte Observer, Dale Jarrett slipped into Dale Earnhardt Sr.'s autograph line ahead of the 2001 Daytona 500. He made it to the front and handed the Intimidator a UPS Racing hat; at that point, Earnhardt realized something was amiss, looked up, and saw his friend standing amid the crowd of fans.
The two men "had a good laugh," then headed their separate ways. Later that day, Earnhardt Sr. would be involved in a fatal crash.
Years later, Jarrett met up with Dale Earnhardt Jr. to appear on the Dale Jr. Download. When he arrived, he came bearing a gift: that USP hat signed by Dale Earnhardt Sr. hours before he died.
"Through the years after my [sic] dads death many drivers and industry folk were incredibly supportive, and that certainly includes Dale Jarrett," Earnhardt Jr. wrote on Twitter. "Today he gave me that hat my father signed all those years ago. It's hard to know how to express my appreciation for his friendship."
Dale Jr. also owns a memory from one of his father's earliest races
While it's safe to assume that signed UPS hat occupies a treasured place in Dale Earnhardt Jr.'s memorabilia collection, it's not the only piece that's connected to his father. There's also an old racing suit that has its own unique story.
As explained to Dan Patrick, Dale Jr. was once cleaning out an attic and mindlessly tossed a black garbage into the trash pile without a second thought. A friend, however, looked inside and noticed a racing suit; it turned out to be what Dale Earnhardt Sr. wore during his first Cup Series win in 1979.
During his time as a NASCAR star, Dale Earnhardt Jr. has earned plenty of money and seen plenty of incredible things; in that context, a brown UPS hat and an old racing suit can seem pretty trivial. Some things, however, are more than their monetary price.