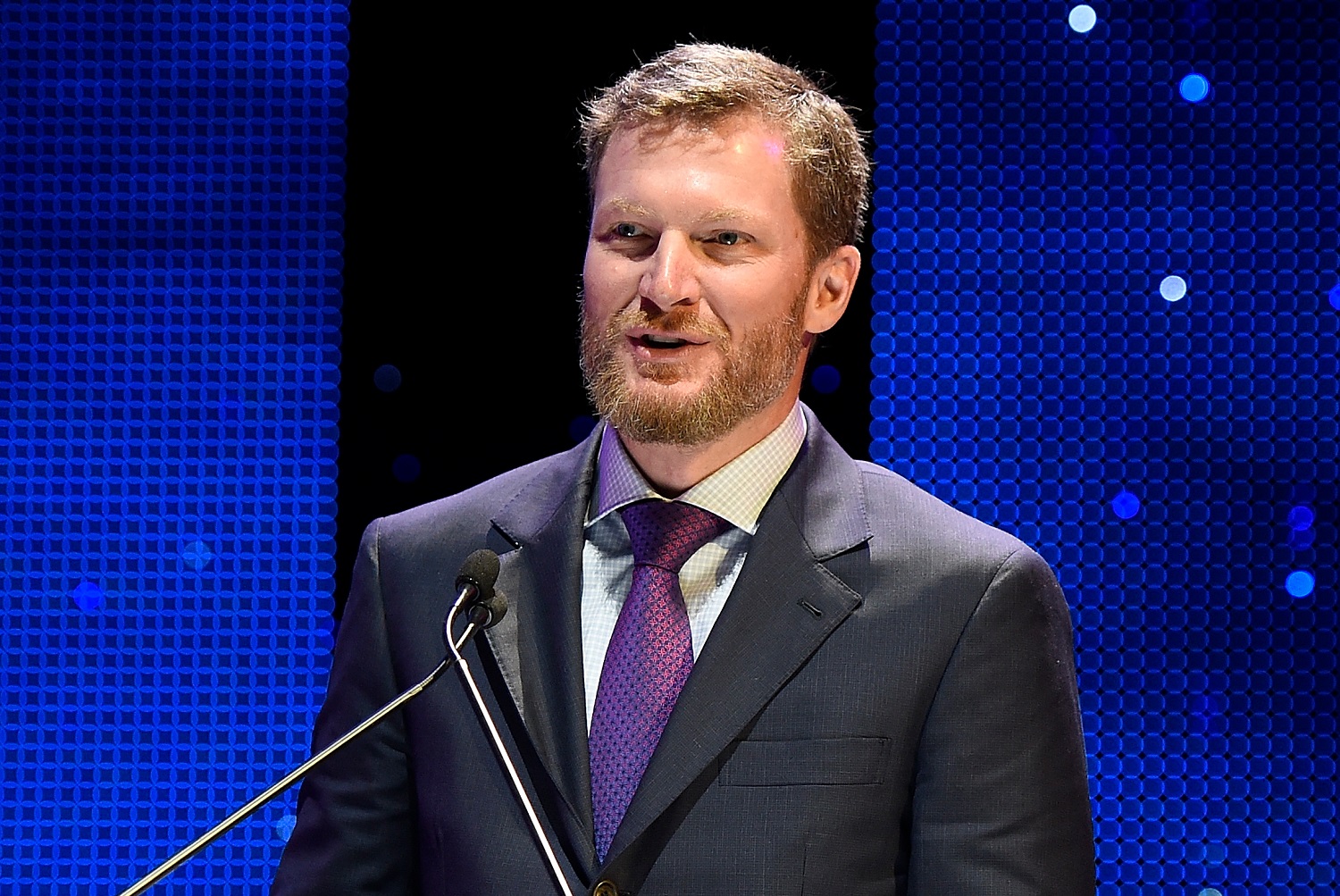 Dale Earnhardt Jr.'s Next Race Was Nearly a Career-Killer for Kyle Larson
Dale Earnhardt Jr. competes once a year in an Xfinity Series race. He's adding at least one eNASCAR event to his 2021 schedule.
Racing fans are still waiting on the official announcement of the date of Dale Earnhardt Jr.'s annual foray into Xfinity Series racing. In the meantime, they can get their fill of Earnhardt, the driver they voted the most popular in NASCAR 15 times, when he jumps into virtual racing next week.
Dale Earnhardt Jr. hops back into the No. 88 Chevy
Dale Earnhardt Jr. retired from full-time racing in the NASCAR Cup Series after the 2017 season, but he still races. Once a year, Earnhardt hops into an Xfinity Series car, and he's finished fourth once and fifth twice in the past three years. Though there hasn't been an official announcement, he's likely to make his 2021 appearance on May 8 at Darlington.
In the interim, Earnhardt has confirmed that he will be among the drivers when the eNASCAR iRacing Pro Invitational Series debuts at the virtual Bristol Motor Speedway on March 24. He will be driving the No. 88 Degree Chevrolet as Bristol is configured as a dirt track, according to Jayski.com.
The eNASCAR iRacing Pro Invitational Series debuted last season during the 10-week interruption to the season caused by the pandemic. FOX Sports 1 and NBC Sports will air five virtual races apiece this season.
Landing Earnhardt, a fan of online racing, is a coup for the eNASCAR series, but he should perhaps go into it with some trepidation. That's because two NASCAR Cup Series drivers bought themselves trouble a year ago.
Bubba Wallace lost a sponsor over his tantrum
Dale Earnhardt Jr. comes across as the calm sort. That's good, because virtual racing is apparently pretty intense stuff.
NASCAR Cup Series drivers Bubba Wallace and Clint Bowyer were involved in a crash during an iRacing series race being broadcast by Fox Sports last spring. Boyer reacted to being moved out of line by Wallace by joking, "I got Bubba-ed!" I need a beer really badly."
Wallace then quit, ranting on the stream, "That's why I don't take this (crap) serious. Peace out!"
He went on Twitter later to mock fans for taking iRacing seriously. At the time, Wallace was under contract with Richard Petty Motorsports and driving the iconic No. 43 Chevy sponsored by Blue-Emu, a pain relief product. Blue-Emu executive vice president Ben Blessing reacted to being embarrassed by Wallace by immediately announcing that the driver was fired and would not be paid.
"We aren't sponsoring Bubba anymore," Blessing told The Action Network. "Can you imagine if he did that in real life on a track?"
Dale Earnhardt Jr.'s next race was nearly a career-killer for Kyle Larson
NASCAR suspended Kyle Larson indefinitely in April 2020 after he uttered a racist slur during an iRacing event streamed on Twitch as the COVID-19 pandemic shutdown continued.
Larson, who was released by Chip Ganassi Racing, had reached full-time status in the NASCAR Cup Series in 2014 at the age of 21 and scored six victories in his first 223 career races. He raced simultaneously in the Infinity Series through the 2018 season and earned another 12 victories.
His suspension resulted in Larson losing the remainder of his 2020 season. He went through NASCAR-mandated training and earned reinstatement for the current season, but some teams considered him untouchable.
Larson ultimately landed with Hendrick Motorsports, where Dale Earnhardt Jr. drove for the final decade of his NASCAR Cup Series career. Larson has one victory and three other top-10 finishes in five starts this season.
Like Sportscasting on Facebook. Follow us on Twitter @sportscasting19.