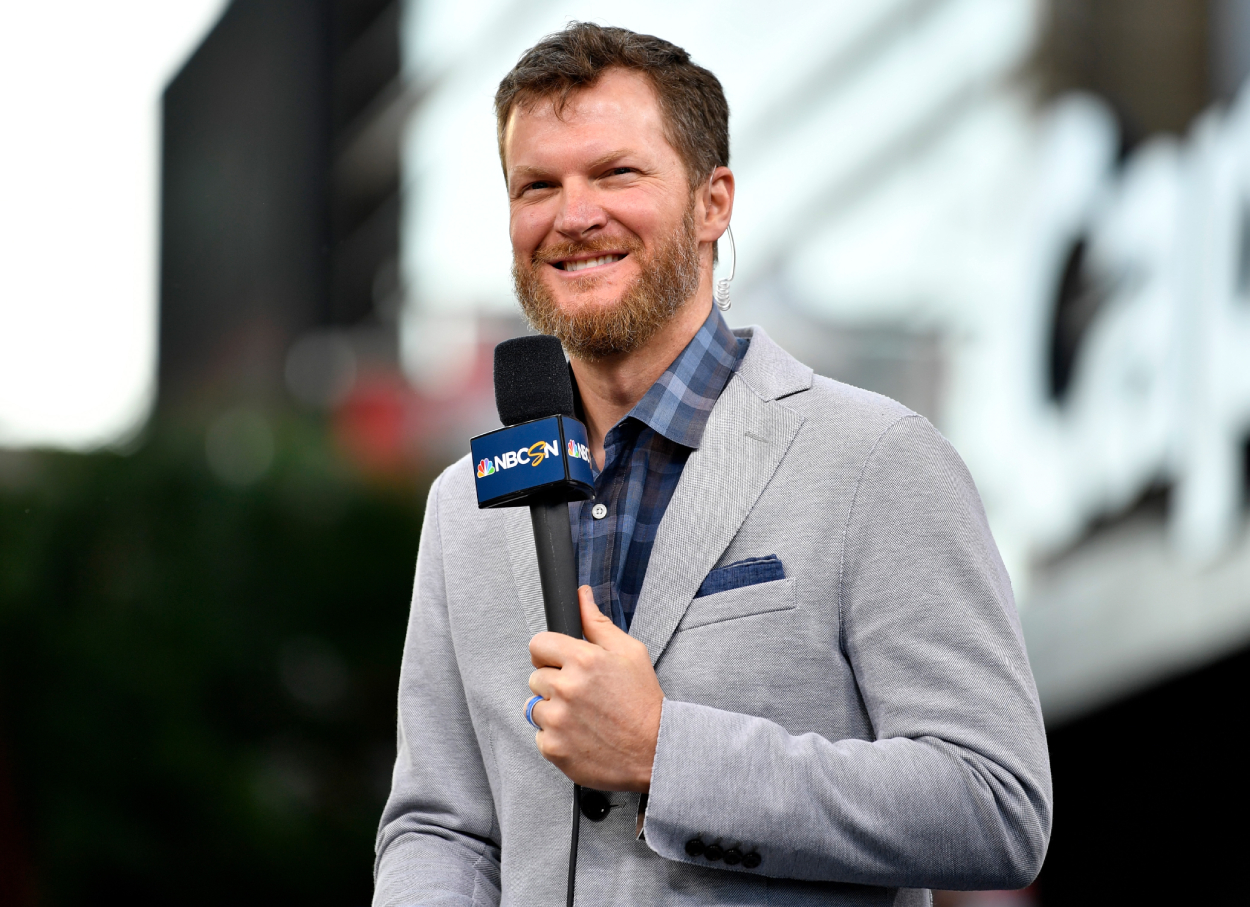 Dale Earnhardt Jr. Explains Why He Needed To Issue an Apology After Last Weekend's NASCAR Race in Nashville
Dale Earnhardt Jr. made his broadcasting debut for the 2021 NASCAR season last weekend.
The NASCAR Cup Series returned to Nashville for the first time in 37 years last weekend. Nashville Superspeedway opened in 2001 and hosted its first Cup Series race in front of a packed house of 38,000. Dale Earnhardt Jr. was in the Music City to make his season broadcasting debut for NBC. When he left that weekend, Junior showed he was a stand-up guy, issuing an apology and admitting he was wrong.
Dale Earnhardt Jr., NASCAR headed to Nashville last weekend
Although he wasn't behind the wheel, Earnhardt Jr. made a return to Nashville last weekend. Junior was there as the NASCAR Cup Series returned to the Music City for the first time since 1984. Earnhardt Jr. was there to broadcast the race for NBC, which took over racing coverage from Fox for the second half of the season.
Earnhardt Jr. admitted he was "terrified" for last weekend's race because he was hosting Countdown to Green, a live prerace show, and had never been put in that position before.
"Terrified, man," Earnhardt Jr. said on his Dale Jr. Download podcast last week regarding hosting the show. "I'm going to host the Countdown to Green with (country singer) Brad Paisley. I have not a lot of experience hosting. We do the podcast, and aside from this part, it's not live. The Countdown to Green will be live. NBC is coming back to be your host for NASCAR for the next several months, so I'm a little nervous about that."
Earnhardt Jr. and Nashville were both tremendous hosts over the weekend.
Dale Earnhardt Jr. admitted he needed to apologize after the weekend
During a Q&A session on this week's Dale Jr. Download, Earnhardt Jr. made it clear he owed an apology to track president Erik Moses after the Nashville race. Junior said he wasn't overly excited about the Cup Series returning to Nashville, but Moses and Nashville Superspeedway exceeded his expectations.
"I was blown away," he said. "I tried to articulate that the best way I could throughout the broadcast and on social media. I'll be honest, I was not too excited about NASCAR going to the Superspeedway. Judging what the races looked like, you know, a decade ago and the difficulty with crowds and so forth… I wasn't about this. Didn't think it was going to be good.
"The track was dormant and rough-looking and in bad shape. I had to apologize to Erik and his team because I wasn't supportive. I should've been."
Earnhardt Jr. was happy with both his and Nashville Superspeedway's performances
As far as Earnhardt's hosting debut went, he was great once the ice was broken.
"Once you get that introduction out of the way, then nothing is scripted from that point on," he said. "I loved it. I don't know that I'll get to host anymore. If do, I do."
As far as the Superspeedway goes, he was extremely impressed.
"We get to the racetrack and I'm driving into the tunnel, it's amazing," he said. "Everything's got a fresh coat of paint on it. The grass is perfectly manicured. There's not anything out of place. It looks brand new, this whole racetrack. It took a ton of work to go to every space, interior, exterior. Everything got a remake."
Consider Nashville a warmup for Earnhardt's 2021 broadcasting season, and he aced it. He believes Nashville Superspeedway did as well.