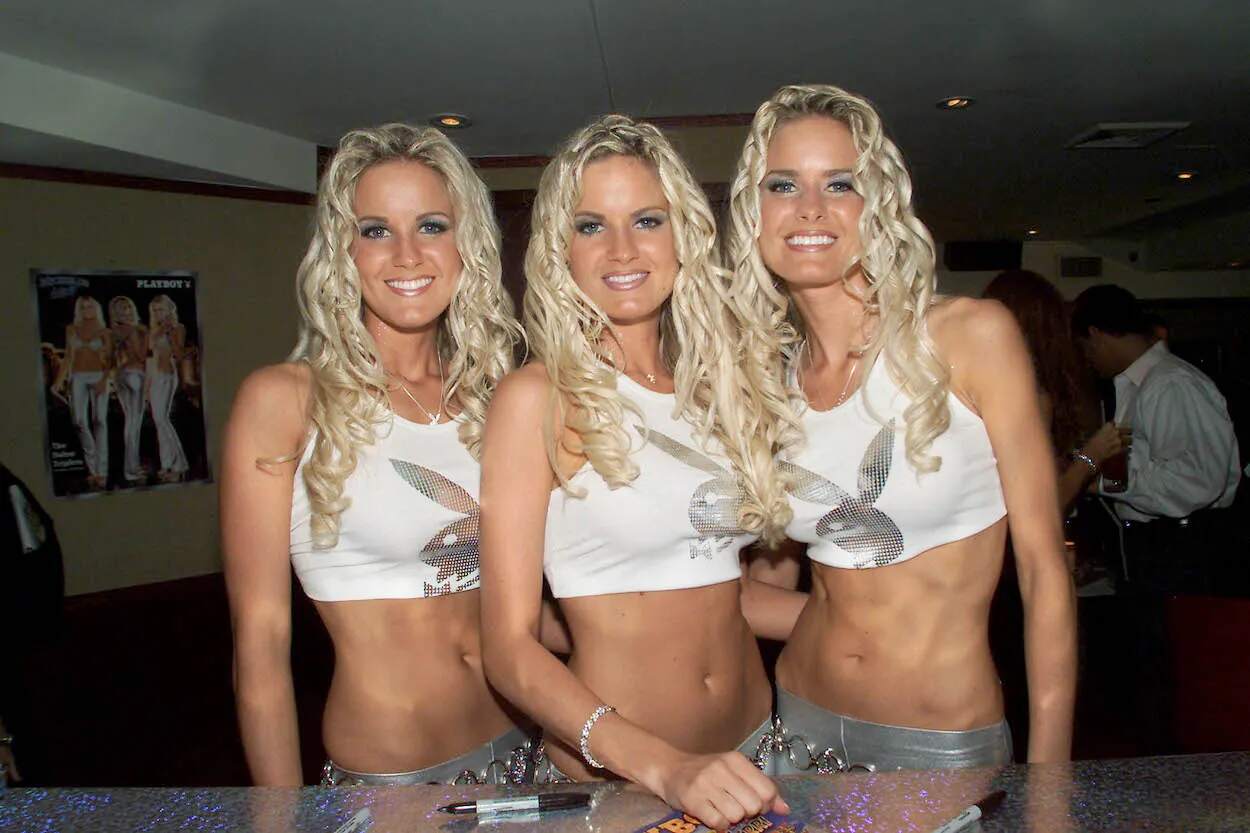 Dale Earnhardt Jr. Once Landed Gig as Playboy Photographer With the Dahm Triplets and Prized Yellow Corvette GTR as His Subjects
Dale Earnhardt Jr. took a side gig in 2003 to become a Playboy photographer for a day with the famous Dahm triplets and his prized Corvette GTR as his subjects.
Dale Earnhardt Jr.'s name is synonymous with NASCAR. He raced with the Cup Series for 19 years. Since retiring from full-time competition in 2018, Earnhardt is still very involved with the sport as a team owner in the Xfinity Series. He's also a broadcaster on NBC and podcast host. 
Before the start of the 2003 Cup season, Earnhardt's fame was reaching new heights. Then, he was invited to take part in an unforgettable side project. He was a Playboy guest photographer for a day and had a photo shoot in his private garage with the Dahm triplets and his Corvette GTR as the subjects. He never looked at his prized yellow Corvette the same way ever again. 
Dale Earnhardt Jr. has early success in career
After a successful stint with the NASCAR Xfinity Series for two seasons in 1998–99, which included a pair of championships, Dale Earnhardt Jr. found a full-time ride in the Cup Series, starting in 2000. 
Earnhardt won a pair of races that season at Texas and Richmond, which was good enough for second in Rookie of the Year voting behind Matt Kenseth. The following season he found his way to victory lane three more times, but that year will always be remembered for the first race of the season at the Daytona 500. 
Dale Earnhardt Jr. finished second in the Great American Race behind Michael Waltrip, but it's what happened behind them that made headlines. Dale Sr. tragically died in an accident on the final turn of the race. 
After finishing eighth in the final season standings that year, Earnhardt put together another solid year in 2002, where he won twice, including a pair of victories at Talladega. He finished 11th in the points.
Dale Earnhardt Jr. becomes Playboy photographer with Dahm triplets as his subjects
With his star rapidly ascending, Dale Earnhardt Jr. became more popular each season. That celebrity came with special privileges. One of those happened before the start of the 2003 NASCAR season, when he got invited to participate in Playboy's celebrity photographer for a day. He accepted.
Earnhardt Jr.'s assignment was taking photos of the Dahm triplets, who had become well-known a few years earlier when they debuted in the December 1988 Playboy issue as part of the Girls of the Big Ten. The three girls frolicked and posed for Earnhardt for three hours in his private garage in North Carolina, with his bright yellow Corvette GTR serving as a backdrop in many of the photos. 
"How could you not say yes to an offer like this?!" Earnhardt told Motorsport.com. "I don't claim to be a photographer, but everyone from Playboy was really helpful, and the girls were awesome. I thought I was just going to show up and push the shutter down, but I was involved in the whole thing… from the setting to the wardrobe. It was awesome, and I was really happy that the girls agreed to do this with me. They were really cool about it. It was fun for me to be on the other side of the camera for once and to see three gorgeous women through the viewfinder. I haven't seen all the pictures, but who knows, maybe I can do this kinda thing when I retire as a driver." 
Retired as a photographer?
Dale Earnhardt Jr. retired from full-time racing in 2018 but continued to race part-time. His 2023 Xfinity schedule includes Bristol in September and Homestead-Miami in October.
The now-48-year-old has not taken up photography, but his plate is full of multiple responsibilities in business and his personal life. In addition to being co-owner of JR Motorsports and his work with NBC and podcasting, Earnhardt has been married to his wife Amy since Near Year's Eve in 2016. He's the father of daughters Isla and Nicole.
Dale Earnhardt Jr. had a distinguished NASCAR career and has moved on to the next chapter in his life as a family man. But he still has the photos to prove where his career was back in 2003.