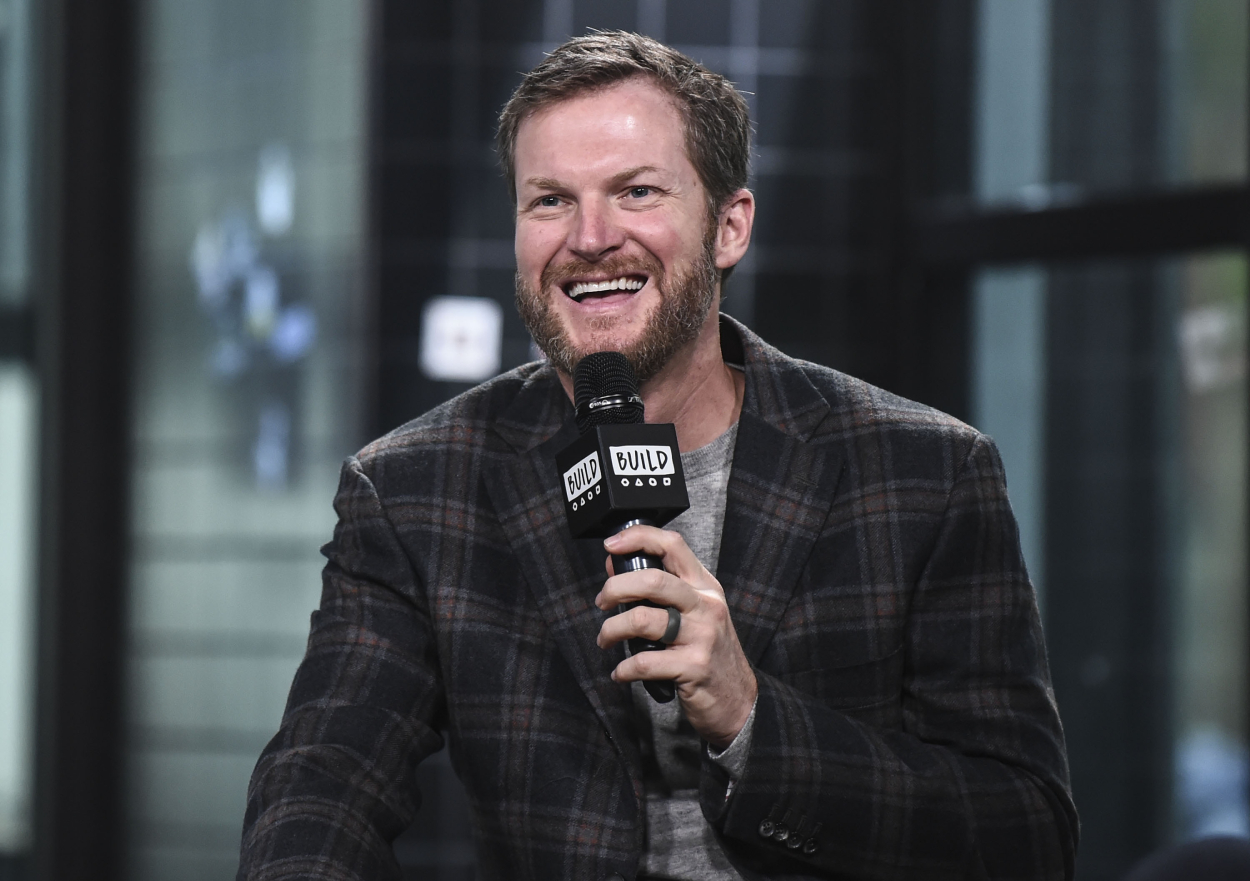 Dale Earnhardt Jr. Once Passionately Praised a Former NFL Star for Shockingly Quitting His Sport Early
NASCAR legend Dale Earnhardt Jr. called it quits a little early, as he retired from racing in 2017 despite thinking that he had a few years left. This led to him deeply praising former Carolina Panthers linebacker Luke Kuechly for his decision to retire from the NFL early.
Dale Earnhardt Jr. still potentially had a few years left when he retired from racing in 2017, but he decided to end his motorsports career a little early after having some issues with concussions. Earnhardt has since tried to educate others about concussions. So, when he saw an elite NFL star in former Carolina Panthers linebacker Luke Kuechly retire from football — a sport known for concussions — early, Earnhardt passionately praised him.
Dale Earnhardt Jr. retired from racing in 2017
At 42 years old, Dale Earnhardt Jr. retired from racing in 2017. This was although he felt he had some good years still left, per ESPN.
Earnhardt's early retirement came after he had more than a dozen concussions, as he ultimately said that he wanted "the opportunity to go out on [his] own terms," ESPN reported. He also revealed that he realized after some missed races in 2016 that there was a possibility his career could end without him "having a vote at the table."
Despite being honest and open about his issues with concussions now, though, Earnhardt — a NASCAR Hall of Famer — hid what he was dealing with for years.
"But then my symptoms got too severe to keep up the charade, and I was forced to get help," Earnhardt wrote in a story published in The New York Times, per ESPN.
He is now not just talking about it, but Earnhardt has also since announced that he will donate his brain for CTE research after his death.
Dale Earnhardt Jr. has ultimately become a spokesperson for concussion awareness. This led to him passionately praising Luke Kuechly for his decision to call it quits early.
Dale Earnhardt Jr. praised Luke Kuechly for his decision to retire early
In January 2020, one of the best linebackers in the NFL called it quits, as Luke Kuechly chose to retire at 28 years old.
Kuechly didn't say that concussions were behind his decision to retire. But he reportedly suffered three of them from 2015 through 2019, per ESPN. He also said that he didn't think he could continue to "play fast and play physical and play strong."
Soon after Kuechly made his announcement, Earnhardt lauded Kuechly's decision.
"When you get in those types of situations that he was in, you have to make some difficult choices, and I think he made the right one," Earnhardt said, according to ESPN. "I feel like that a lot of people can learn from that. I think he set an amazing example for a lot of young folks to follow."
Kuechly did ultimately express that he loves playing football, as he said that it's his "favorite thing in the world to do," according to USA Today. But he knew retiring was the right choice.
"I'm sure he would have loved to have played longer, but he's made some amazing, great choices for himself and for his family and his future," Earnhardt said, according to ESPN. "And he feels strongly about that decision. All you can do is support that. … You have to want to support his decision."
Earnhardt also said that he hoped Kuechly's choice would have a positive influence on others.
"Especially when you see what Luke's doing and making the choices he's making, it's obvious that we're all a lot better off because of what we've learned as a society over the last decade," Earnhardt said, according to ESPN.
Luke Kuechly's decision was definitely a shocking one. But he still had an absolutely incredible career.
Luke Kuechly is still a future Hall of Famer
Despite only playing in the NFL for eight seasons, Luke Kuechly is still a future Pro Football Hall of Famer. He led the NFL in total tackles in his rookie season in 2012 and then in his third season in 2014. Kuechly also won the 2013 AP Defensive Players of the Year award after recording 156 total tackles, two sacks, and four interceptions.
Kuechly ultimately earned five First-Team All-Pro selections, and he earned Pro Bowl honors in every year but his rookie season. His play in 2015 also helped the Panthers' defense become the sixth-best defense in the NFL in terms of scoring. This also ultimately helped the Panthers go 15-1 and reach the Super Bowl that year.
Pro Football Reference has Kuechly's Hall of Fame Monitor score at 118.4, and the average score for a Hall of Fame inside linebacker is 114.43. There are six other inside linebackers already in the Hall of Fame with a lower score than Kuechly, too.
Seeing guys like Dale Earnhardt Jr. and Luke Kuechly retire early certainly isn't fun for fans. They both, though, still had great careers before ultimately calling it quits.
Stats courtesy of Pro Football Reference