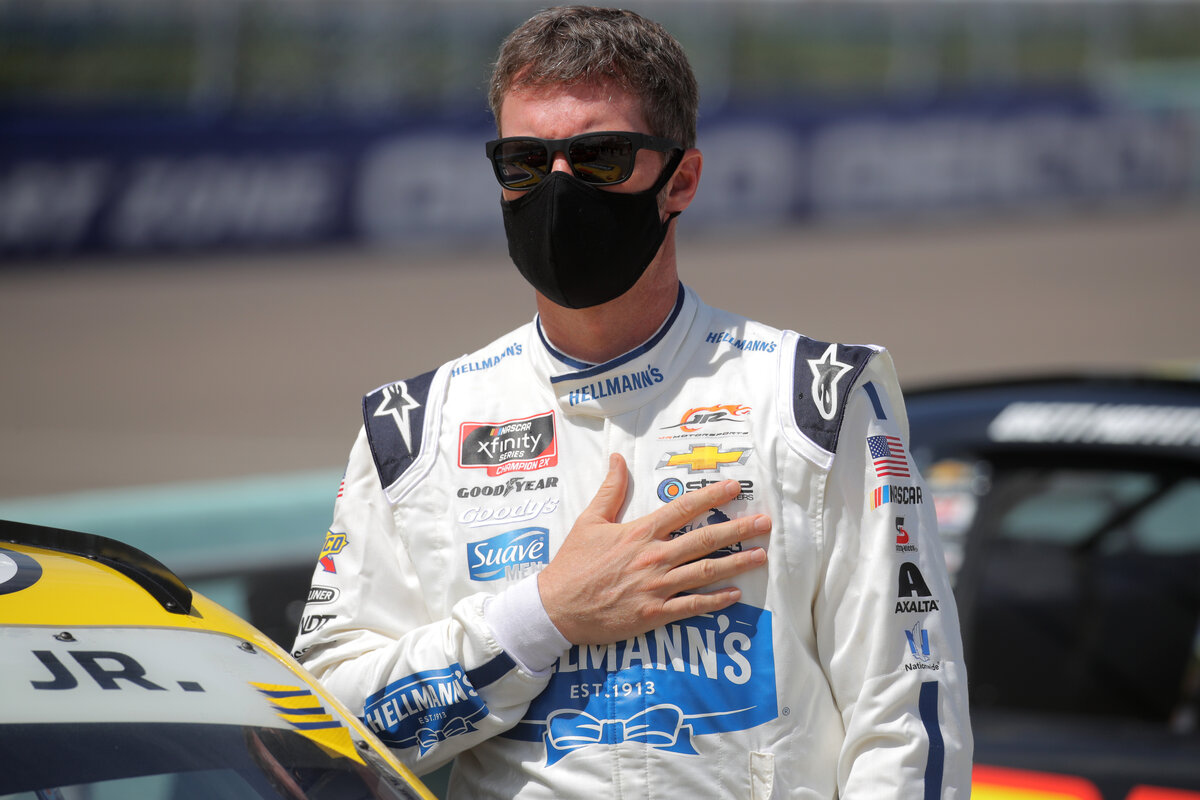 Dale Earnhardt Jr.'s Announcing Tactics Are Annoying to Other NASCAR Drivers
Dale Earnhardt Jr. had a legendary NASCAR career before joining the broadcast booth. Earnhardt just explained how he leaves other drivers "annoyed."
NASCAR legend Dale Earnhardt Jr. has spent the last few years transitioning from the racetrack to the broadcast booth.
Any athlete who goes immediately into broadcasting, even in motorsports, faces a difficult transition. NFL announcer Tony Romo and ESPN/Fox baseball commentator Alex Rodriguez can relate to the challenges of being open — and sometimes critical — of their friends, ex-teammates, teams, and rivals in the booth.
In a recent interview, Earnhardt acknowledged how his new career has led to him leaving other drivers, including his close friends, "annoyed" with the racing legend.
Dale Earnhardt Jr. is a NASCAR legend
Dale Earnhardt Jr. arrived in NASCAR with heavy expectations as the son of Dale Earnhardt Sr.
The son more than proved his worth in 19 seasons racing at the NASCAR Cup Series level. Earnhardt finished with 26 wins, including two titles at the Daytona 500.
That is tied for 30th-most in NASCAR history as of November 2020.
Earnhardt also won five Xfinity Series as an owner of Chance 2 Motorsports — and later, JR Motorsports, where he is still the current co-owner.
Earnhardt is now a broadcaster
In some regards, NASCAR isn't that much different than the four major North American sports.
Dale Earnhardt Jr. immediately entered the broadcast booth when he retired in 2017. Other athletes — including Aqib Talib, Jason Witten, and Tony Romo — all did that in the NFL, to varying degrees of success.
Earnhardt had already done guest analysis on Fox and NBC. He officially joined the NASCAR on NBC broadcast team in 2018, and is expected to continue that role next season.
Dale Earnhardt Jr. just revealed how he annoys other drivers
Dale Earnhardt Jr. has succeeded in the broadcast booth and quickly took to the idea of promoting honest, insightful analysis.
That success has been a double-edged sword for Earnhardt. In an interview with beyondtheflag.com, Earnhardt explained how other drivers have been "annoyed" by his commentary. 
Earnhardt recalled a feud between Martin Truex Jr. and Joey Logano. At one point in the booth, Earnhardt remarked how he didn't think Truex would win the Cup Series.
"I can say that about Martin because we're friends and I know him, but when he hears it he goes 'Man, why you gotta say that? That made me mad!' I'm like 'Well it's okay it made you mad! I'm just calling it like I see it and that's what the fans want to hear.' So it's pretty funny, it's a lot of trivial stuff like that."
Earnhardt said he and Truex remain close despite the former's blunt commentary, however.
The 2021 NASCAR season is expected to begin in February. Any drivers who haven't accepted Earnhardt's job, and what comes with that, may want to prepare for whatever remarks he makes in a few months.
Like Sportscasting on Facebook. Follow us on Twitter @sportscasting19.