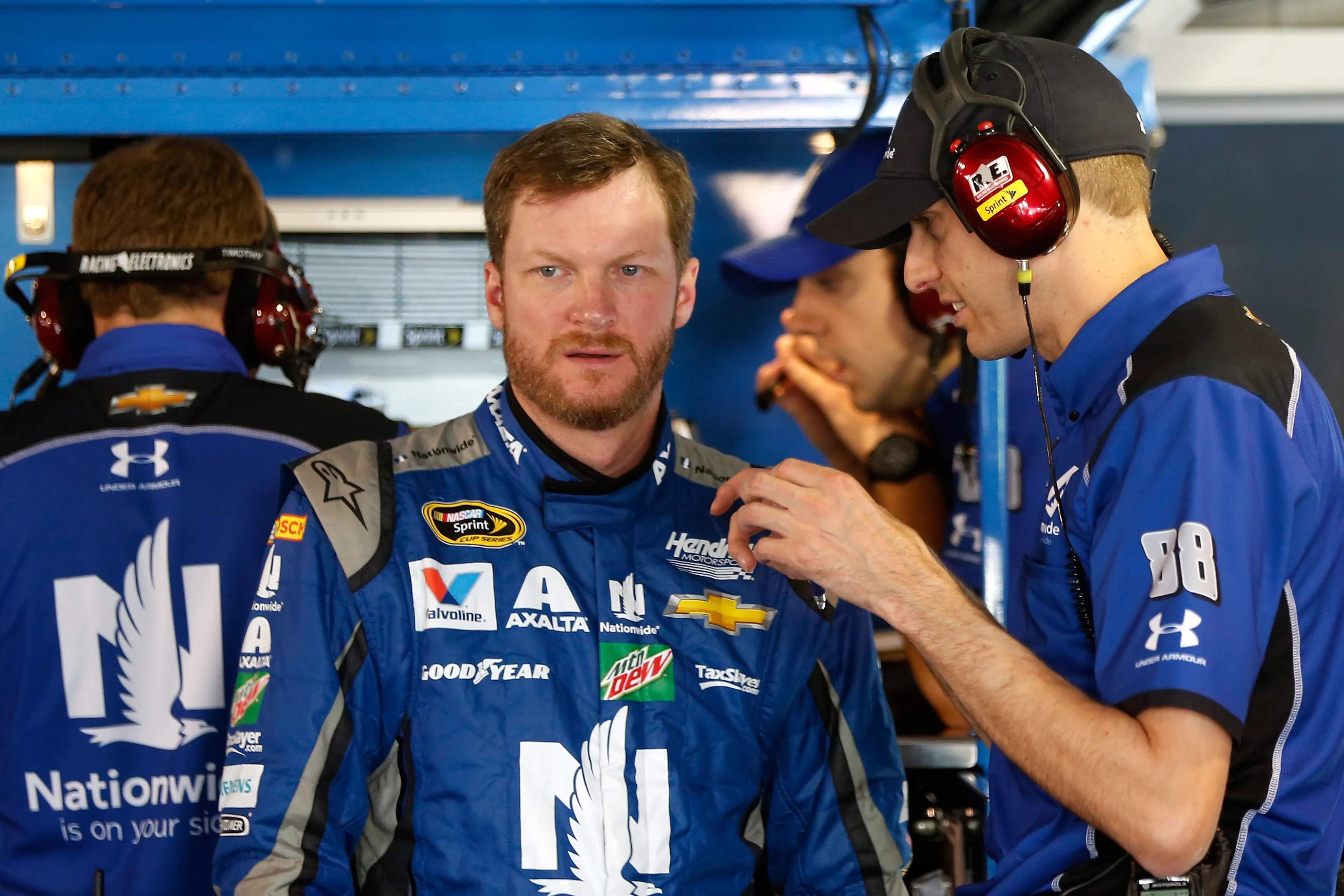 Dale Earnhardt Jr.'s Nerve-Wracking Question to Dan Snyder Sparked His Biggest Non-Racing Moment
Back in 2012, Dale Earnhardt Jr. had a nerve-wracking question for Washington owner Dan Snyder and it sparked his biggest non-racing moment.
It's no secret Dale Earnhardt Jr. is a huge fan of the Washington Commanders. Growing up, Junior became a Washington NFL team fan, and it's stayed with him throughout his Hall-of-Fame NASCAR career.
Earnhardt Jr. once asked Washington Commanders owner Dan Snyder a nerve-wracking question that helped spark one of the biggest moments in his life.
How did Dale Earnhardt Jr. become such a big Washington Commanders fan?
Dale Earnhardt Jr. was born into a big racing family. The son of the late Dale Earnhardt Sr., Junior was also the grandson of Robert Gee, who used to build NASCAR cars. Although Earnhardt Jr. was always big into racing, he enjoyed other sports as well.
Earnhardt Jr. was small in stature in his younger days. He wanted to play football but was just too small. When he was nine years old, he asked for a Washington (then Redskins) football helmet. Earnhardt Jr.'s mother bought him the entire uniform for a birthday present, and he was hooked on the team. It's been that way ever since.
Throughout his racing career, Earnhardt Jr. has been known to take some of the Washington players for rides. He's become friendly with a few of the members of the team. Earnhardt Jr. would always ask for the Washington scores during his races. He once said in an ESPN article that it would ruin his week if his favorite team lost.
Earnhardt Jr. had a nerve-wracking question for Dan Snyder
In a 2012 ESPN article, Dale Earnhardt Jr. penned his reasons for liking the team formerly known as the Washington Redskins. He said it all began with that birthday present from his mom when he was 9. He said he always envisioned himself playing alongside running back John Riggins. As he grew older, Earnhardt Jr. got to meet some of the players, coaches, and even owner Dan Snyder.
Earnhardt had been invited to see a couple of games in person. He even sat in the owner's box to watch Washington host the rival Dallas Cowboys in 2010. In 2012, Earnhardt wanted to go see his team play the New York Giants on Monday. It wasn't like him to go ask for tickets. He wanted to take his then-girlfriend Amy to the game.
He was nervous about it, but he asked Snyder if there was anything he could do. "So a few weeks ago I got up the nerve to ask Snyder if he had two empty seats in the building for the Monday night game against the Giants," Earnhardt wrote in 2012. "To my excitement, he provided my girlfriend, Amy, and I with two owner's suite passes in less than a week's notice."
Dan Snyder provided Dale Earnhardt Jr. with a night to remember
After Dale Earnhardt Jr. found enough courage to ask Dan Snyder for a pair of tickets to the game against the New York Giants in 2012, Earnhardt said he had the time of his life. "Dan and his wife, Tanya, couldn't be kinder, more generous people," he wrote in a 2012 ESPN story.
"Here, the Redskins are playing one of the biggest regular-season games of the year, and I'm sitting in the front row of his suite, with no doubt in my mind this was the best seat in the house," he continued. "So we watched, we cheered, we prayed, and in the end, we jumped for pure joy over a closely fought victory. Then it hit me. I was feeling that feeling. That one I can't describe."
Earnhardt said that night he felt a feeling he had never experienced outside of racing. "'How does it feel to drive at 200 mph?'" he wrote. 'How does it feel to go four-wide at Talladega?' 'How does it feel to win the big race?' I never thought I would replicate that kind of excitement outside a race car. But there it was: that feeling. And it felt amazing. Everyone has their top-of-the-mountain moment. Outside of racing, this was mine."