Dale Earnhardt Jr.'s Spectacular 2000 Season Still Wasn't Good Enough To Win Rookie of the Year
Occasionally, the NASCAR Rookie of the Year race is a bit of a joke. Some winners of the award seem to have won it only by default. (Step right up, Andy Lally!) Other years, however, have produced legitimately outstanding rookie classes of drivers which made an impact on the sport for over a decade. 2000, which featured both Dale Earnhardt Jr. and Matt Kenseth, was one of those years. That season, the son of a seven-time Cup Series winner won two points races and the Winston All-Star Race yet still couldn't take home Rookie of the Year honors.
Earnhardt Jr storms through the Busch Series
Dale Earnhardt Jr. came into the NASCAR Cup series for the 2000 season, following great success in what was then the Busch Series.
In both 1998 and 1999, he captured the Busch Series title with Matt Kenseth finishing second in 1998 and third in 1999. Over those two seasons, Earnhardt picked up a combined 13 wins, while Kenseth scored seven.
Great anticipation surrounded Dale Jr.'s first full-time season in the Cup Series. For a test run, he drove five races in the 1999 season in the very same Budweiser no. 8 car he would drive until 2007. He averaged a finish of 21st, including a 10th-place finish at Richmond.
Meanwhile, Kenseth impressed greatly in his first Cup ride. In the September 1998 race at Dover, he filled in for Bill Elliott, who missed the race to attend his father's funeral. Kenseth piloted the (hideous) no. 94 McDonald's car to a sixth-place finish.
Two hot rookies duel for top honors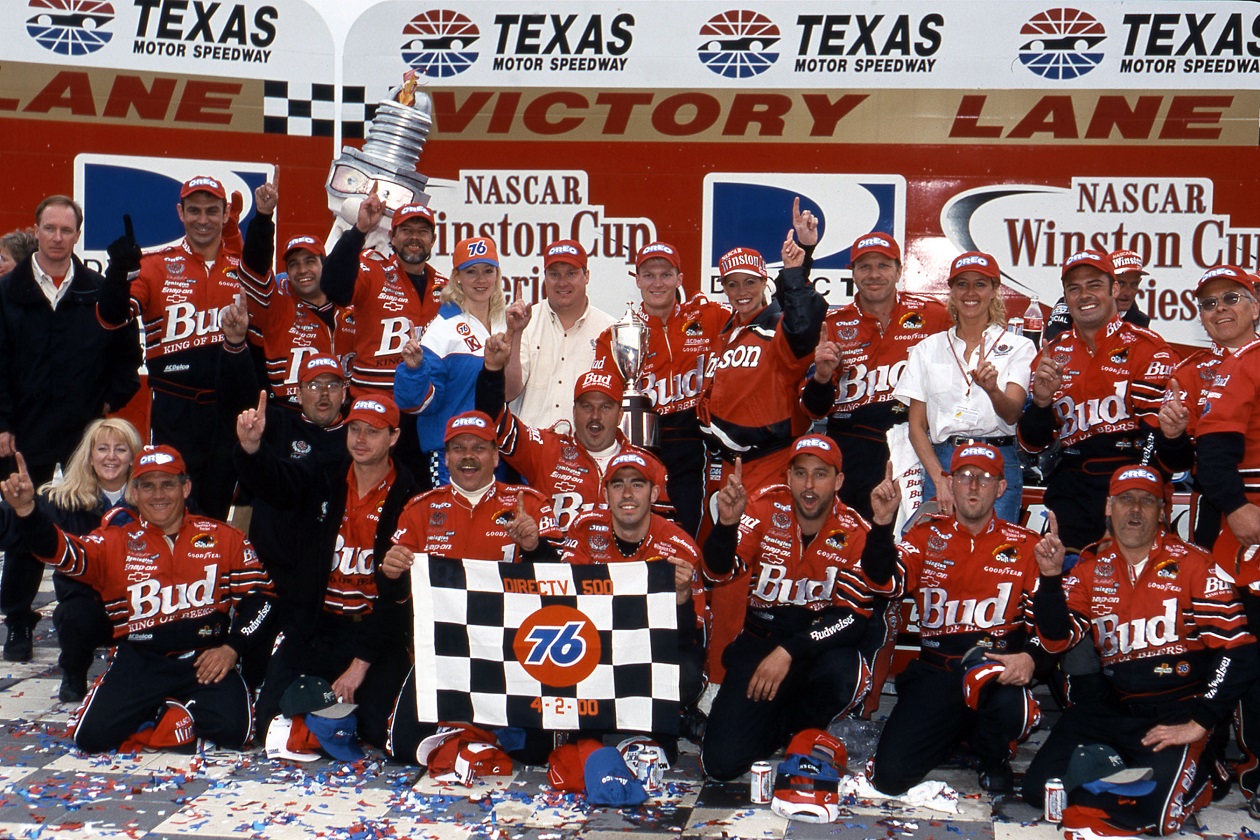 Dale Jr. didn't get off to a very hot start, with only one top-ten in his first six races. However, at the season's seventh race at Texas Motor Speedway, everything came together for the no. 8 car, and he emerged with his first career Cup Series win. It took only three weeks for Junior to snatch his second win, this one at Richmond.
His defining moment for the 2000 season came when he won The Winston all-star race at Charlotte. While this victory did not earn him any points in the Winston Cup standings, it did earn him great respect in the NASCAR garage. It also earned him a place in history as the first rookie ever to win the event.
Kenseth had to wait a little while longer to pick up his first career victory. He eventually came through at the Coca-Cola 600 at Charlotte, just one week after Junior's all-star triumph. It would be Kenseth's only victory of the season, and he would go winless until the February 2002 race at Rockingham.
Despite Earnhardt's superior win count, Kenseth was the far more consistent driver — a trait that would define him throughout his entire career. Kenseth picked up 11 top-ten finishes to Earnhardt's five while finishing two places higher in the final points standings. This was enough to earn him the 2000 NASCAR Rookie of the Year award over Earnhardt Jr.
Earnhardt Jr. and Kenseth, a friendly rivalry
Despite his laid-back persona, Matt Kenseth would occasionally find himself in run-ins with his competitors. He got on the bad side of Jeff Gordon, Joey Logano, Brian Vickers, Brad Keselowski, Tony Stewart, and even Roush Racing teammate Carl Edwards.
Dale Earnhardt Jr. was never one of those drivers. According to Autoweek, the two were close friends ever since their careers in the Busch Series.
"I had always been impressed with [Kenseth's] talent and his ability," Earnhardt told Autoweek. "He was as good a driver as anybody that is in the series today."
In addition to the Rookie of the Year title, Kenseth can hang something else over his friend and rival. Unlike Junior, Kenseth is a former Cup Series champion, having won the title in 2003. His performance in that season apparently impressed Earnhardt, who also recorded his best-ever points finish that season (third).
"I bet [Kenseth] was probably down 40 h.p. to everybody else," he said in 2017. "Roush probably wouldn't admit it, wouldn't like to hear that, but he was just an amazing driver."