Dale Earnhardt Jr.'s Unbelievably Huge Beer Deliveries Sent Up a Red Flag at Budweiser
Most people know Dale Earnhardt Jr. for his impressive NASCAR career as the No. 8 Budweiser car driver from 2000 to 2007. Others know him because they followed his father's racing career, which ended tragically at Daytona International Speedway on Feb. 18, 2001.
No matter how you view Dale Earnhardt Jr., his achievements during his 19-year career earned him a much-deserved spot in the NASCAR Hall of Fame. The legendary driver boasts 26 Cup Series wins, 260 top-10 finishes, two Xfinity Series championships, and much more.
He's also well known off the track for many reasons, one of which is his love of beer.
This Bud's for Dale Earnhardt Jr.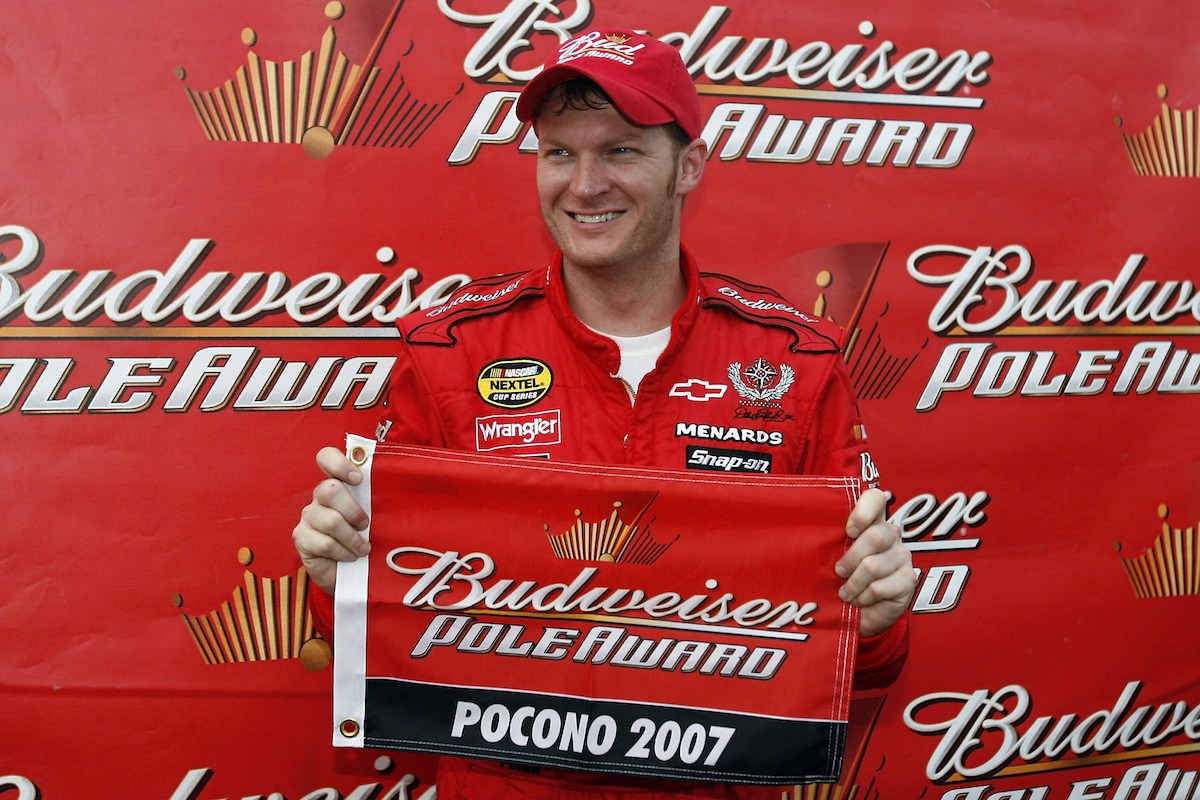 For Earnhardt, driving for Budweiser was more than just a sponsorship — his love of beer is well known. He's the down-to-earth type whose perfect day would be drinking beer at Disney World.
In a 2017 interview, Earnhardt revealed he would once again drive for Budweiser in his final NASCAR race. He expressed on CBS Sports that Budweiser would always hold a special place in his heart.
"They took a chance on me early on, sponsored my first Cup ride, and paved the way to many great opportunities I wouldn't have had otherwise," he said.
"I'm deeply honored in what they've done to commemorate my final race. It was unexpected and humbling. It brought back a rush of memories. But more than anything, it reminded me how awesome it was to drive that red #8 car."
Earnhardt's epic beer deliveries sent off alarm bells at Budweiser
In a recent episode of Earnhardt's podcast, The Dale Jr Download, longtime motorsports executive Ty Norris recalled an incident involving massive beer deliveries at Jr.'s house.
Norris said he got a call one day from a Budweiser beer distributor, who asked what was going on at Dale's.
The distributor told Norris: "The most beer that he delivered to any retailer in the entire state of North Carolina is in Mooresville at Dale Jr.'s house. Is he selling it?"
To which Norris replied, "No, they are drinking it."
During Norris' retelling, Earnhardt chuckled and clarified he had a lot of help drinking the beer. He also revealed that at one New Year's Eve party, his guests consumed about 150 cases of beer.
In the same episode, they discussed the subject of whether beer counts against your diet if you're counting calories. Earnhardt quickly said, "No." He added:
"I don't count drinking [when counting calories], and I still don't. … I'm not ready to give up beer. … Yesterday, I sat down and drank eight beers over the course of the day. … I'm not gonna count that."
Today, the semi-retired NASCAR driver shows his love of alcoholic beverages in a different way
Dale Earnhardt Jr. and his wife Amy recently entered a partnership with Sugarlands Distilling Co. As part of the agreement, the Earnhardt name will be placed on products, including the couple's favorite libation, moonshine. It's a 40-proof concoction called Electric Orange Sippin' Cream.
Sugarlands Distilling is no stranger to the racing community. It has already had partnerships and sold special-edition beverages. But the Earnhardt partnership seems like a perfect match that will likely have fans toasting to it.
RELATED: Dale Earnhardt Jr. Admits Hitting Fellow NASCAR Driver 3 Times in Anger Wasn't Enough: 'I Wanted to Hit Him Again'