Dale Earnhardt Jr. Wanted the Indianapolis 500 to Learn From NASCAR's Mistakes
During his NASCAR Cup Series career, Dale Earnhardt Jr. never had the time to attend the Indianapolis 500.
When Earnhardt retired following the 2017 season, his schedule opened up. In the spring of 2019, the NASCAR legend traveled to Indianapolis Motor Speedway and, as he watched the race while working for NBC, had an interesting observation.
Dale Earnhardt Jr. wanted the Indianapolis 500 to learn from NASCAR's mistakes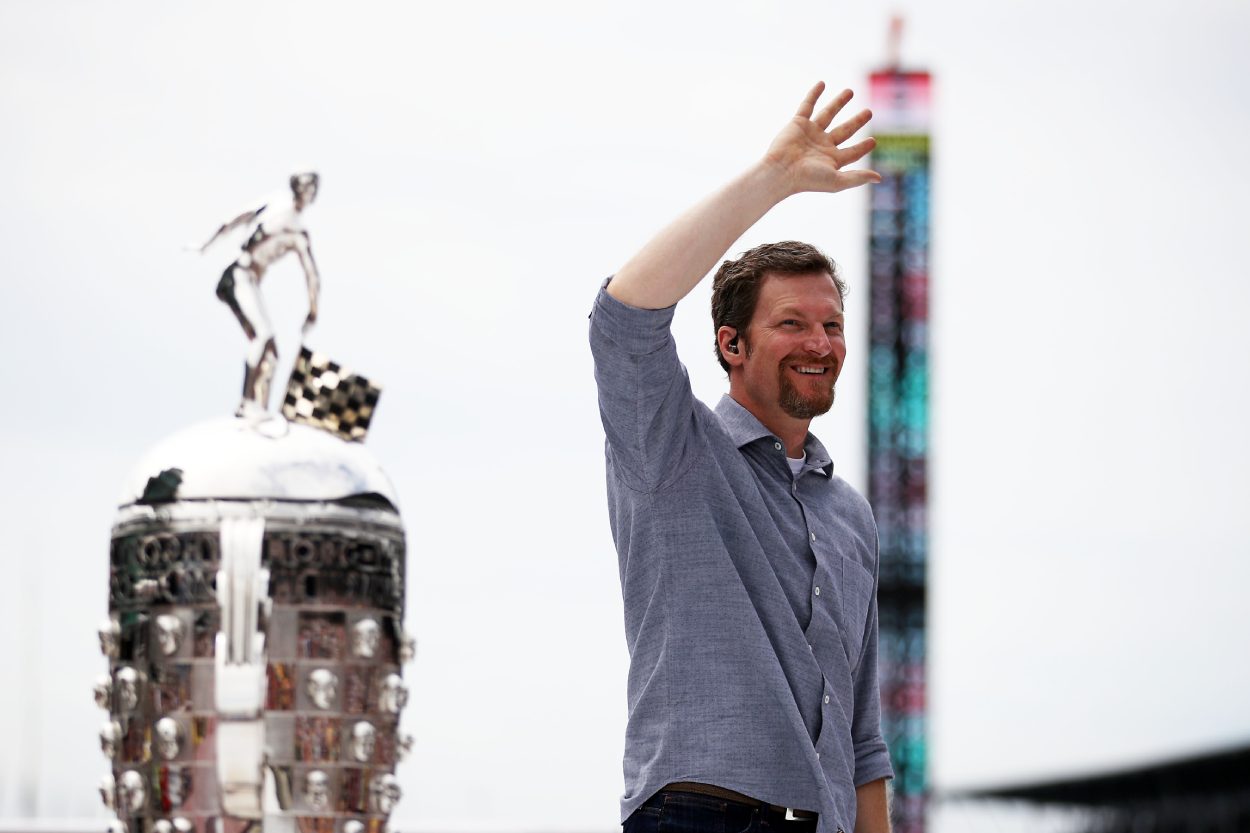 Dale Earnhardt Jr. liked what he witnessed at the 2019 Indianapolis 500.
Earnhardt Jr., attending the event in person and working for NBC, watched "Bump Day" and the drama involving the 500-mile race. Always an observer and a devout racing fan, he had no shortage of opinions after the experience.
In an interview with NBCSports.com, Earnhardt said he believed IndyCar should stick to its traditions and not guarantee spots to drivers. Conversely, he criticized how NASCAR created a system that ensured certain teams earned spots, a process which "changed the excitement" for qualifying.
"If I was in control of things, I would not pull those levers to have guaranteed spots. The thrill of Bump Day and the battle for the final row increased the value of Sunday and viewership for Sunday. It taught people about other drivers and teams. We don't learn those things if you don't see them going through that battle and experience."

Dale Earnhardt Jr.
For the record, 5.4 million people watched the 2019 Indy 500, up from 4.9 million in 2018. Simon Pagenaud won the race and led for 116 of the event's 200 laps.
NASCAR has had some controversial changes and events in recent years
Some racing fans might be upset if NASCAR ever listened to Earnhardt and adopted some of the Indianapolis 500's changes.
Then again, NASCAR continues frustrating drivers and fans alike. The league held a dirt race earlier this year for the first time in 50 years. Joey Logano held off Ricky Stenhouse and Denny Hamlin in The Food City Dirt Race on March 29.
That dirt road race, however, featured numerous accidents. The Texas Grand Prix was originally scheduled for 68 laps but only went 54 laps because of heavy rain. Much like the dirt road race, the Texas Grand Prix featured numerous accidents because of the conditions.
What should racing fans know about the 2021 Indianapolis 500?
Earnhardt Jr. won't be racing in the 2021 Indianapolis 500, but racing fans will still have reasons to pay attention.
NBC will air the race on Sunday, May 30. Earnhardt will join Danica Patrick and Mike Tirico, among others, on the network's studio coverage. Patrick, a former IndyCar driver before she participated in the Cup Series, will drive the pace car before the race.
As of May 27, 2021, DraftKings listed Scott Dixon as the odds-on favorite to win at +350 (bet $100 to win $450). Colton Herta is right behind Dixon at +700. Patricio O'Ward and Alex Palou and Josef Newgarden round out the top-5.
Betting odds courtesy of DraftKings as of May 27, 2021. How to get help: In the U.S., contact the National Council on Problem Gambling helpline at 1-800-522-4700.
RELATED: The 1973 Indianapolis 500 Was So Tragic and Depressing It Took 3 Days to Finish