Dale Earnhardt Jr. Will Let Someone Else's Words Introduce His Daughter to Dale Sr.
The time will eventually come where NASCAR legend Dale Earnhardt Jr. introduces his children to his father, Dale Sr.
Unfortunately for the youngest Earnhardts, this year marked the 20th anniversary of their grandfather's death. Earnhardt Jr. has a unique idea to make sure his children understand who their paternal grandfather was and his impact on so many people.
Dale Earnhardt Jr. has plans for introducing his children to Dale Sr.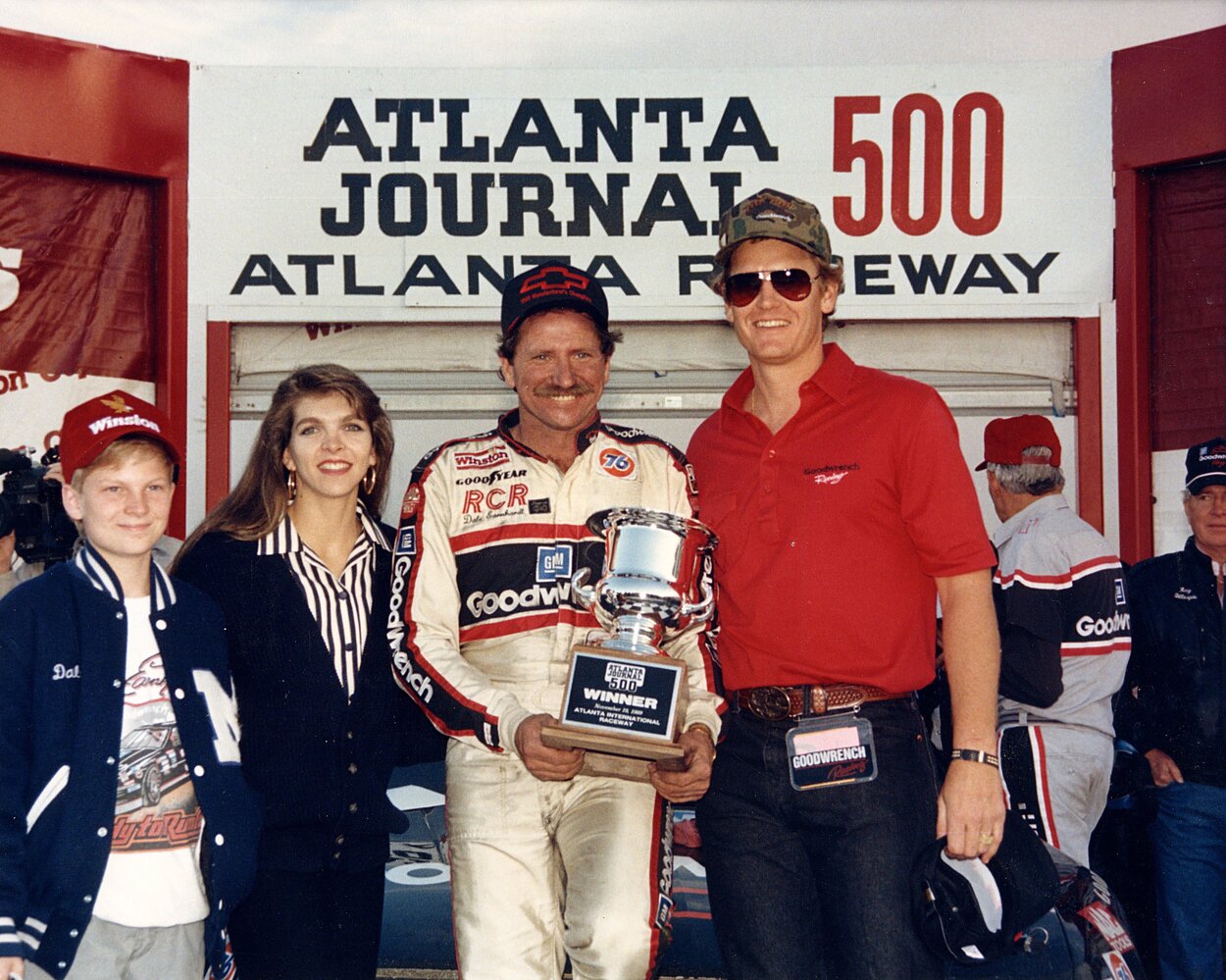 RELATED: Dale Earnhardt Jr. Embarrassed and Ashamed He Mocked His Father's Fatal Accident Just Days After It Happened
Dale Earnhardt Jr.'s children — he and his wife, Amy, currently have two daughters — will never truly meet their late grandfather.
Eanhardt Jr. is nonetheless hoping that his father will have an impact on his children's lives. In a 2018 interview with NBC Sports, Earnhardt explained his plans for introducing his daughter, Isla Rose, to her late grandfather.
"I'll be honest with you; I'll probably set her down and have her watch the Dale movie. They made this movie called Dale a long time ago and that was the only way I could help Amy understand exactly who Dad was. I could try my hardest to tell her stories, show her videos or pictures, but that Dale movie really captures him better than anything else."
Earnhardt said that he similarly used Dale to explain his father to his then-fiancee, Amy Reimann. The 2007 documentary includes interviews with several NASCAR drivers, including Darrell Waltrip, Earnhardt Sr.'s longtime rival. 
Earnhardt Sr.'s four children — Dale Jr. Kelley, Kerry, and Taylor — are all also in the documentary. Dale Jr. will still use his own words to explain his father, but he won't be alone.
Earnhardt Jr. currently has two young daughters
RELATED: Dale Earnhardt Jr. Feared That He Ruined His Relationship With His Wife After a Drunken Go-Kart Race
If Dale Earnhardt Jr. sticks with his original plan, two young children will have a chance to truly learn about their grandfather through a documentary.
Dale Jr. and his wife, Amy, welcomed Isla Rose to the world in April 2018. Their second daughter, Nicole Loraine, was born last October.
Dale married Amy in December 2016, seven years after they began dating.
The girls will have no shortage of people to ask about Dale Sr.
RELATED: Dale Earnhardt Jr. Still Frustrated After His Dad Blew Off a Special Moment
Plenty of people will have the opportunity and experiences to discuss Dale Earnhardt Sr. and his legacy with Isla and Nicole.
Obviously, Dale Earnhardt Jr. and his siblings have memories of their father. However, Dale Jr. and Kelley, his older sister, would probably be the best ones to turn to if Isla and Nicole have questions.
Kerry Earnhardt, Dale's older half-brother, grew up without his birth father in the picture. Dale Jr. also has a half-sister, Taylor, who was 12 when her father died in February 2001.
Dale Jr. is still close with plenty of drivers who raced against his father. Although his daughters will never drive with Dale Sr. or spend an afternoon bonding over ice cream, they'll have plenty of time to learn about their late grandfather.
Like Sportscasting on Facebook. Follow us on Twitter @sportscasting19.