Dale Earnhardt Sr.'s First Racing Car Betrayed His 'Intimidator' Nickname
NASCAR legend Dale Earnhardt Sr. spent his iconic career known as "The Intimidator."
Such a nickname oozes coolness and masculinity. Until his tragic death in 2001, Earnhardt was the face of NASCAR, the driver who had racing fans of all ages spent hours watching and rooting for him every Sunday.
Throughout his career, Earnhardt drove his famous No. 3 car. But even his most devout fans will be shocked when they learn about Earnhardt's original racing car.
Dale Earnhardt Sr.'s first racing car was a pink sedan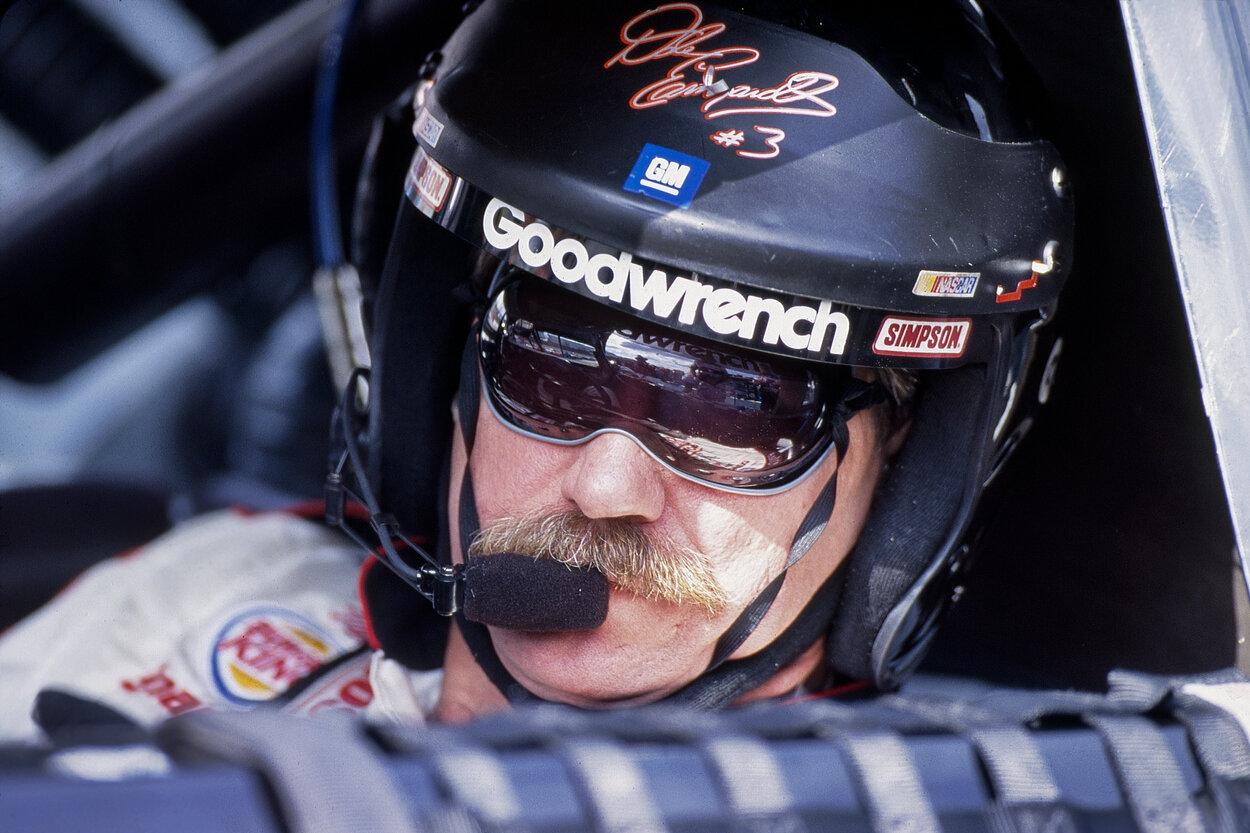 RELATED: Dale Earnhardt Sr. Used His $70 Million Net Worth to Commission an Incredible Splurge but Tragically Died Before He Ever Enjoyed It
When 1970 arrived, Dale Earnhardt Sr. was a young, aspiring racer trying to one day make a NASCAR career for himself.
Earnhardt had no shortage of drivers in his life at the time. Earnhardt's father, Ralph, was a former Cup Series driver who had 16 top-10 finishes across 51 races in six years. Dale Sr.'s neighbors, Ray and David Oliver, even provided the 19-year-old with his first racing car. 
If you're envisioning Earnhardt behind the wheel of a sleek old-fashioned car, you're correct. Earnhardt received a 1956 Ford Victoria, a two-door sedan, from his neighbors.
In the process of fine-tuning the car, something went wrong. According to The Earnhardt Connection, those who were working on repainting the car — the Earnhardts teamed up with family friends on the project — mixed paints that they believed would go with the roof, which at the time was purple. 
However, the paint came out pink, and Earnhardt didn't have the money to change it to another color. So yes, the man who later went by "The Intimidator" used a pink sedan as his first racing car.
The car doesn't fit the eldest Earnhardt's masculine image
RELATED: Dale Earnhardt Jr. Still Frustrated After His Dad Blew Off a Special Moment
Let's get things out of the way right now and say that there is nothing wrong with the color pink.
With that said, NASCAR fans can be excused for chuckling a bit at Dale Earnhardt's situation. This was in 1970, when societal views on masculinity were far different, and a man who eventually became the face of NASCAR raced in a pink sedan.
Those who watched a young Earnhardt make a name for himself in the Cup Series likely never saw that Ford Victoria, though. When Earnhardt began his first full Cup Series season in 1979, he drove a blue and yellow Chevrolet Monte Carlo.
His youngest son, Dale Earnhardt Jr., received the car as a gift in 2017, his final season as a Cup Series driver.
Dale Earnhardt Sr. is one of NASCAR's greatest drivers
RELATED: Dale Earnhardt Gave Michael Waltrip a Stern Lesson in His First NASCAR Cup Series Race Without Saying a Word
Dale Earnhardt Sr. — and his whole family — can thank a pink sedan for everything that happened in his career.
Having a racing car, even a pink one, helped Earnhardt truly prepare and have an opportunity to achieve his dreams. When Earnhardt Sr. tragically died at age 49 in 2001, he'd already won 76 races and seven Cup Series titles.
Earnhardt entered the NASCAR Hall of Fame in 2010. His youngest son, Dale Jr., raced as a full-time Cup Series driver until he retired after the 2017 season.
Earnhardt's oldest son, Kerry, raced in what is now the Xfinity Series from 1998-2009.
Like Sportscasting on Facebook. Follow us on Twitter @sportscasting19.