The Dallas Cowboys' 4th Down Hubris Created a Monster in the Denver Broncos: 'That's What Happens When You Try Us'
Mike McCarthy wanted the momentum to continue for his Dallas Cowboys. Riding a six-game win streak and considered one of the top teams in the NFC, McCarthy was looking to make a statement.
In his second season with the Cowboys, the head coach had a few things going in his favor. Quarterback Dak Prescott was back from injury, and he boasted one of the best offenses in football. The Cowboys were also in front of their home crowd against the mediocre Denver Broncos.
So yeah, early in the game, McCarthy decided to reach into his back pocket and pull out a few fourth-down play calls. Why not, right?
The Cowboys failed on both tries, and in the process, they created a monster.
Mike McCarthy and the Dallas Cowboys were 0-4 on fourth down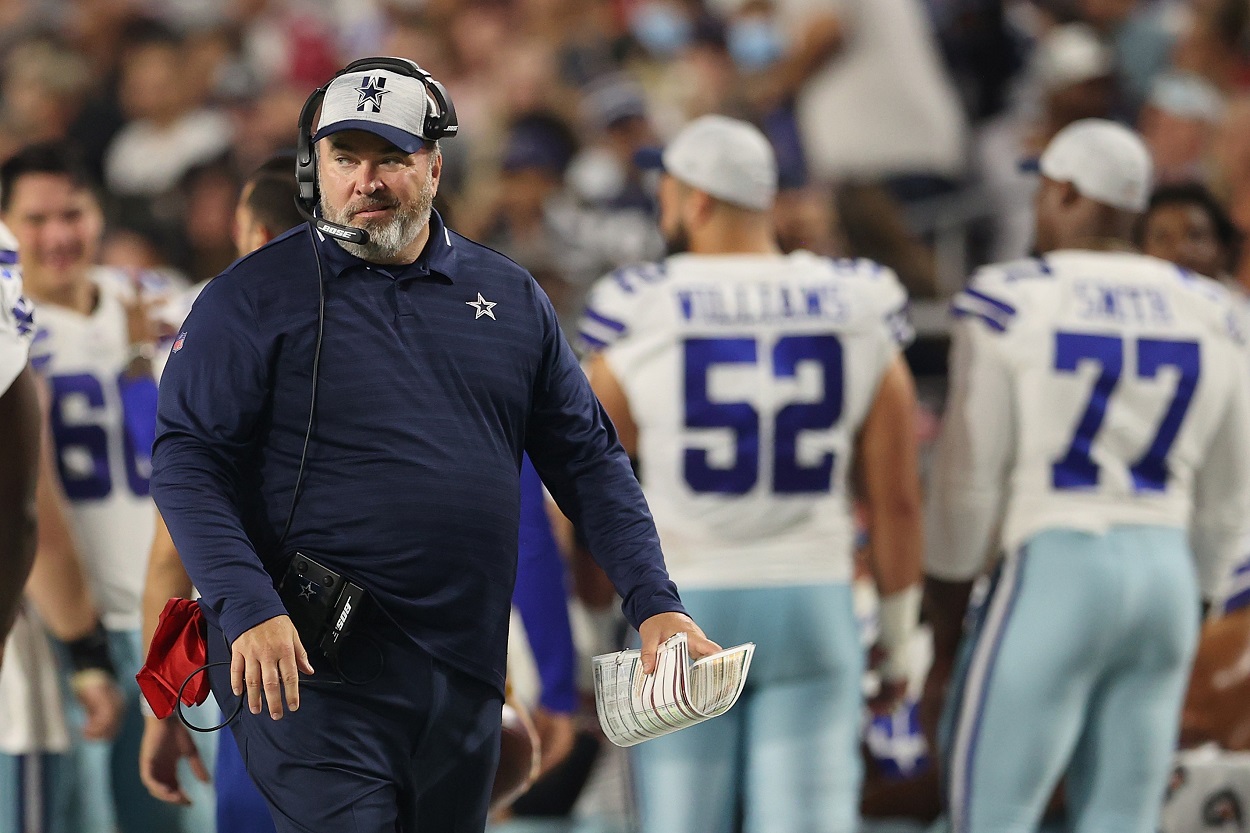 Wanting to take advantage of a strong kick return from Tony Pollard to start the game, McCarthy decided to go for it on 4th-and-1 from the Denver 38-yard line. The Cowboys ran zone right to Ezekiel Elliott, which is usually a pretty decent decision, but Denver blew up the front side of the play and took away his cutoff.
Turnover on downs.
After forcing a punt, the Cowboys got the ball back and promptly went on a 50-plus yard drive down to the Broncos' 20. In a 4th-and-2 situation, Prescott made a bad pass, and Dallas again turned the ball over on downs.
The Cowboys punted every other time they had the ball in the first half. Meanwhile, a rejuvenated Denver team put up 16 points to go into halftime up 16-0.
Down 19-0 midway through the third, McCarthy once again rolled the dice on fourth down. On 4th-and-1, Prescott found a wide-open CeeDee Lamb breaking deep behind Denver's coverage.
He overthrew him.
Last but certainly not least, Prescott threw a terrible interception to rookie safety Caden Sterns on 4th-and-7 with Dallas still scoreless and the fourth quarter clock ticking.
All in all, the Cowboys were terrible when they needed it most.
"We've been struggling on fourth-and-1 all year, so that didn't surprise me," Jerry Jones said after the game, according to ESPN. "It shouldn't surprise anybody. We've been challenged on fourth down."
The Cowboys' struggles on fourth down in the contest shouldn't have surprised anybody, according to their owner. They shouldn't have surprised anybody. Except for their head coach, apparently.
Dallas' pain was Denver's motivation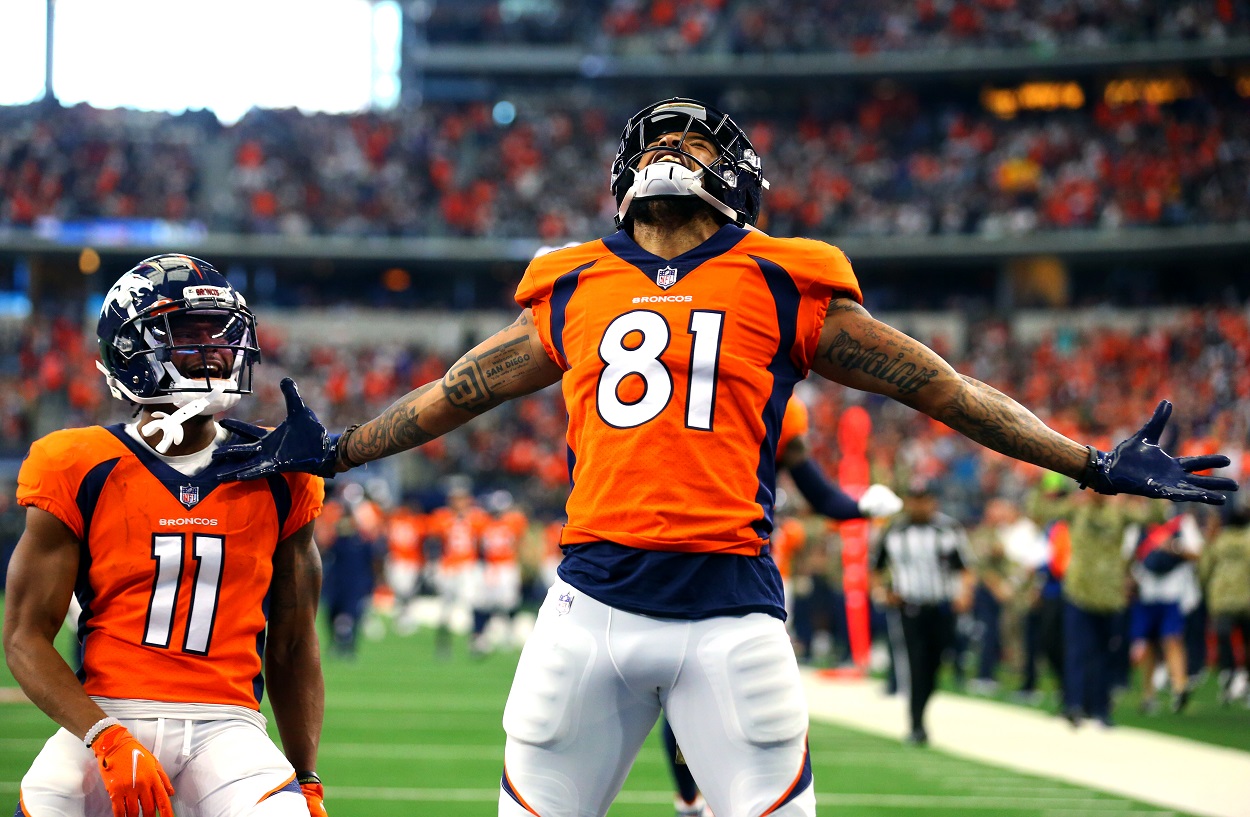 While McCarthy wanted to push the issue early for Dallas, the Broncos took great pride in stuffing the Cowboys. Offensively, quarterback Teddy Bridgewater relayed that it gave his unit a spark.
"You take the field with a little anger, honestly," he said, via the team website. "It's like, 'Hey, man, they're going for it because they're saying our offense is not going to score or something.' We talked about it in the huddle, and we used it as motivation."
Wide receiver Tim Patrick was less diplomatic in his answer.
"Disrespectful," he said of the Cowboys. "That s*** disrespectful. They trying us. And that's what happens when you try us."
The sentiment from Denver's offense makes sense. As Bridgewater points out, going for it, especially so early in the game, shows as much confidence in your offense as it does in your defense to stop your opponent. As a coach, you're taking the calculated risk that your defense can minimize or avoid damage on the scoreboard if you don't get the first down.
It's basically betting that the opponent's offense won't be able to take advantage of you, and that's how Denver took it.
As far as disrespect is concerned, it probably had less to do with that and more to do with confidence for the Cowboys. Still, their enthusiasm was ultimately misguided.
The Cowboys were too cocky, and they paid the price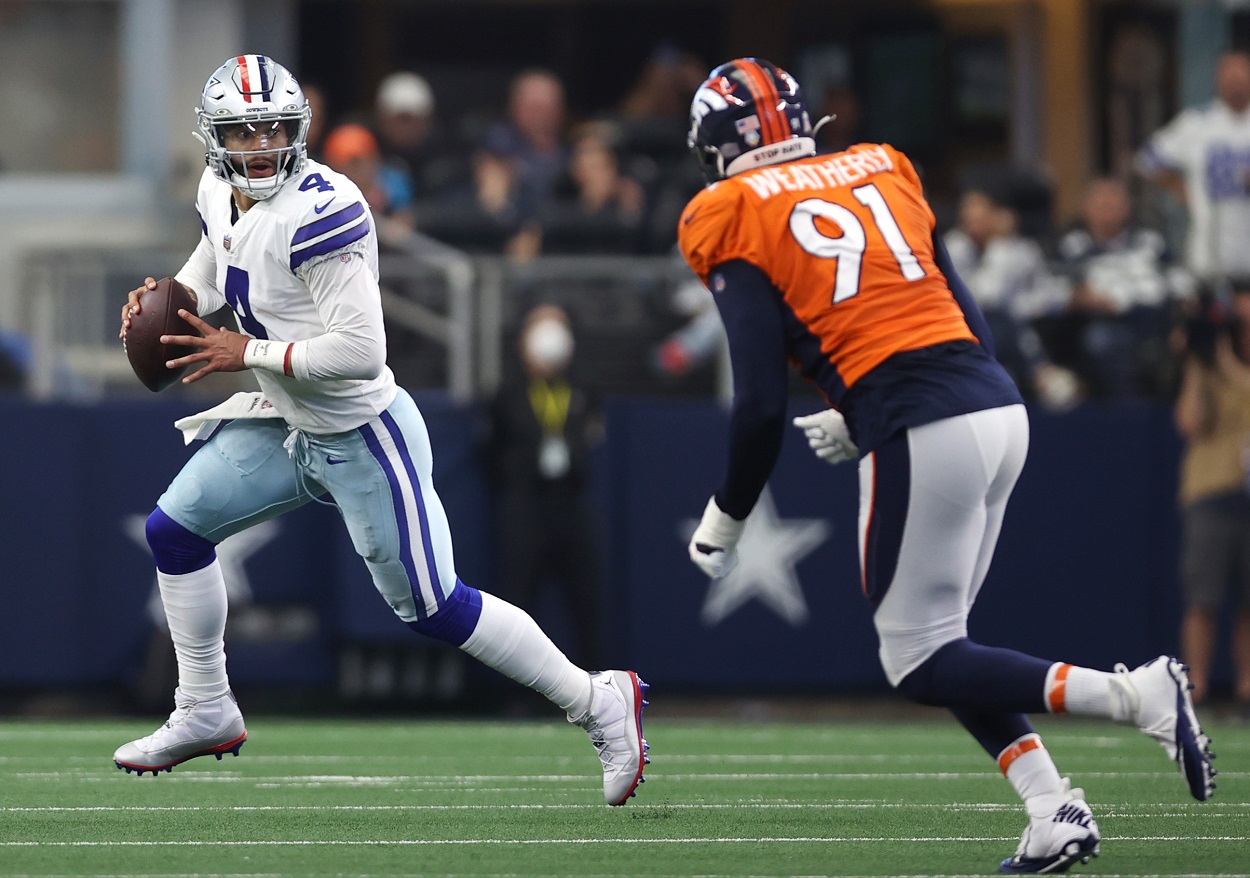 Honestly, it was probably a slight case of hubris from McCarthy and Dallas' offense.
The Cowboys were the toast of the NFL for six weeks in a row. McCarthy and offensive coordinator Kellen Moore had found a rhythm, so much so that the Cowboys put up over 40 points in two of the six games in the win streak. They had just gotten Prescott back from injury and even won a game against the Minnesota Vikings without him. Heck, Cooper Rush, of all people, threw for 325 yards and two touchdowns.
When asked after the game if the Cowboys were perhaps "feeling themselves" a bit too much coming into the contest, Prescott responded with one very telling word: "Maybe."
Things were going well in Dallas, and sometimes pride does really come before the fall.
In his third season as head coach for the Broncos, Vic Fangio came into the game with just a 16-24 overall record. The Broncos were coming off a 17-10 win over the Washington Football Team but had lost their previous four games before that.
The Cowboys tried to get aggressive against what they thought was a bad team, and the Broncos responded in kind.
Denver put up 407 total yards on offense while controlling the time of possession by an extensive margin (41:12 to 18:48). Defensively, Denver kept Dallas off the scoreboard until the waning moments of the game. The Broncos forced Prescott into just 19-of-39 passing and a quarterback rating of 24.1. They held Elliott to just 51 yards on 10 carries.
They beat up the Cowboys on their home field and made Dallas pay for its hubris.
Fangio may ultimately be a lame-duck coach, but don't tell him that.
"Everybody wants to go for it on fourth down, right?" he said after the game. "Fourth-and-1, fourth-and-2 — they cite all the numbers, so on and so forth. But when you don't get them, it hurts. And we were the beneficiary of the hurt."
Stats courtesy of ESPN and Pro Football Reference.