Dallas Cowboys Contracts: Ranking the 6 Worst Current Deals
When his team lost to the San Francisco 49ers on Super Wild Card Weekend, it was back to the drawing board for Jerry Jones for the 26th time in a row. The squad obviously needs to get better this offseason to win the franchise's first Super Bowl since 1995, but options are limited because of the Dallas Cowboys contracts on the books.
Jones is a fantastic owner who made the Cowboys into a first-rate organization. He also was a successful general manager in the early 1990s who built a dynastic team that won three Lombardi Trophies.
However, in recent years (or maybe decades), it's fair for fans to question Jones' GM skills. While he and his partner in player-picking/son, Stephen Jones, have drafted well lately, signing free agents and giving out contracts to players on the roster hasn't been a strength.
That's why the Cowboys are heading into the offseason an estimated $21 million over the salary cap before signing or re-signing a single player. How did America's Team get here?
Here are the six worst current Dallas Cowboys contracts for the upcoming season.
Big Dallas Cowboys contracts aren't always bad Dallas Cowboys contracts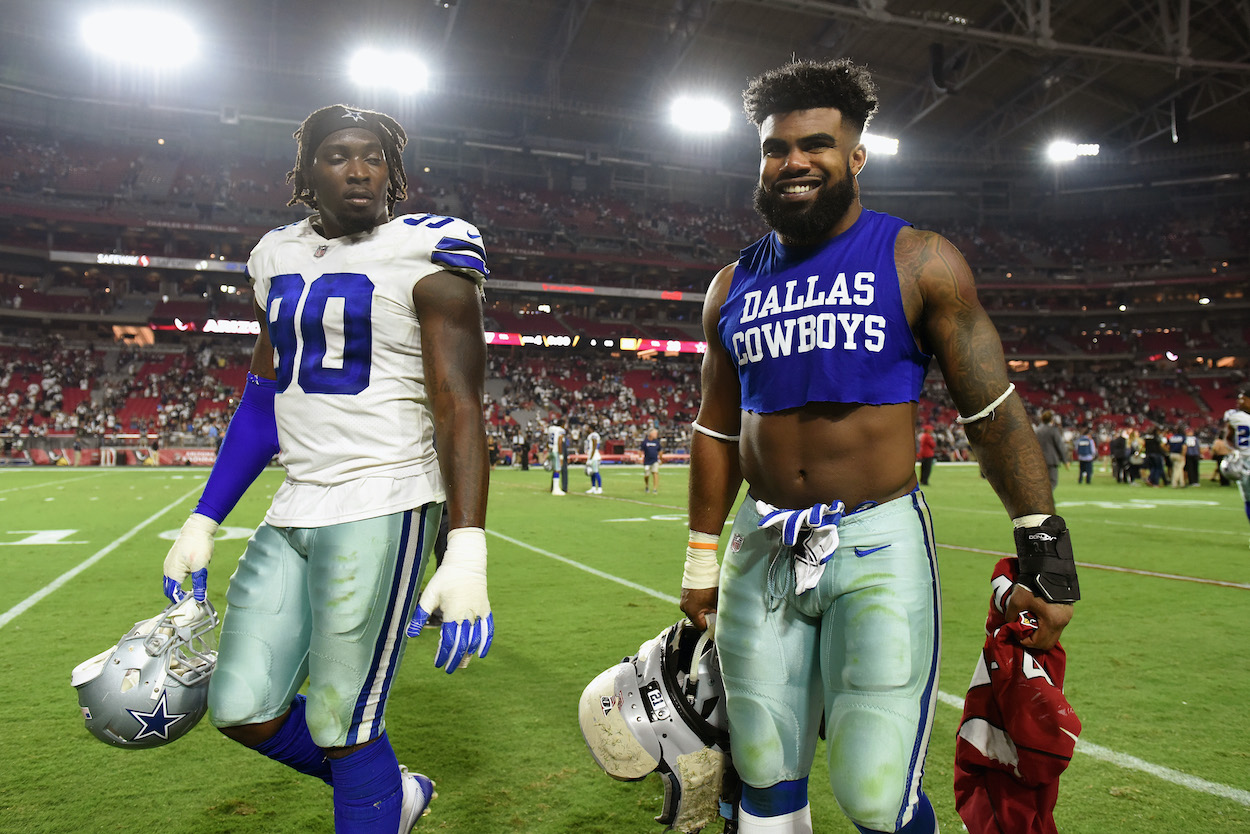 Jerry Jones isn't afraid to splash the cash and give out big contracts, and that's not always a bad thing. For example, G Zach Martin has a cap hit of $21.1 million while LT Tyron Smith is at $17.5M, RT La'el Collins checks in at $15.2M in 2022.
According to PFF, the Cowboys' offensive line was the No. 1-ranked unit in the NFL last season, with those three players, specifically, graded at an impressive 94.2, 91.9, and 84.0, respectively. That's production worth paying for, so Jones gets credit for that.
However, several big Dallas Cowboys contracts don't provide the value that the O-line deals do.
6. Dak Prescott
The 2022 season will be when the Dak Prescott extension truly kicks in. The QB made $17.2M last season, but that jumps to $34.4M this season (and $45.4 next season). That's the going rate for a superstar signal-caller, but you have to ask, is Prescott a superstar?
If Prescott is a Super Bowl-caliber QB, the money is more than worth it. However, in six seasons as a starter, Prescott's made three playoff appearances and won one playoff game. That's not all on him, but if he can't put the team on his back when it matters most, he shouldn't be paid like the QBs who can.
5. DeMarcus Lawrence
DeMarcus Lawrence is approaching 30-years-old and missed 10 games in 2021 due to injury. That said, when he's healthy, he's still capable of playing at a high level. The issue is, with his $27M cap hit in 2022, he's the second-highest-paid DE in the NFL.
Lawrence's dead cap number next season is down to $19M, meaning cutting him or restructuring his deal can save the team around $8M. If the Jones' do that, Lawrence's deal will drop off the list of worst Dallas Cowboys contracts.
4. Greg Zuerlein 
Greg "The Leg" Zuerlein isn't among the highest-paid kickers in the league, but he is in the middle of the pack, making $2.8M in 2022. Unfortunately for Dallas, his 2021 stats weren't in the middle of the pack.
Zuerlein was 24th in both field goal percentage (82.9%) and extra point percentage (87.4%). The Jones' can get that kind of production (and likely even better) from a young kicker making less than $1M. As a bonus, cutting the veteran this offseason would save around $2.5M.
3. Blake Jarwin
Blake Jarwin's $5.8M deal isn't the most egregious Dallas Cowboys contract, but the fact that it might cost the team TE Dalton Schultz makes it a problem.
Jarwin's just 27, but he's only played nine games the last two seasons. Schultz has stepped in and become an underrated star the past two years, and now he's an unrestricted free agent. Jerry Jones will likely have to choose between Schultz and Jarwin this offseason (cutting the latter would save almost $4M), and Jarwin is the much riskier choice.
2. Amari Cooper
Another decision Jerry and Stephen Jones have to make is between Michael Gallup and Amari Cooper. The former is a free agent coming off an ACL injury, and there's a good chance he won't be ready for the beginning of the season. Gallup is just 25, though, and won't command the $22M salary Cooper is scheduled to make in 2022.
That $22M is the third-highest WR number in the league, and Cooper might not be the best wideout on his own team anymore with the emergence of CeeDee Lamb. Cooper's coming off one of the worst statistical seasons of his career (68 catches, 865 yards, eight TDs), but he's still only 27. Cutting or restructuring Cooper's deal can save the team a whopping $16M, which is why that needs to happen. If not, this won't be just one of the worst Dallas Cowboys contracts. It will be one of the worst in the league.  
1. Ezekiel Elliott
Speaking of worst contracts in the league, Ezekiel Elliot… come on down!
Zeke is (by far) the highest-paid running back in the league in 2022 at $18.2M, making $3M more than Derrick Henry. He's also the fifth-highest-paid player in his team, and if Cooper and Lawrence renegotiate, he could get higher on that list.
What's worse is that his backup, Tony Pollard, will make $1.1M this season and outperformed Elliott on a yards per carry (8.6 for Pollard vs. 5.5 for Elliott) and yards per catch (6.1 vs. 4.2) basis. And, to cement Elliott's status as the worst Dallas Cowboys contract of 2022, cutting or trading him and his $30M dead cap number would cost the team nearly $12M on their cap.
All stats courtesy of Pro Football Reference and contract figures courtesy of Spotrac
RELATED: 2022 NFL Free Agency: 5 Best Destinations for Dalton Schultz