Dallas Cowboys: Dak Prescott's Playoff Record Isn't as Bad as You Think
The Dallas Cowboys and Dak Prescott have been in what seems like endless contract negotiations. Prescott has continued to improve each year while the team refuses to pay him market value based on what other quarterbacks of his ilk have received. One of the apparent knocks on Prescott is his lack of playoff success.
But is it really his fault? It's also important to consider whether his playoff record is really as bad as it looks (spoiler alert: it's not).
Dak Prescott's playoff record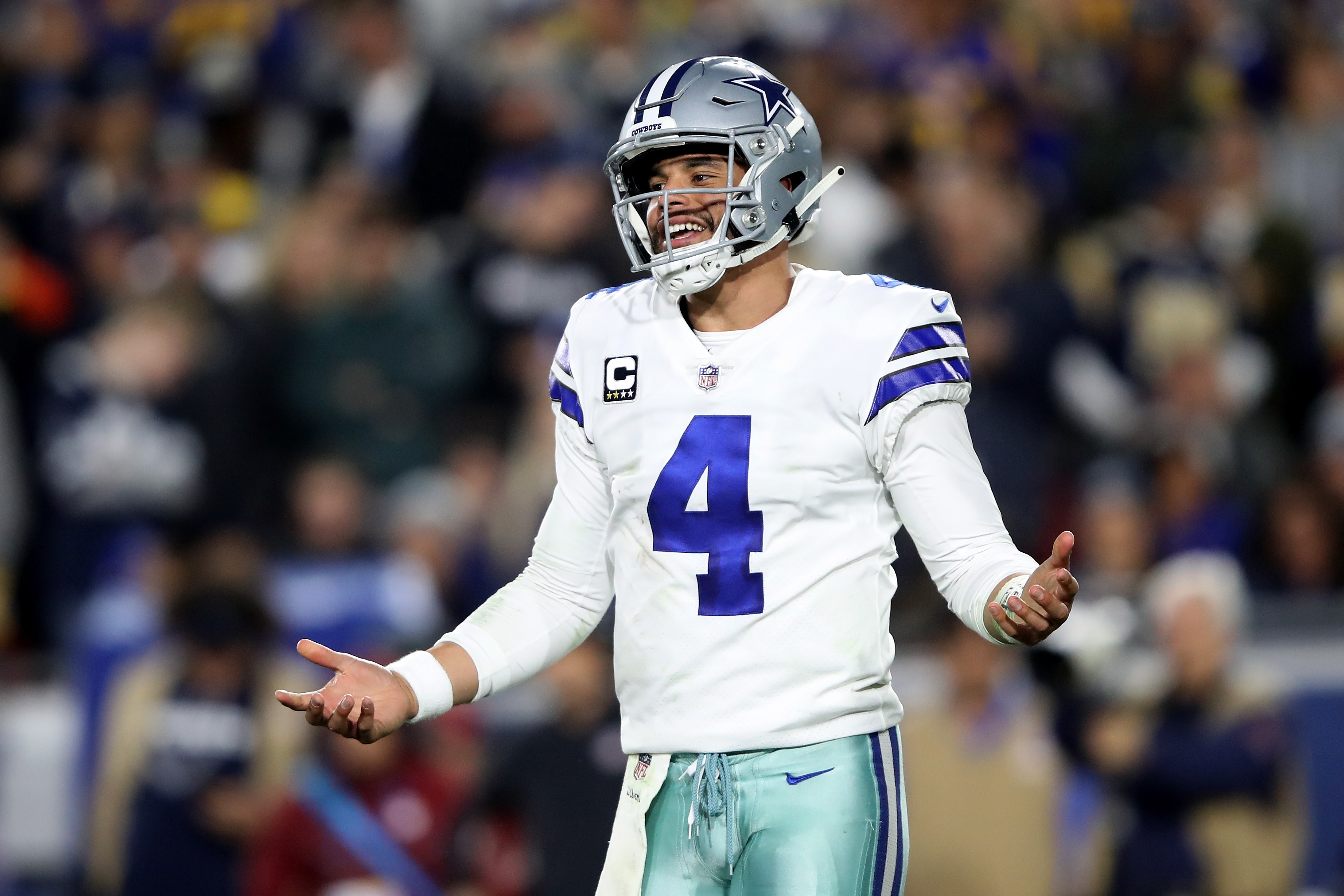 According to Pro Football Reference, Prescott has a playoff win-loss record of 1-2. He led the Cowboys to the playoffs in his rookie season as well as 2018. He's thrown for 794 yards with five touchdowns.
While the 2016 campaign netted zero wins, he finally got over the hump with a win in 2018 against Seattle before bowing out versus the Los Angeles Rams.
The Cowboys' overall lack of playoff success led to the firing of Jason Garrett this past offseason. It also may be what has the Cowboys' questioning the idea of giving Prescott a massive long-term contract extension.
The playoff record of other notable QBs
RELATED: Dak Prescott Just Did Something to Stay Ahead of the Game
There are two quarterbacks whose playoff records will help keep Prescott's playoff success in perspective. One is Matthew Stafford, who's been a solid performer with Detroit since entering the league a decade ago.
The other is Andy Dalton, another player who has started for the better part of a decade and now finds himself in a position to potentially challenge Prescott for his starting role as the Cowboys' backup.
Sports Illustrated points out that Stafford has performed admirably over the course of his career, which the numbers back up. The problem is that he has yet to achieve a playoff victory. Out of his 11 seasons as a starter, seven have led to losing records.
Dalton is in a similar boat. Despite putting the Bengals into a position as playoff contenders, he hasn't achieved a playoff victory either.
Why Dak Prescott's playoff record isn't as bad as you think
RELATED: Dez Bryant Just Sent the Dallas Cowboys a Message That They Need to Hear
First off: it should go without saying that one player doesn't have the power to win a game just like they don't have the power to lose it. Football is the ultimate team sport, with 53 men pulling toward one common goal. The Cowboys' playoff futility predates Prescott by a country mile, so any lack of success they've had during his tenure isn't just on him.
That said, Prescott has been much more successful in the playoffs than other post-Troy Aikman era Cowboys' QBs. His record also stacks up well against Stafford and Dalton — two quarterbacks who have made many more opportunities to compete in the playoffs.
The truth is that Prescott's one playoff victory is more than many other quarterbacks have — quarterbacks who are paid considerably more than he is.
The fact of the matter is that Prescott has continually improved throughout his time as a starter with the Cowboys. For whatever reason, the Cowboys don't want to reward him for that effort. They also apparently don't believe that his past performance will indicate future results.
They're hesitant to pay him what the market bears, presumably because they're unsure if he's their "quarterback of the future." But Dallas should consider how hard it is to find a great quarterback.
Prescott's lack of success in the playoffs is hardly his fault alone. It feels as if Dallas's lack of playoff success in the last 20 years is all being held against Prescott. With more time, Prescott has a great chance to win even more playoff games. The question now is whether Jerry Jones will give him that opportunity beyond this year.