Dallas Cowboys RB Ezekiel Elliott Provides Health Update With Major Playoff Implications
Dallas Cowboys running back Ezekiel Elliott is feeling good, both about his team's play and his health.
That's incredible news for the Cowboys coming off a weekend that saw them not only blow out the Washington Football Team, 56-14, but also clinch the NFC East.
This Cowboys team all of a sudden has some major contender vibes, and a healthy Elliott is a big reason for that.
Ezekiel Elliott provides an encouraging update on how he's feeling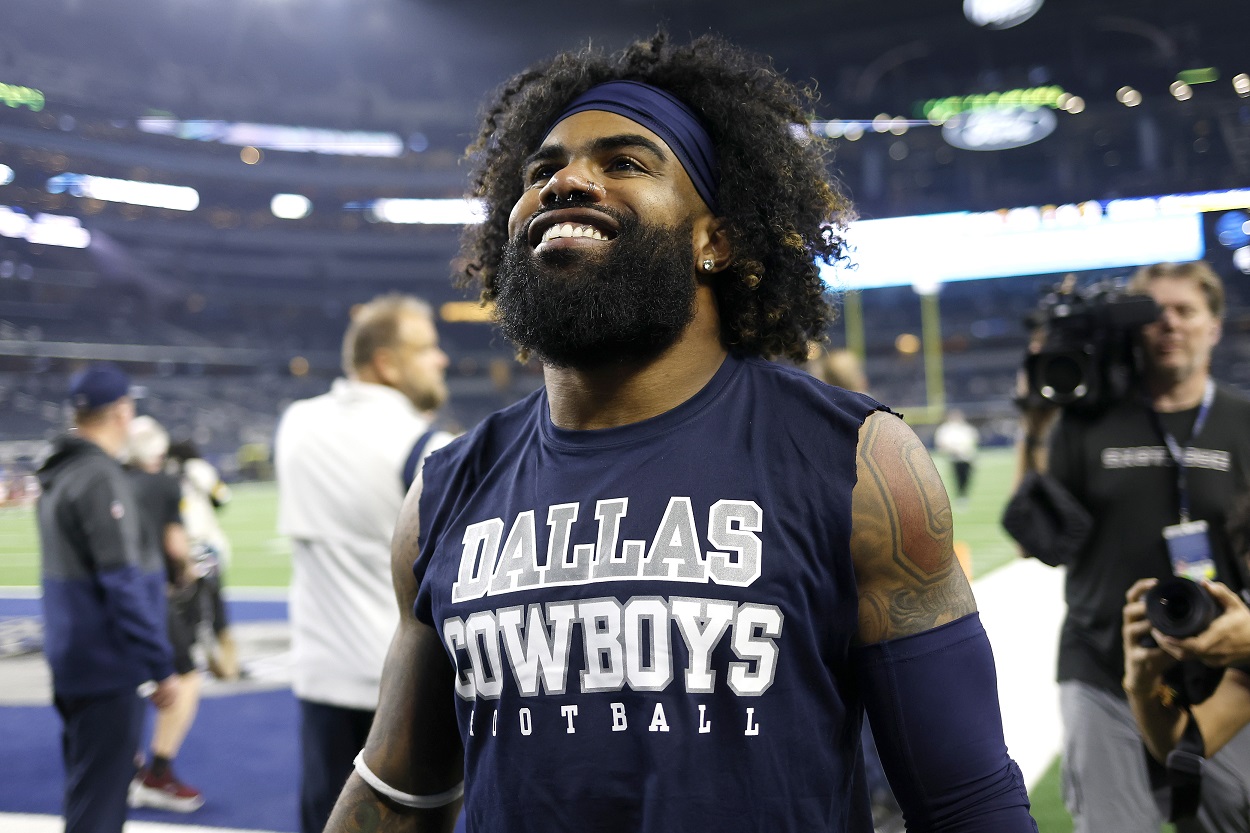 Elliott's health will go a long way in determining just how "for real" the Cowboys are on offense in the playoffs. As of right now, things are looking up.
Elliott was clearly feeling good in the win over Washington. He was running strong and looking like a younger, more dynamic version of himself. The one thing you're always going to get with Elliott is a physical presence. That's one element he brings to the game whether he's feeling good or not.
What has made Elliott special in the past is his explosion, though, and that has been missing for much of this season due to injury.
He showed flashes of that explosion and burst against Washington, and after the game, he relayed that he's feeling much better.
"I'm real close to being back and feeling 100%," Elliott said, per the team website. "You know I think because they've done a good job of limiting my reps and letting me get healthy."
The Dallas Cowboys' long-term thinking with Elliott is paying off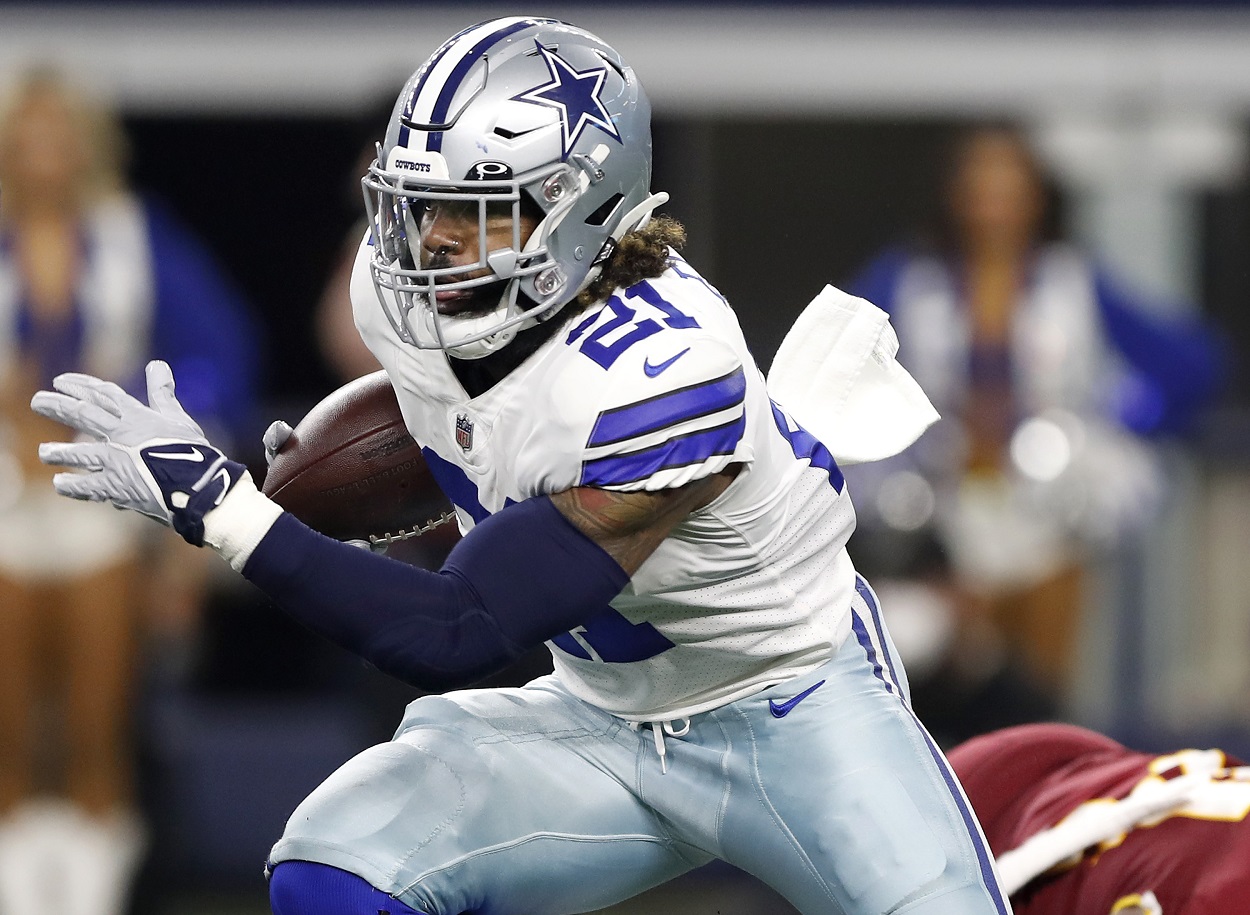 The Cowboys have been playing a load-management game with Elliott for much of the season, and while that patience can be frustrating at times, especially in November when the team lost three of four, the long-term mindset does make sense now that the playoffs are approaching.
Elliott is a big back at 6-foot, 228 pounds, and as mentioned, physicality is just a natural part of his game. While on paper, he would appear to be more of a "workhorse" back like Derrick Henry, who you can hand the ball off to 30 times a game, that old-school approach to wearing down running backs has proven to be not all that effective in today's NFL.
Just ask Henry. He's been out since early November with a foot injury after the Tennessee Titans heavily leaned on him for the first few months of the season.
It also just makes sense to use Elliott as a featured player in Dallas' offense rather than the main star.
Not only is he a much better and more explosive player when he's fresh, but Dallas' offense has so many playmakers that it would be a detriment to the flow of the game to just pound the rock.
You don't force-feed the running back with Amari Cooper, CeeDee Lamb, and Michael Gallup stretching the defense down the field. You soften a defense up with Elliott and his backfield-mate, Tony Pollard, and then when they creep up to the line, you throw it over the top of their heads to one of your playmakers on the outside.
Sprinkle in Elliott as a pass-catcher, and all of a sudden, defenses have a problem on their hands.
It's a tried-and-true formula that works, and the Cowboys proved that against Washington, putting up 497 total yards of offense. Elliott rushed just nine times for 37 yards, but he picked up an efficient 4.1 yards per carry and a touchdown. He also caught a touchdown pass from Dak Prescott, proving once again why he's one of the better dual-threat running backs in the league.
A healthy Elliott can be a major weapon for the Cowboys in the playoffs
In a league that so heavily features quarterbacks and wide receivers, it's easy to overlook how important a strong running back can be in the playoffs.
Playoff games are often won and lost because of physicality. It's late in the season, and depending on the venue, it can be cold. Teams are already worn down and banged up from a long regular season. Ultimately, the team that can assert its physical dominance is usually the one that pulls out the win.
We know the Cowboys can be dominant on defense, but the offense has struggled to find its way at times this season. Prescott is an upper-echelon quarterback but has struggled with interceptions, and he's had injury issues both in the past and this season.
Offensive coordinator Kellen Moore could choose to air the football out in the playoffs and let Lamb, Cooper, Gallup, and tight end Dalton Schultz do their thing. Is getting in a shootout with quarterbacks like Aaron Rodgers, Tom Brady, or even Matthew Stafford the best way to move forward, though?
We know the defense can force turnovers, but ultimately, the Cowboys' best option could be to control the game's tempo, pace, and feel on offense.
Now that Elliott is feeling better, it's not hard to imagine a scenario in which the Cowboys lean on him to wear down a strong Green Bay defense in the cold and snow during a hypothetical NFC Championship matchup. The Cowboys could also feed Elliott and control the clock and tempo if they were to meet the Tampa Bay Buccaneers in the playoffs. Keeping Brady on the other sideline and off the field is one way to ensure that he doesn't break your heart.
No matter how you imagine it, the fact that Elliott is close to 100% is excellent news for the Cowboys, and it has massive playoff implications for the rest of the NFC.
Stats courtesy of ESPN and Pro Football Reference. Contract information via Spotrac.
RELATED: Ezekiel Elliott May Have Saved His Cowboys Career by Making 2 Critical Changes to His Offseason Routine
Related post url: