Even While Defending Dallas Cowboys, Controversial Hot Take Artist Has 'Reservations' About Dak Prescott's $40 Million Contract
The Dallas Cowboys are coming off a 10-point win over the New Orleans Saints. It was an impressive affair for the defense, which picked off Saints quarterback Taysom Hill four times, but the Cowboys still have some wrinkles to iron out of offense.
Still, a win is a win, and Dallas will take that 10 times out of 10 playing on the road in New Orleans. That seems to be how most analysts feel about the win, though controversial radio host Colin Cowherd somehow found a way to undermine Dak Prescott despite praising the Cowboys overall.
Dak Prescott trends more toward being a game manager for the Dallas Cowboys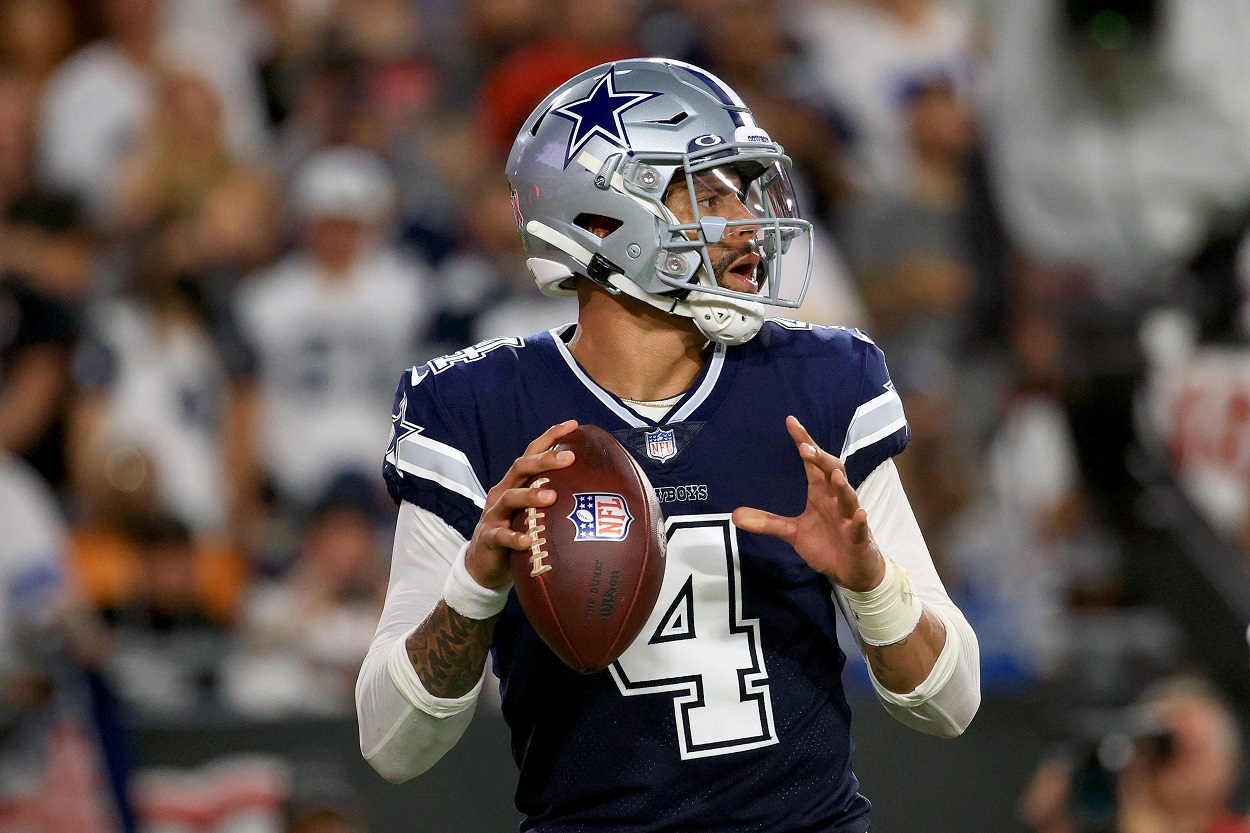 The Cowboys signed a four-year, $160 million contract with Prescott in March of 2021, which equals $40 million a year. However you slice it, that's a big piece of the pie, and it put Prescott near the top of the league in terms of average quarterback salary (third) and first in total cash guaranteed.
With big money comes big expectations, but Prescott is never going to be in that Aaron Rodgers or Patrick Mahomes category of elite quarterback. He's a great quarterback, but he tends to be more of a great game manager at times, which you have to think the Cowboys knew when they signed the check.
That was evident against the Saints. Though Dallas did put up 27 points, Prescott was just 26-of-40 for 238 yards, one touchdown, and one interception.
It was an average, if not below average, game for Prescott. He's had quite a few of those this season, which apparently has caused Cowherd to question whether or not he's worth big money.
Colin Cowherd is skeptical Prescott is worth $40 million a season
The funny thing about Cowherd's take on Prescott is that it was actually wrapped rather innocuously in defense of Dallas.
"Dallas is going to win the division easily. Dallas is in first place. Dallas is getting healthier at key spots. That's all the good news," Cowherd said.
He then turned his sights on Prescott, who had a terrible 38.3% quarterback rating in the win.
"Dak's not a pretty thrower. Dak's never been a pretty thrower. It's why I had my reservations and still do, giving him $40 million," Cowherd said. "Quarterbacks come in two camps: the big bag and the smaller bag. In the NFL, on most Sundays, you're missing a wide receiver, center, or running back. Dak, when everything is right, is a big-bag quarterback, but it's mostly not, especially in December."
Cowherd's criticism of Prescott basically boils down to the quarterback needing to have perfect conditions around him in order to play an elite game.
To Cowherd's point, star wideout Amari Cooper missed the past two games due to COVID-19, and he didn't look fully up to speed against the Saints. Prescott went 0-2 without Cooper and threw for two touchdowns and two interceptions in that stretch. He's now thrown eight interceptions on the season, including three in the last three games.
"Am I concerned that Dak, who's not an artistic thrower and never has been and never will be, does appear to at times really struggle without Amari Cooper? Yeah," Cowherd said.
Can the Cowboys still win a Super Bowl with Prescott at quarterback?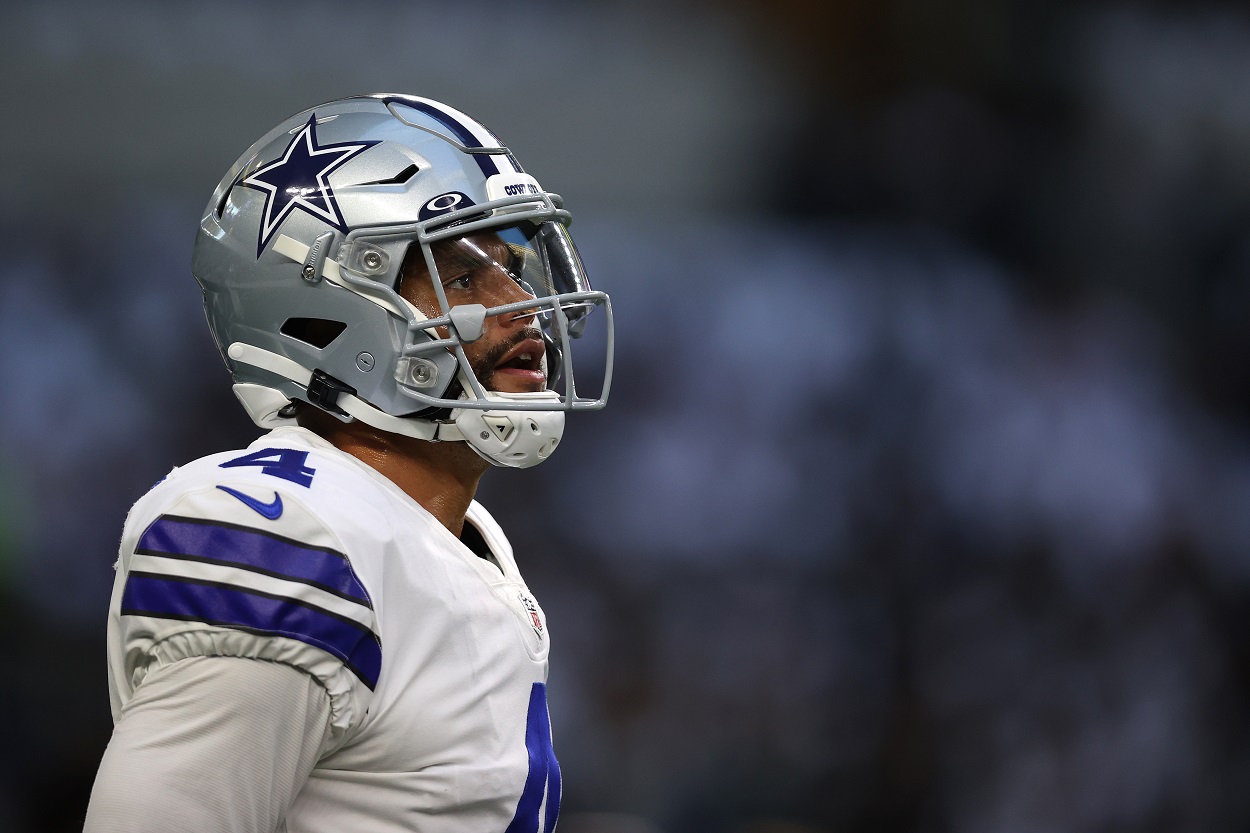 The Cowboys can win a Super Bowl with Prescott under center. It's probably just not going to happen this season.
That's not to say Dallas can't get hot because we've seen the Cowboys go on a six-game win streak earlier in the season. It's more of the fact that Dallas has not put together many complete games this season, and that's the type of effort that's going to be needed to knock off the likes of the Packers, Cardinals, and Buccaneers in a stacked NFC.
The Cowboys have a nice lead on the rest of the teams in the terrible NFC East, so they can pencil themselves into a playoff spot. That's the good news. They also have a Super Bowl-worthy defense led by rookie Micah Parsons and cornerback Trevon Diggs. That's also good news.
Those are two big reasons to believe in Dallas. Reasons to be skeptical surround an offense that has the firepower to be elite but has seemingly struggled to put it all together, though.
That's the big question for Dallas. Can the offense match high-level games with their defensive counterparts?
A lot of that depends on the long-term health of running back Ezekiel Elliott, which is worrisome. The rest comes down to Prescott and whether or not he can put a team on his shoulders in the playoffs.
"Dak is rarely pretty. He's effective. He wins. The intangibles are great. He's not that pretty. That's not how he plays," Cowherd explained.
While not boasting a "pretty" game, does Prescott have enough intangibles to lead the Cowboys to a Super Bowl win this season?
Cowherd doesn't seem to think so.
"I do not believe Dallas is a Super Bowl team," he said.
Stats courtesy of ESPN and Pro Football Reference.