Dallas Cowboys: Jerry Jones Just Put Massive Expectations on Micah Parsons: 'He's Going to Invent the Micah Player'
Linebacker Micah Parsons had an incredible rookie season for the Dallas Cowboys. He was so good that owner Jerry Jones seemingly had no hesitation in placing huge expectations on him.
Can Parsons live up to those expectations? If the incredible job he did in 2021 is any indication, the answer to that question will be a resounding yes.
Jerry Jones says Micah Parsons is going to create his own type of player
Jones has been rather vocal about his likes and dislikes in the wake of Dallas' disappointing playoff run. In fact, calling it a run may be giving the Cowboys too much credit. They lost to the San Francisco 49ers on Super Wild Card Weekend and looked rather listless and uninspiring in the process. A team that once looked like a Super Bowl contender was immediately dispatched out of the playoffs, disappointing Jones and Cowboys Nation.
Though the loss has put Jones in a negative mindset for much of the beginning of this offseason, he couldn't help but speak highly of his sensational rookie.
Jori Epstein of USA Today asked the Cowboys' owner if he felt there were any comparisons that came to mind when evaluating Parsons. Jones could think of none, which is a good thing.
"His unique ability to pressure with burst, bend [and] just sheer mental assets. Combine that with his ability to give us coverage & internally be the example that he is… He's going to invent the 'Micah Player," Jones said.
Parsons had an incredible season for the Cowboys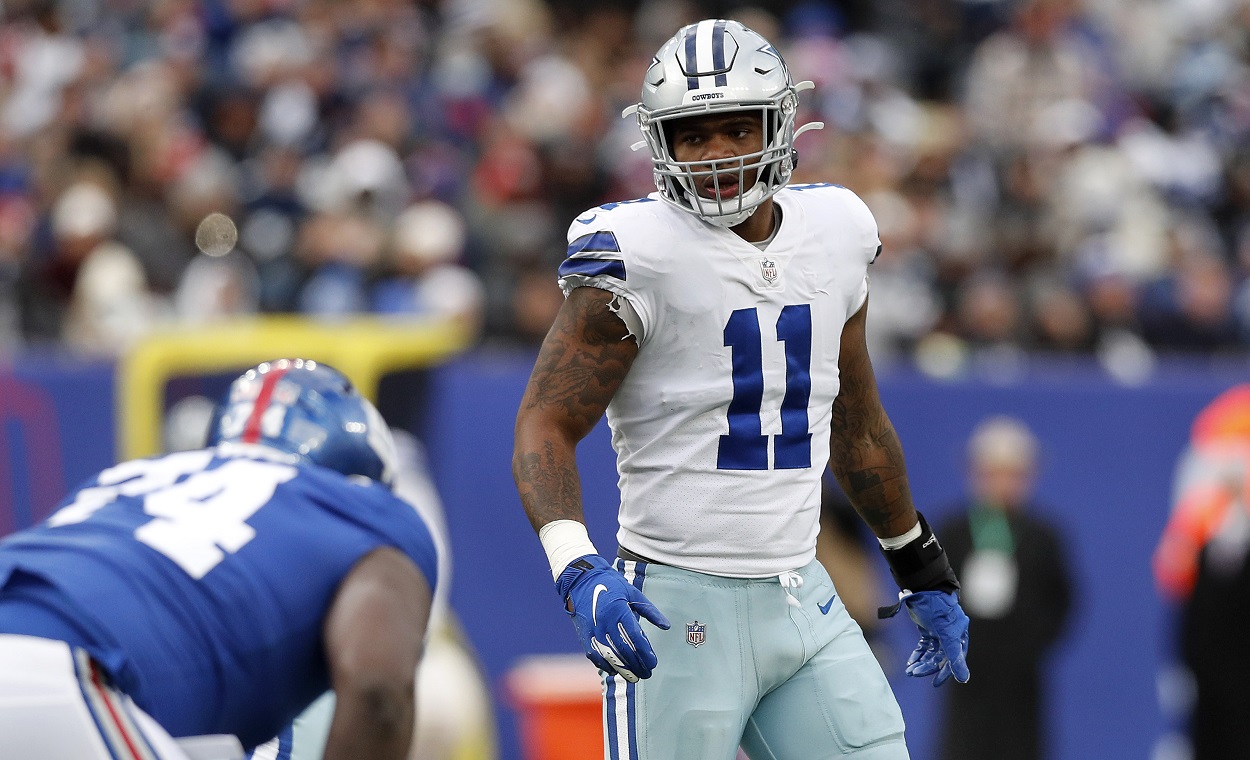 The Cowboys drafted Parsons with the 12th pick of the 2021 NFL Draft, but if we were to do a hypothetical redraft, the linebacker out of Penn State very well could have and probably should have gone in the top five or even the top three.
Parsons finished his rookie season with 64 tackles, 13 sacks, and three forced fumbles. He was everywhere at all times for Dallas.
Defensive coordinator Dan Quinn used Parsons as a middle linebacker, a stand-up outside linebacker, and as a defensive end with his hand in the dirt. He was even used in coverage and showed off an impressive ability to get downfield and use his length and speed in space.
Speaking of length and speed, those were really his two best assets, and they are what made him such a dynamic pass-rusher as a rookie. The 6-foot-3, 250-pound linebacker displayed a first step that was almost unbeatable, and he made many veteran offensive linemen look slow and confused throughout the course of the season.
Moving forward, head coach Mike McCarthy relayed that the next step for his young superstar is to counter the counters that are coming his way.
"Once you have success, people will study the film and have a plan for you," McCarthy said, according to the team website. "So we've got to make sure he takes that next step to be able to combat and continue to be highly successful."
The closest comp to Parsons could be all-time great Lawrence Taylor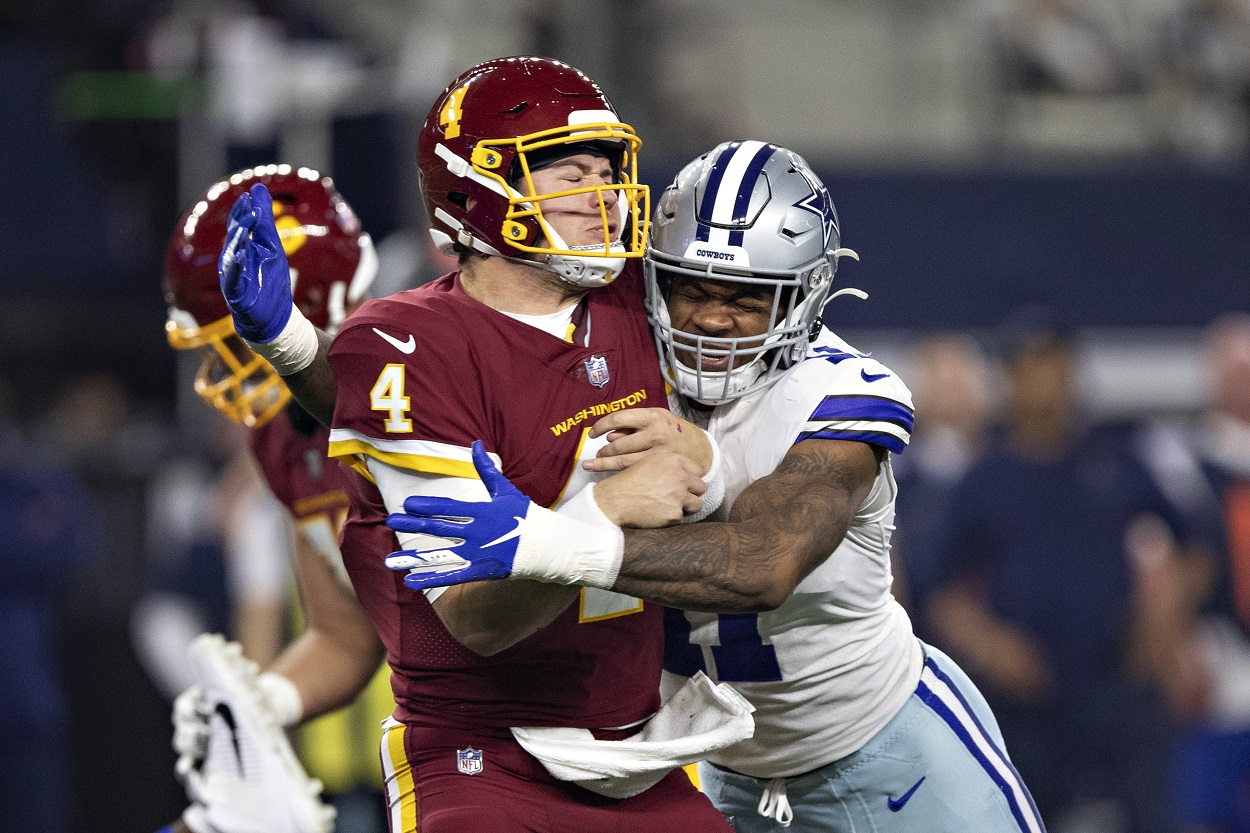 Parsons was granted first-team All-Pro Honors as well as a berth in the Pro Bowl for his efforts in 2021.
He's now one of only four linebackers ever to make the first-team All-Pro squad as a rookie, joining greats like Lawrence Taylor, Patrick Willis, and Darius Leonard.
Though Jones doesn't believe there's an accurate comparison for Parsons, Taylor is one of the more intriguing ones from a historical standpoint.
L.T. was a 10-time Pro Bowler and an eight-time All-Pro. He won two Super Bowl championships and was a first-ballot Hall of Famer.
The New York Giants selected Taylor with the second-overall pick in the 1981 NFL Draft, and he stormed his way into the NFL as a rookie, much like Parsons did. Taylor recorded 133 tackles, 9.5 sacks, two forced fumbles, a fumble recovery, and an interception in his rookie season. He was named the defensive player of the year and was, of course, the defensive rookie of the year as well in 1981.
No other defender since has won both awards as a rookie, but it's worth noting that Parsons is in the running to do just that. He'll easily win the AP Defensive Rookie of the Year award, and he is considered one of the names up for the AP Defensive Player of the Year award. While it seems likely that Pittsburgh Steelers pass-rusher T.J. Watt and his 22.5 sacks will ultimately win it, the fact that Parsons is even in the conversation says so much about how good he was for the Cowboys.
Jones is clearly expecting him to continue his trajectory and ultimately compete with the likes of Watt and Aaron Donald for the title of the best defender in football. According to Jones, Parsons may not have a comp, but he does have a bar to clear, and you can bet that is it.
Stats courtesy of ESPN and Pro Football Reference. Contract information via Spotrac
RELATED: Shaquille O'Neal Pleads With Jerry Jones to Hire Deion Sanders to Coach the Dallas Cowboys: 'Deion Will Hold Those Players Accountable'