Dallas Cowboys' Legendary Coach Jimmy Johnson Says Jerry Jones Won't Admit He Was Wrong on Mike McCarthy
Dallas Cowboys head coach Mike McCarthy is lucky that Jerry Jones is considered such a stubborn person. If it weren't for that, McCarthy may not have had a job after the Cowboys lost to the San Francisco 49ers on Super Wild Card Weekend.
The Cowboys underachieved and didn't live up to their Super Bowl potential, and it wasn't even close. Jones would have had every right to fire McCarthy after the playoff debacle, but according to legendary Dallas coach Jimmy Johnson, the owner's stubbornness is the reason McCarthy has another chance.
Mike McCarthy arguably coached the Dallas Cowboys out of the playoffs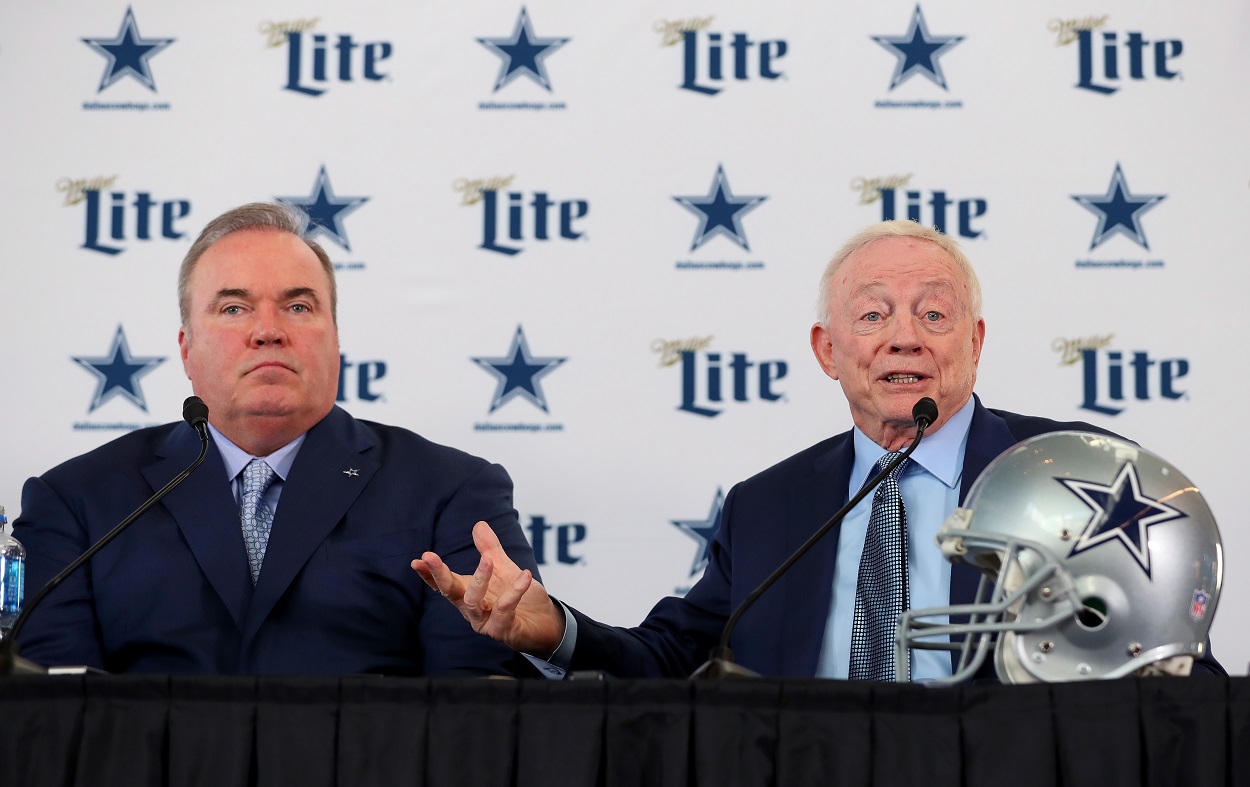 McCarthy won a Super Bowl with Aaron Rodgers and the Green Bay Packers (2010) but was never known as a big clock management guy. He had an innovative offense at the time and, without a doubt, took advantage of having Rodgers at quarterback.
In time, McCarthy's effectiveness waned as he refused to update his scheme and he lost his voice in the locker room.
McCarthy's Green Bay teams became known as playoff chokers. Does that sound familiar now that he's in Dallas? If the lasting impression of the McCarthy era in Dallas was a Dak Prescott quarterback draw that ran out the clock with the Cowboys down 23-17, it would have made sense.
That play was the cherry on top but the Cowboys were extremely undisciplined all season. Dallas was the highest penalized team in the league, and the Cowboys weren't shy when it came to complaining about it. In fact, even McCarthy would whine about the refs.
Undisciplined and unable to hold themselves accountable. Unfortunately for McCarthy, that's all a reflection of the head coach.
Jimmy Johnson says Jerry Jones is too stubborn to admit he was wrong on McCarthy
"He is very complex," legendary Dallas coach Jimmy Johnson said, talking to Colin Cowherd about the Cowboys' more-than-famous owner.
Cowherd relayed that he was surprised that Jones didn't move on from McCarthy after the playoff run, citing many of the reasons mentioned above.
"Jerry, he doesn't ever want to admit that he's wrong. He's going to hang with whoever and try to make it work," Johnson said. "He really values the talent on that team such that he feels that McCarthy can be successful and he can improve, especially wth Dan Quinn and with Kellen Moore."
That's not a glowing vote of confidence for McCarthy since Johnson was basically saying that the head coach is being propped up by his two big-time assistants. That can't be a great projection for McCarthy's long-term future in Dallas, either, since both Quinn and Moore were getting head coaching looks this offseason.
They both decided to come back to Dallas, but one has to wonder if the promise of eventually being the one to replace McCarthy was the carrot that was dangled in front of one or even both of them.
Jones is likely to be breathing down McCarthy's neck from here on out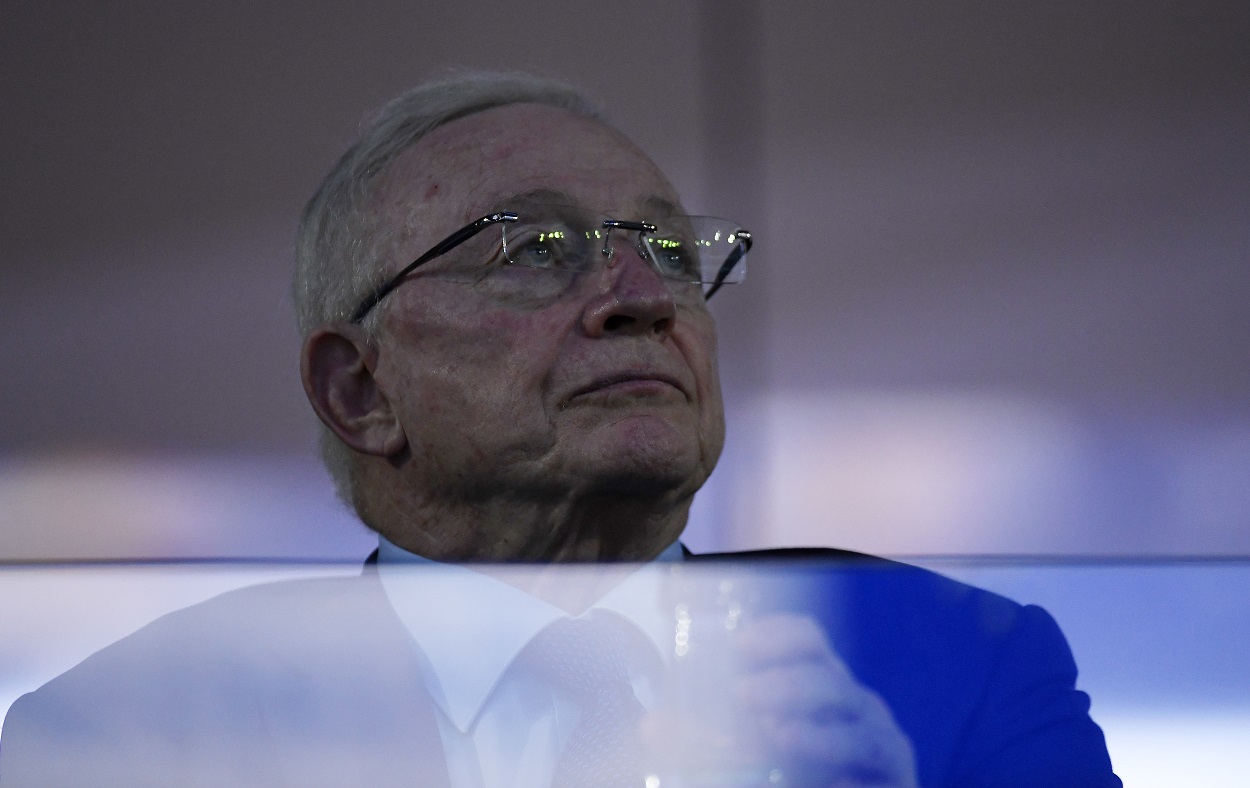 Both Cowherd and Johnson agreed that Jones is likely to be super involved with the team moving forward.
Cowherd mentioned that Jones was never really that hands-on of an owner when Johnson or legendary coach Bill Parcells was in charge. When Jones felt his head coach didn't really have a good grip, though, he was more prone to getting his hands dirty.
Johnson agreed and said that the only time he ever saw Jones during his five seasons as head coach was for the last 15 minutes of practice when the owner would come out to the rubber track and talk to the media.
He did relay that Troy Aikman, Dallas' star quarterback from 1989-2000, once told him a funny story that explains exactly what McCarthy might be able to expect from Jones moving forward.
"Troy Aikman tells the story. He said, 'After you left and Barry Switzer came on as coach, I knew things had changed because our first practice, Jerry walked on the practice field with a baseball hat and coaching shorts on,'" Johnson said with a laugh.
The story got a big laugh from Cowherd as well. If McCarthy was listening, it's easy to imagine that he didn't find the story as funny.
Stats courtesy of ESPN and Pro Football Reference. Contract information via Spotrac
RELATED: Dallas Cowboys: Jerry Jones Just Put Massive Expectations on Micah Parsons: 'He's Going to Invent the Micah Player'