Dallas Cowboys Linebacker Micah Parsons Is Already Being Compared to a Pair of the Greatest Linebackers in NFL History
Expectations are always high for the Dallas Cowboys. That's just a fact of life when Jerry Jones is your owner. Perhaps even Jones couldn't have expected the type of production the Cowboys have gotten out of their rookie linebacker Micah Parsons, though.
Parsons has been an absolute revelation for the Cowboys in 2021. He's playing far above his draft position, and that says something since Dallas took him No. 12 overall out of Penn State in the 2021 NFL Draft.
The numbers are there for Parsons, but so are the intangibles. If it wasn't for the epic season cornerback Trevon Diggs was having for Dallas, Parsons would be the top story of the Cowboys' 5-1 start.
Parsons has been so good, in fact, that one of his assistant coaches can see shades of two elite linebackers from years past in his game.
Dallas Cowboys rookie Micah Parsons is being compared to Junior Seau and LaVar Arrington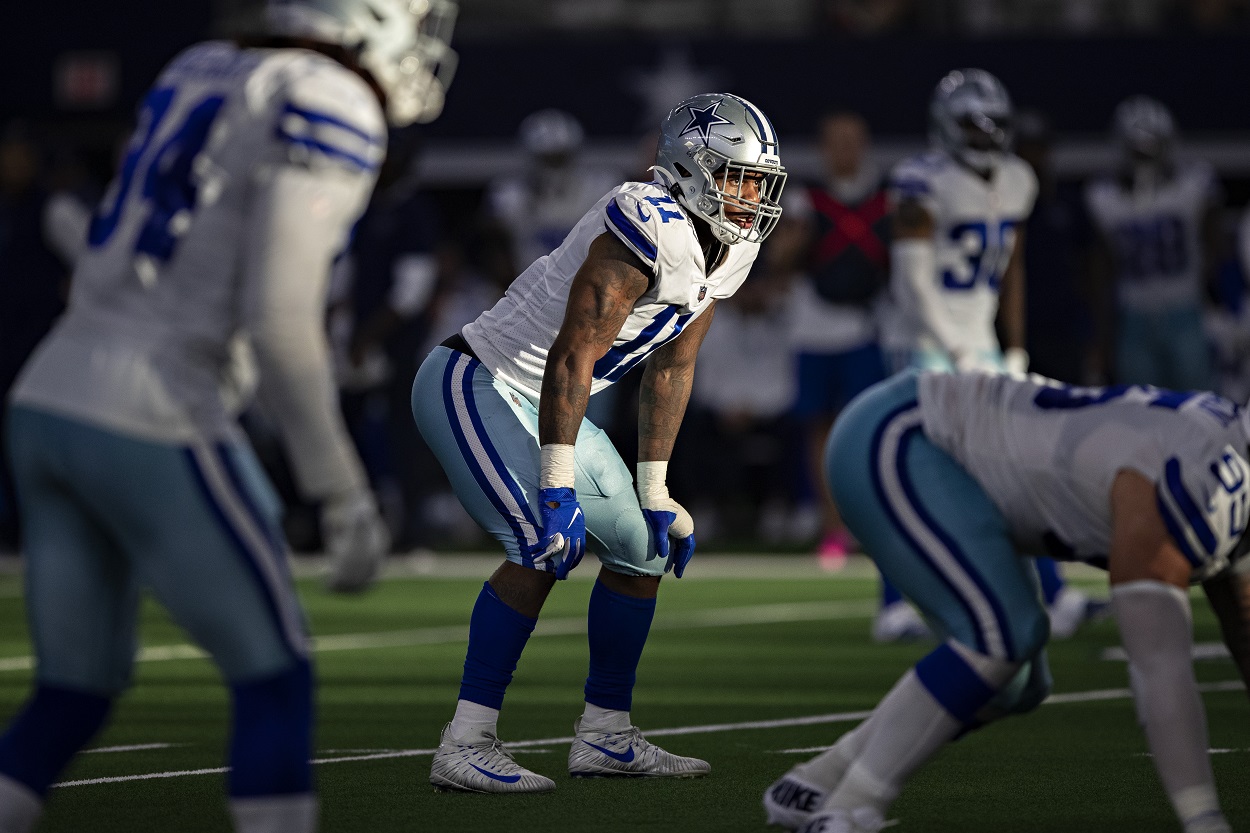 Dallas defensive assistant coach George Edwards knows a thing or two about NFL football. He's been a coach in the league for 24 seasons, all on the defensive side of the ball. Edwards is a former linebacker himself, having played at Duke for four seasons in college.
His resume is important to know because when Edwards talks, people listen. He's seen a ton of football in his career, and a ton of great players. And sure, he may be a bit biased because he does coach Parsons, but even coaches with the rosiest of glasses on don't usually compare rookies to legends.
That's exactly what Edwards did, though. Specifically, when talking about Parsons' ability to play multiple positions on defense, the veteran coach mentioned two of the best to do it in NFL history.
"I'll tell you when I coached LaVar Arrington in Washington he was kind of that role," Edwards said, talking about Parsons, according to the Cowboys' website. "In base defense, he was the Sam linebacker and the sub defense he could be a Mike and in the third down he was a rusher. I've had some experience with guys in the past that could do that. We did the same thing when I was coaching Junior Seau in Miami. He wore a lot of different hats."
It would be an honor for any linebacker to be compared to Seau or Arrington.
Seau is the bigger name of the two as a Pro Football Hall of Famer, but Arrington was no slouch over his seven NFL seasons, all but one with Washington.
Arrington was a 6-foot-3, 257-pound battering ram as a linebacker. He was known for making huge hits, but he was also an all-around productive defender for Washington. A three-time Pro Bowl selection, Arrington notched 417 career tackles, 44 tackles for loss, 23.5 sacks, six forced fumbles, seven fumble recoveries, 38 passes defended, and three interceptions in a somewhat short, but productive, NFL career.
Seau was an absolute juggernaut of an NFL linebacker. When you think about tough, hard-hitting linebackers, his name is right up there with Lawrence Taylor, Dick Butkus, Ray Lewis, Mike Singletary, and Brian Urlacher.
Drafted No. 5 overall in the 1990 NFL Draft by the San Diego Chargers (now in Los Angles), Seau had a 20-season NFL career that saw him make 12 Pro Bowls and be named a first-team All-Pro six times. He was an absolute legend in the game. His career saw him notch 1,847 tackles, 56.6 sacks, 18 fumble recoveries, 18 interceptions, and 11 forced fumbles. He was tragically lost too soon.
Frankly, the fact that Parsons is even being mentioned with these two linebackers, even by his own coach, is incredible.
Parsons has been doing everything for the Cowboys, much like Seau and Arrington used to for their teams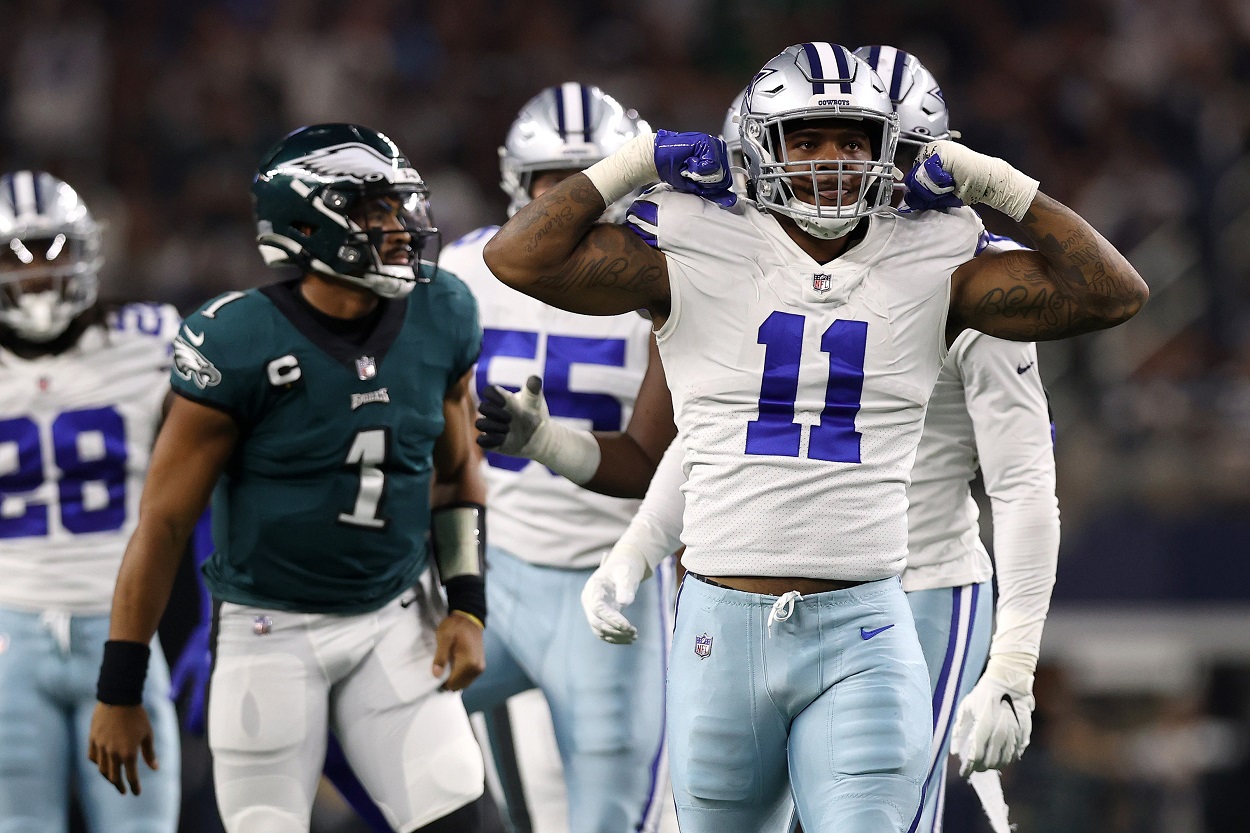 Wearing a lot of different hats is an apt way to describe how the Cowboys are using Parsons so far this season.
He's lined up in the middle, as an outside linebacker, and even as a defensive end for Dallas. The Cowboys have used him in both coverage and pass rushing schemes, and he's even been utilized to set the edge against the run.
The crazy thing about it is that Dallas isn't just moving him around for kicks and giggles, or to just take up space and make the offense think. The Cowboys are using Parsons everywhere because he can play everywhere and do everything. At 6-foot-3, 245 pounds he's the prototype of a modern-day linebacker. He has the speed and strength coaches look for, while also possessing great awareness and the ability to play in space. He's just as good at getting in the backfield as he is getting back into a zone and playing pass coverage. It's truly rare.
Even more rare is the fact that Parsons has been able to pick up multiple positions on defense as a rookie. That's something that even the great linebackers before him didn't do.
"Micah has really done a nice job of embracing the challenge of learning all different techniques and the different position groups that we've asked him," Edwards said. "We just look forward to [keeping] growing with him and seeing his skill set [continue] to improve. He's the type of person that will work hard to get better and that's what he wants to do. He wants to be the best and he's got to work and just keep working through it and I think it will continue to get better as we get down the road."
That's the scary part about Parsons if you're an opposing running back or quarterback. He's already good, and he knows it. He's still working hard to get better, though.
The combination of elite talent plus hard work is extremely tough to overcome, and that's what made players like Arrington and Seau elite as well.
Stats courtesy of ESPN and Pro Football Reference.
RELATED: Nick Wright Gives Jerry Jones a Crucial Piece of Advice He Says Will Make the Improved Dallas Cowboys Even Better