Dallas Cowboys LB Micah Parsons and Legendary RB Barry Sanders Have More in Common Than You Think
Mike McCarthy had a chance to watch his Dallas Cowboys on television this past Thursday. Dallas pulled out a win over the New Orleans Saints, 27-17, and the head coach undoubtedly gained a new perspective on his team.
Watching the game from a birds-eye view, or at least from the television, has to be a significantly different experience for a head coach. It's a different worldview almost.
McCarthy didn't like the change of scenery. Which coach would? It did give him some valuable insight into one of his best players, though.
Mike McCarthy compares Micah Parsons to Barry Sanders
Watching from the couch compared to controlling the game from the sideline has to be a shock for a head coach like McCarthy, but is it different enough to change rookie linebacker Micah Parsons into Hall of Fame running back Barry Sanders?
Apparently, yes.
Going up against Taysom Hill, more a running threat than a throwing threat because of his athleticism, Parsons accumulated five tackles (including one tackle for loss), two quarterback hits, and a sack. He also got his hand in between a receiver and the football, leading to a tipped ball and an incredible interception from Jayron Kearse.
In all, he was fantastic. Again.
Parsons has been so good as a rookie that McCarthy actually compared him to…(checks notes)…Barry Sanders?
"I'm never surprised because he's so natural. He's almost like Barry Sanders in there when he's avoiding blocks, McCarthy said, responding to Parsons' play, according to Michael Gehlken. They can't get their hands on him."
It's a stretch, but McCarthy does make some sense
Sanders is one of the greatest running backs of all time. One would think that comparing him to the exact antithesis of a running back, a linebacker, would make absolutely no sense. There is logic behind McCarthy's train of thought, though.
What made Sanders so special as a running back is that he was as elusive a runner you'll ever see. Sanders had an ability to cut and change direction that many have tried to imitate since, but few have achieved. He was a terror to tackle, and that led to a career that saw him rush for 15,269 yards and 99 touchdowns in just 10 seasons.
What McCarthy is getting at here is that Parsons is elusive like Sanders, just in the opposite way.
A great linebacker, or defender in general, works to avoid blocks much in the same way a great running back avoids potential tacklers. As a linebacker, footwork and speed are critical. You want to get to a gap before a blocker meets you there, or worse, pushes you out of said gap.
The great ones are almost like ghosts. Blockers see them for a moment, but they can never truly get their hands on them. Like a great running back, they're able to use their footwork and agility to become unblockable. Parsons is apparently already at that level, according to his head coach.
Parsons is becoming a superstar for the Dallas Cowboys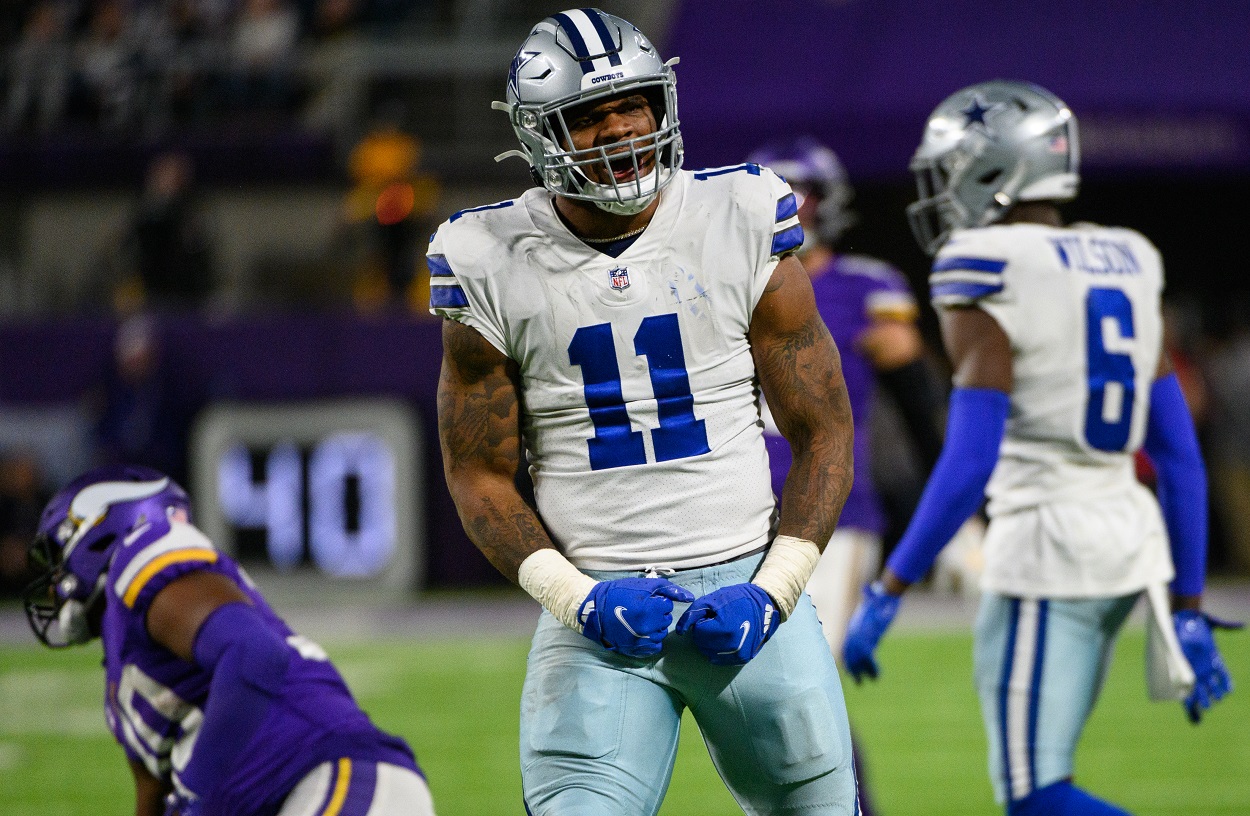 Parsons is just a rookie, but he's playing like a defender who has been in the league for a decade or more.
Perhaps most telling of his greatness is the fact that Dallas can use him all over the defense. Most young defenders have a hard enough time learning the ins and outs of one position, let alone multiple. Just watch how Dallas utilizes Parsons, though. You'll see that the Cowboys like to use him as a middle linebacker, outside linebacker, and even as a pass-rushing defensive end.
His stats through 12 games put him in rarified air. He now has 10 sacks on the season, making him only the 13th linebacker in NFL history to secure 10 or more sacks in his rookie season. He's sure to continue to add to that total. Parsons also has 72 total tackles, making him the first NFL player with 70 tackles and 10 sacks through 12 games since James Harrison.
If you ask him, though, this is all par for the course. Parsons was asked by the media after the win over the Saints if he's exceeded even his expectations this season.
His answer, and mindset, are very telling.
"I ain't exceed anything at all — very high standards for myself," he said, via the team website.
If he hasn't reached that status yet, Parsons is quickly becoming a Superstar for the Cowboys.
Stats courtesy of ESPN and Pro Football Reference.