Dallas Cowboys LB Micah Parsons Takes Issue With Tom Brady's Tackling Take: 'So Let's Stop Playing Tackle Football?
Dallas Cowboys rookie linebacker Micah Parsons is becoming an expert in tackling. Tom Brady, quarterback of the Tampa Bay Buccaneers, knows a thing or two about his position. He's also pretty good at winning football games.
Brady doesn't think a defender should be able to tackle a defenseless receiver at the knees. Parsons disagrees.
Perhaps somewhere in the middle, where legend meets the rising star, is where the answer to this whole debate lies.
Tampa Bay Buccaneers QB Tom Brady: 'It needs to be addressed and really thought-out'
The matter at hand is defenseless receivers in the process of making or completing a catch and whether or not it should be legal for a defender to hit them in the knees. This has become an important topic for Brady, who lost one of his best receivers, Chris Godwin, to a torn ACL in the Buccaneers' ugly 9-0 loss to the Saints.
On 3rd-and-9 early in the second quarter, Godwin took a slant pass over the middle and was in the process of taking his first two steps with the ball when he was undercut at the knees by Saints defensive back P.J. Williams. Godwin left the game and was ultimately lost for the season with the ACL injury.
The loss to New Orleans added insult to injury for Brady and the Buccaneers, but recapping the play on his podcast, Brady thinks that though the hit was not dirty, it should ultimately become illegal.
"There needs to be a rule that forbids it, and therefore people understand the vulnerability of a pass-catcher in the act of receiving the ball and being hit," Brady said, as transcribed by USA Today. "I've seen that hit too many times where a defenseless pass catcher is in the process of catching the ball and he's hit by the defender. And a lot of defenders would say, 'Well, we can't hit him in the head anymore.' Well, the point is, you can't hit anybody in the head anymore. You can't hit anyone in the knees anymore – except the receivers, which doesn't make any sense to me. You can't hit a defensive lineman in the knees, you can't hit a punter in the knees, you can't hit a quarterback in the knees, you can't hit a (defensive back) in the knees – except for allowing hits on defenseless receivers. It needs to be addressed and really thought out."
Dallas Cowboys LB Micah Parsons: 'So Let's Stop Playing Tackle Football?'
Parsons has been having a heck of a year for the Cowboys, highlighted by the first of what should be many Pro Bowl selections. Parsons, who the Cowboys drafted with the 12th overall pick in this past draft, is just the 12th rookie in Dallas' history to be selected to the Pro Bowl. He has 57 tackles on the season, three forced fumbles, and most impressively, 12 sacks. He's currently seventh amongst all NFL defenders in total sacks on the season, up there with names like Joey Bosa, Myles Garrett, and T.J. Watt.
Yeah, he's been that good for Dallas.
Parsons' stats are brought up because he's not just "some rookie." He's very likely the rookie defensive player of the year in the NFL and he should be considered for the overall defensive player of the year award as well. That would be a feat not accomplished since Lawrence Taylor in his rookie season.
Parsons also plays for the biggest brand in sports, not just in the NFL, so when he says something, especially something regarding Brady, it's well worth noting.
For his part, the rookie sensation doesn't agree with the GOAT.
Of course, this is all social media speak, but Parsons "quote tweeted" an article referencing Brady's thoughts on hitting receivers low at the knees, but it wasn't because he was endorsing the seven-time Super Bowl champion.
"So let's stop playing tackle football?" Parsons asked.
His question was bookended by a "Lol" as well as a "crying laughing emoji", which tells this hip and relevant sportswriter that he wasn't a fan of Brady's proposal.
Why don't we meet in the middle?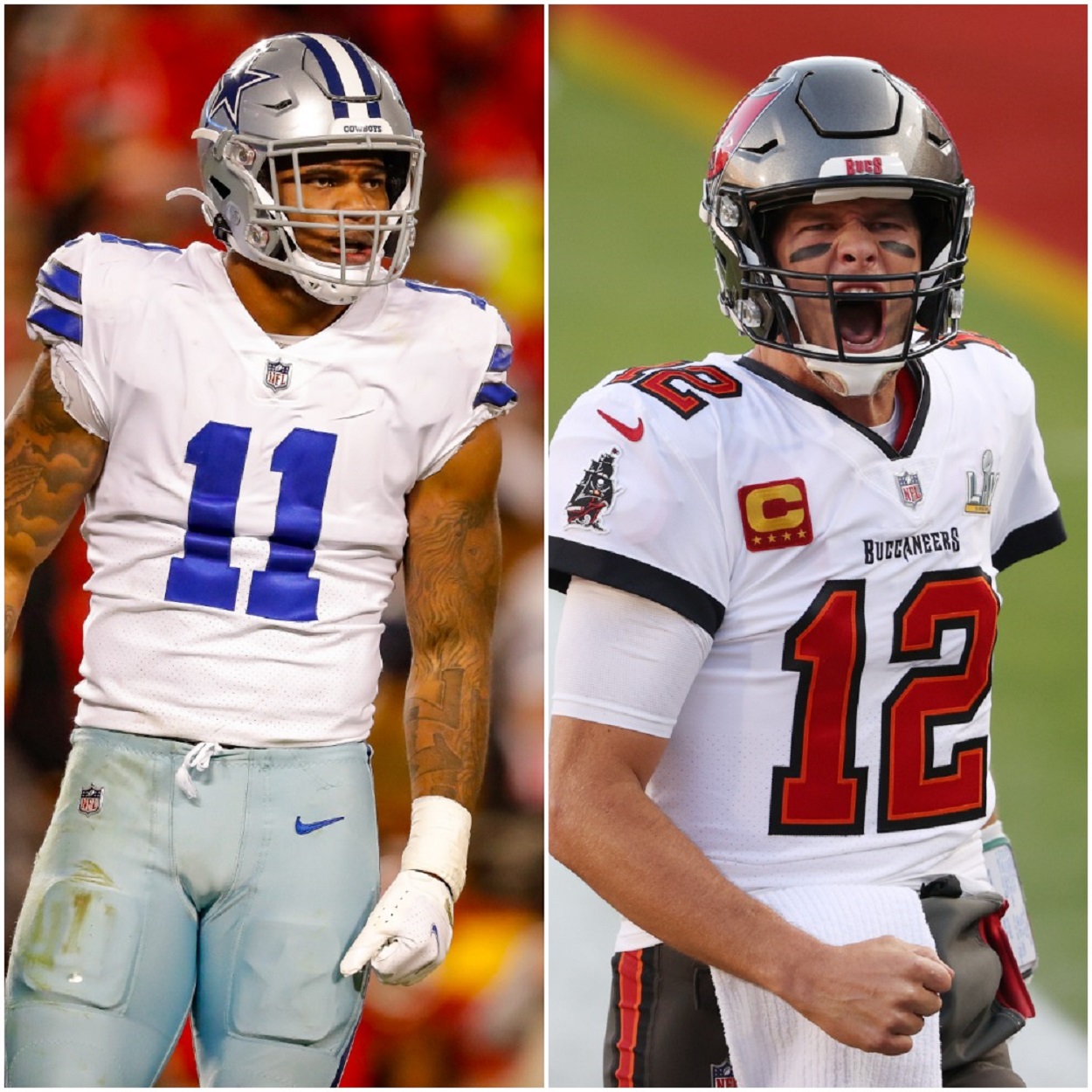 When you slow down the hit on Godwin, it obviously looks pretty brutal. The fact is that essentially kneecapping a wide receiver coming over the middle is definitely one way to cause plenty of ACL injuries. And sure, it's not a head injury, and that has to be the NFL's top focus as it relates to player safety, but you tell that to Godwin or any other player who is constantly getting taken out at the knees.
Brady brings up a legitimate point that perhaps that hit should be taken out of the game. From Parsons' perspective, that's just one more thing that NFL defenders have to worry about doing.
The dangerous thing is that when you have defenders overthinking, it actually becomes unsafe for them as well. Football is an instinctual game. If you take the athletic instinct out of it, the game becomes less fun. It also arguably becomes more dangerous.
Perhaps the best idea is indeed in the middle-ground. Make that specific play of undercutting a wide receiver coming over the middle something that could be flagged with a minor penalty. Let's say, five yards in favor of the offense. That allows a defender to play instinctually while at the same time making them think twice before kneecapping a receiver over the middle on a critical 3rd-and-4.
Join us next week as we solve the supply chain issues bogging up the global economy.
Stats courtesy of ESPN and Pro Football Reference. Contract information via Spotrac.