NFL: Why the Dallas Cowboys Won't Make the Playoffs Next Season
Will your team make the NFL playoffs next year? Here, we present a playoff-focused series on whether or not teams have a shot at making next year's NFL postseason. Jeff Smith and Jimmie Kaylor will make arguments for their respective sides in a point-counterpoint format. Up first, whether or not the Dallas Cowboys can make it back to the postseason.
The Dallas Cowboys have one of the largest, most loyal fan bases in all of American professional sports. As a result, they receive an abundance of national media attention regardless of how well their season is going. And given that their 2015 season was an utter disappointment, it should come as no surprise that the media attention they have been receiving as of late hasn't exactly been positive. And from where we are sitting, things aren't going to be getting better anytime soon.
While you could argue that there are several reasons to be optimistic about the Cowboys' postseason hopes in 2016, we are here to tell you that the 'America's Team' will be absent from the NFC Playoffs for the second consecutive season. Here's why.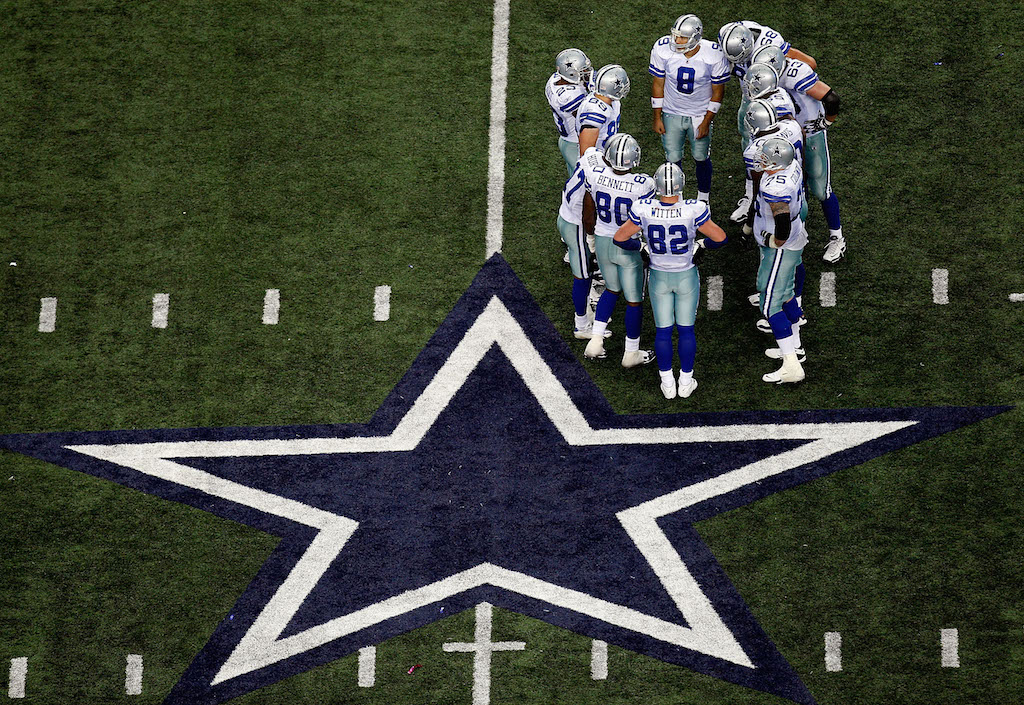 For starters, the Cowboys have a lot of ground to make up in an incredibly deep NFC. At this point in time, we are confident that at the very least, the Cowboys are noticeably weaker than the Seattle Seahawks, Arizona Cardinals, Carolina Panthers, Minnesota Vikings, and Green Bay Packers. That being the case, the only way Dallas would have a chance at making the playoffs next season would be to win the NFC East division title.
Speaking of the race for the NFC East title, things won't be as easy for the Cowboys as one might expect: Behind a surprisingly strong season out of quarterback Kirk Cousins, the Washington Redskins came out of nowhere to claim the division crown in 2015. With the way that their General Manager, Scot McCloughan, strengthened their roster in his second year on the job, there is no doubting that they will only be better in 2016. The Philadelphia Eagles and the New York Giants will both be breaking in new head coaches next season, but there is no getting around the fact that both teams already have the talent on their rosters to easily compete for a division crown. All said, we believe that the NFC East will be wide open in 2016, and, more importantly, the Cowboys are just not substantially better than any of their competition within the division.
The next factor that leads us to believe that the Cowboys are in for another disappointing season is the fact that by most accounts their training camp has gotten off to a disastrous start. Rookie running back Ezekiel Elliott is dealing with a hamstring injury and a potential domestic violence charge, there was speculation that quarterback Tony Romo showed up overweight and out of shape, backup quarterback Kellen Moore broke his ankle, defensive end Randy Gregory is facing a lengthy suspension after another failed drug test, and linebacker Rolando McClain, who is also facing a 10-game substance abuse-related suspension, has yet to report to camp and his status with the team is currently up in the air. Optimism is good, but there's just as much reason to see an aging team that is one or two injuries away from being one of the NFL's bottom feeders.
Finally, as we learned in 2015, defense wins championships. To be brutally honest, the Cowboys do not have a championship caliber defense. And after this offseason, there is no reason to believe that the Cowboys will be anything more than a middle-of-the-road defense. Their biggest issues revolve around the lack the presence of a dominating pass rusher (they totaled only 31 sacks as a team in 2015), and a subpar secondary. Long story short, the Cowboys' will likely struggle mightily on this side of the ball in 2016.
The Cowboys may only be one year removed from a 12-4 season, but we just do not believe that this team should be considered a serious NFC contender this season. Yes, they may have the league's best offensive line, a franchise quarterback (Romo), and an elite wide receiver (Dez Bryant), but that isn't enough to convince us to take this team seriously. Expect to see the Cowboys home for the playoffs for the second-straight season in 2016.
All statistics courtesy of Pro-Football-Reference.