The Dallas Cowboys Need to Consider a $9 Million Solution to Their Developing Dak Prescott Problem
The Dallas Cowboys can be forgiven if they imagined a happy and healthy return for star quarterback Dak Prescott this summer. Unfortunately for the Cowboys, the football gods weren't in a merciful mood.
Prescott, the two-time Pro Bowl selection, has spent the last few weeks dealing with a shoulder injury. Even as the standout quarterback makes his way back to the field, it's time for team owner Jerry Jones to consider an expensive but necessary move.
Dak Prescott's shoulder injury is already creating problems for the Cowboys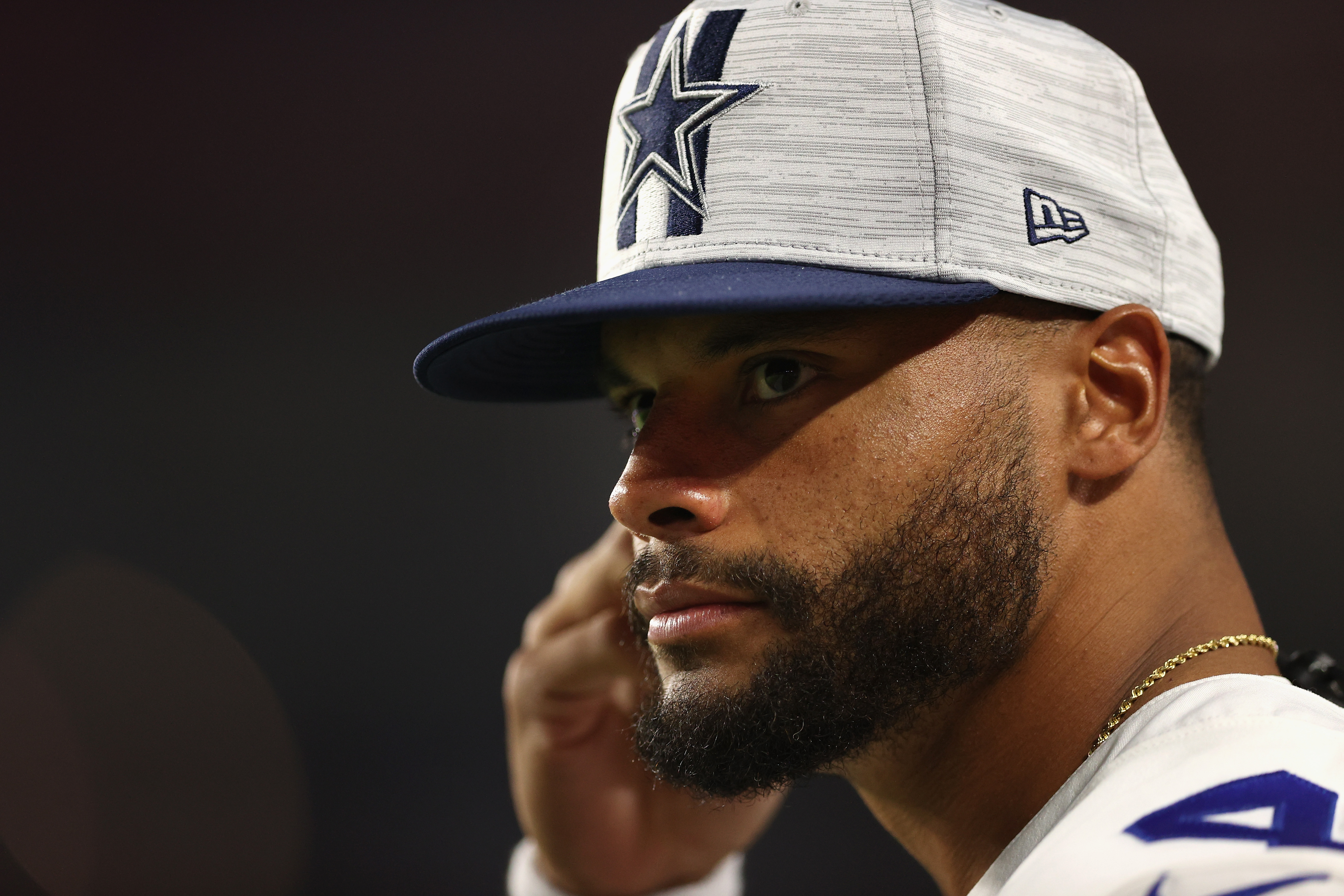 Let's quickly establish something for the record. Dak Prescott is not injury-prone, and the Cowboys should not be overly concerned for his future yet.
However, Prescott isn't exactly in the best shape of his life right now. The sixth-year quarterback pulled himself out of practice with a sore shoulder on July 28 and missed over two weeks. He returned on Monday, Aug. 16, in a limited capacity.
Although Prescott did not play in either of the Cowboys' first two preseason games, there was never a guarantee he'd suit up for those games. As of publication, the Cowboys had not ruled out their star signal-caller for an Aug. 21 showdown with the Houston Texans.
Before the shoulder injury, Prescott had completed his long road back from a severe ankle injury. The two-time Pro Bowler participated in offseason workouts and remained on track to start against Tom Brady and the Tampa Bay Buccaneers in Week 1.
The Cowboys need to bring Nick Foles into the mix immediately
Considering Prescott is trying to stay optimistic about starting in the preseason, one shouldn't doubt that he wants to play in Week 1. However, certain injuries, especially those involving the shoulder, run the risk of lingering.
The Cowboys are in a situation where they need to consider adding a qualified backup quarterback if Prescott suffers a setback. Chicago Bears veteran Nick Foles is the best backup quarterback on the market, at least in terms of experience and the ability to play competently in 2021.
Whether it's stubbornness or a bare-bones market, the Bears still haven't traded Foles. NBC Sports writer Peter King has suggested for months that the New York Jets should acquire Foles and have him sit behind Zach Wilson, the rookie from BYU. Foles had also been linked to the Indianapolis Colts after Carson Wentz, his former Philadelphia Eagles teammate, underwent foot surgery this summer.
If the Cowboys are serious about remaining in the playoff hunt all season, they'd certainly benefit from adding Foles. Although the veteran quarterback has been inconsistent in recent years, he's had his moments as a streaky quarterback — think a lesser version of Ryan Fitzpatrick — who could be an ideal fit in the Cowboys' deep offense.
According to NJ.com, Foles will earn $9 million in fully guaranteed money over the next two years. That might sound like a lot of money for a backup quarterback, but it'd also be easy to forgive the Cowboys for doing whatever they can to ensure a winning season this fall.
Foles might be the Cowboys' best chance at finding a proven backup to sit behind Prescott
Let's say the Cowboys decide they don't want to bring Foles back to the NFC East, or they can't make a deal work. As of publication, the Cowboys had the trio of Garrett Gilbert, Cooper Rush, and Ben DiNucci sitting behind Prescott on the depth chart.
Gilbert entered the league in 2014 but threw 38 of his 44 career passes last season. Rush, who has been with the Cowboys since 2017, hasn't thrown a regular-season pass since that year. DiNucci, a seventh-round pick in 2020, started a Sunday Night Football loss to the Eagles last year and saw action in three total games.
Barring any unexpected quarterback moves around the league, don't expect many significant names to become available as backups in the coming weeks. The proven backups like Fitzpatrick, Chad Henne, and Chase Daniel aren't likely to hit the market.
It's not impossible for someone like New Orleans Saints quarterback Trevor Siemian or Eagles backup Nick Mullens, two former starters, to become available. But if the Cowboys want a safe and smart insurance option to sit behind Prescott, they need to call the Bears and iron things out before the preseason ends.
Like Sportscasting on Facebook. Follow us on Twitter @sportscasting19.