NFL
15 Players the Dallas Cowboys Should Target Next Offseason
One year after posting a wildly disappointing 4-12 overall record, the Dallas Cowboys emerged as one of the best NFL teams in 2016. They celebrated an awesome 13-3 regular-season record and locked up the No. 1 seed in the NFC Playoffs. All that winning couldn't quite hide their flaws, though. Despite all of their success, the Cowboys still had holes in their roster that must be addressed this offseason.
The majority of the Cowboys' most pressing needs fall on the defensive side of the ball. Their defensive line played well this year, but they were undeniably overachieving: Dallas could benefit greatly from adding a Pro Bowl-caliber player on the edge and in the interior of the d-line. Likewise, the Cowboys have a secondary full of players who are solid, but none of them have the potential to be perennial All-Pro or Pro Bowl selections.
On offense, we believe the Cowboys should be in the market for a tight end of the future (franchise staple Jason Witten will be 35 years old heading into the 2017 season) and another explosive wide receiver to complement Dez Bryant.
Given its salary cap situation, Dallas must restructure a handful of contracts and part ways with more than one notable veteran if the Cowboys wish to be active during free agency. With that said, here are 15 players the Dallas Cowboys should target this offseason.
Notes:
We only considered players who declared for the 2017 NFL Draft as of December 26, 2016.
We operate under the assumption that the Cowboys will either trade or release Tony Romo and restructure multiple additional veteran contracts to free up salary cap space.
1. Jason Pierre-Paul, defensive end
It's really no secret that the Cowboys need to bolster their pass rush. Given their financial limitations combined with the fact that they will pick very late in the first round of the 2017 NFL Draft, Jason Pierre-Paul may be their best option for an immediate fix.
All signs point toward the 27-year-old defensive end's tenure with the New York Giants coming to an end this offseason. With his injury history and his dip in production the last two years, Dallas could conceivably steal the two-time Pro Bowler away from a division rival for a reasonable contract during free agency.
2. A.J. Bouye, cornerback
A.J. Bouye, a former undrafted free agent, emerged as one of the best cornerbacks in his fourth professional season. The 25-year-old defensive back will be an unrestricted free agent this coming offseason (if the Houston Texans don't lock him up or use their franchise tag). If the Cowboys are interested, Bouye's services will be pricey.
As the top cornerback on the free agent market in 2017, the Central Florida product could realistically land a contract rivaling the deal Janoris Jenkins signed with the New York Giants last offseason. That said, after getting burned by their decision to sign Brandon Carr back in 2012, the Cowboys may be hesitant to spend big money on another cornerback who had his best season in a contract year.
3. Eric Berry, safety
If the Chiefs can't re-sign Eric Berry following the 2016 season (which is a real possibility given their current salary cap situation), the Cowboys should put on the full-court press and do their best to sign the two-time First-Team All-Pro when he hits free agency this coming March. Berry is arguably the best safety in the league. At only 27 years old, he still has several good years left in his NFL career. If the team can pull this one off, Dallas will instantly upgrade its defense in a major way.
4. Tony Jefferson, safety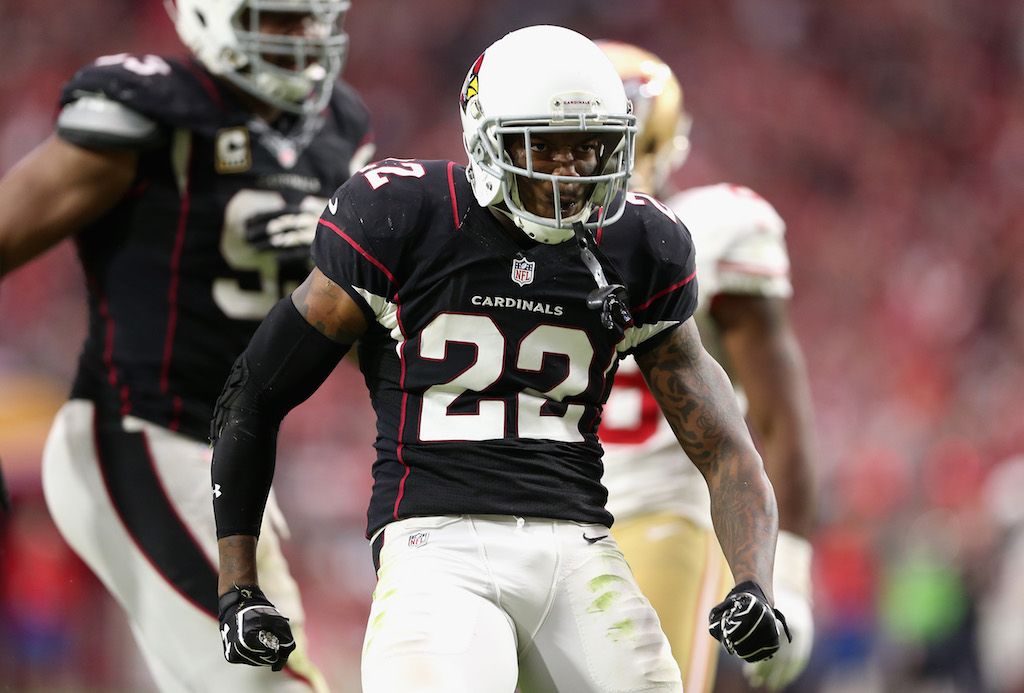 If the Cowboys can't land Berry this coming offseason (or if he doesn't hit free agency), then Tony Jefferson is an excellent plan B. The 24-year safety is one of the most versatile safeties in the league and is just now entering the prime of his career.
It bears pointing out, though, that as a former undrafted free agent, there is no doubting that Jefferson will look to break the bank with his next contract. Knowing that, it may be impossible for the Cowboys to offer him the kind of deal he will look for.
5. Kawann Short, defensive tackle
This one may be wishful thinking on our part. Kawann Short will command an enormous contract if the Carolina Panthers allow him to test free agency. He may simply be out of the Cowboys' price range. However, there is no denying what kind of impact a player of Short's caliber would have on Dallas's defense.
6. Dontari Poe, defensive tackle
As we previously mentioned, the Kansas City Chiefs will have a difficult time coming up with the salary cap space to keep their current roster in tact. In all actuality, they may ultimately have to make a decision between keeping Dontari Poe or All-Pro safety Berry.
If Poe hits the open market, the Cowboys would be wise to make a run at signing the 26-year-old defensive tackle. At 6-foot-3 and 346 pounds, Poe possesses a freakish skill set that would allow him to be a force for the Cowboys on the interior of their defensive line.
7. DeSean Jackson, wide receiver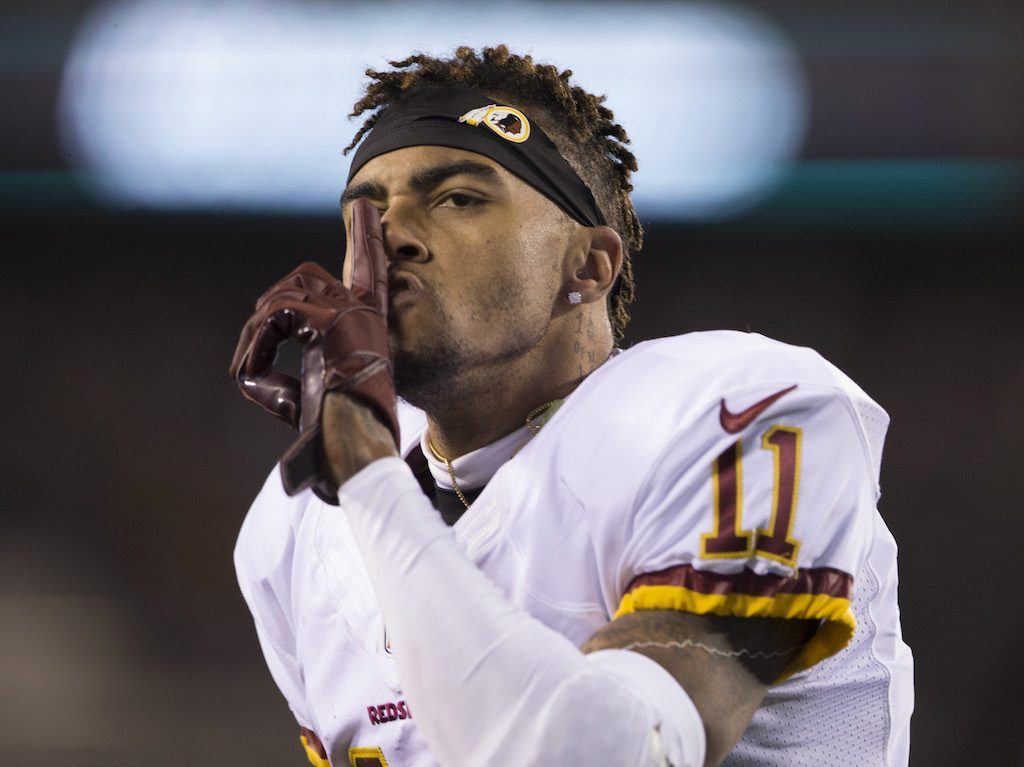 At this point in time, it looks more and more like DeSean Jackson will test free agency this coming offseason. Since he already made a little under $46 million over the course of his career, the 30-year-old wide receiver will likely want to go to a team that gives him a solid chance at competing for a Super Bowl title.
For the Cowboys, Jackson makes perfect sense if the price is right. His presence, combined with incumbents Dez Bryant and Cole Beasley, would give quarterback Dak Prescott one of the best, and most explosive, wide receiver trios in the league to spread the ball around to. Moreover, Jackson, one of the premier deep threats in the game, would likely exclusively see one-on-one coverage given the Cowboys' dominance in the running game.
8. O.J. Howard, tight end
The time has come for the Cowboys to start planning for life after future Hall of Fame tight end Jason Witten. And O.J. Howard is one of the first players to come to mind as a potential heir to Dallas' starting tight end position.
Over the last two seasons, Howard proves to be a nearly complete tight end. Much like Witten, the 6-foot-6, 251-pounder out of Alabama is a legitimate threat in the passing game and an outstanding run blocker. Furthermore, he is one of the rare college tight end prospects who is well-versed in playing in a pro-style offensive scheme. If he is still around when they pick late in the first round, the Cowboys should strongly consider selecting Howard.
9. Jake Butt, tight end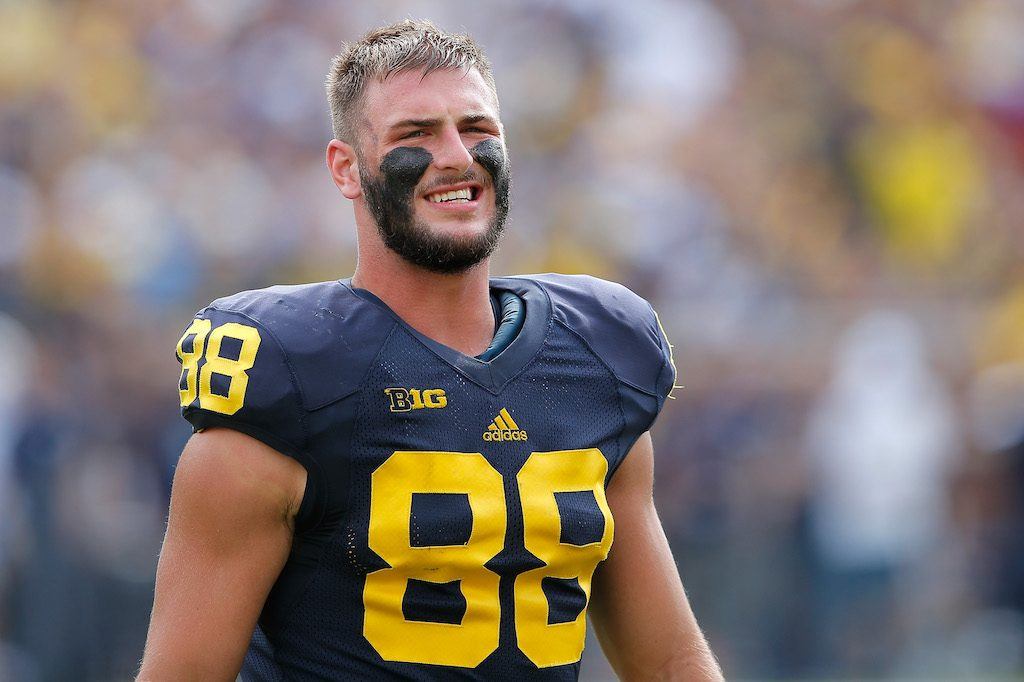 As we just mentioned, the Cowboys need to add a young tight end who they can groom to eventually replace Jason Witten. And, Jake Butt, a Michigan product, would be a great fit.
Butt's strengths are currently tied to his ability (which is borderline elite) as a receiver. He will need some time to develop as a blocker if he is going to be an every-down tight end, though. If the Cowboys do end up adding a tight end in the draft, hopefully they can talk Witten into being a better mentor than he was to Martellus Bennett.
10. Adoree Jackson, cornerback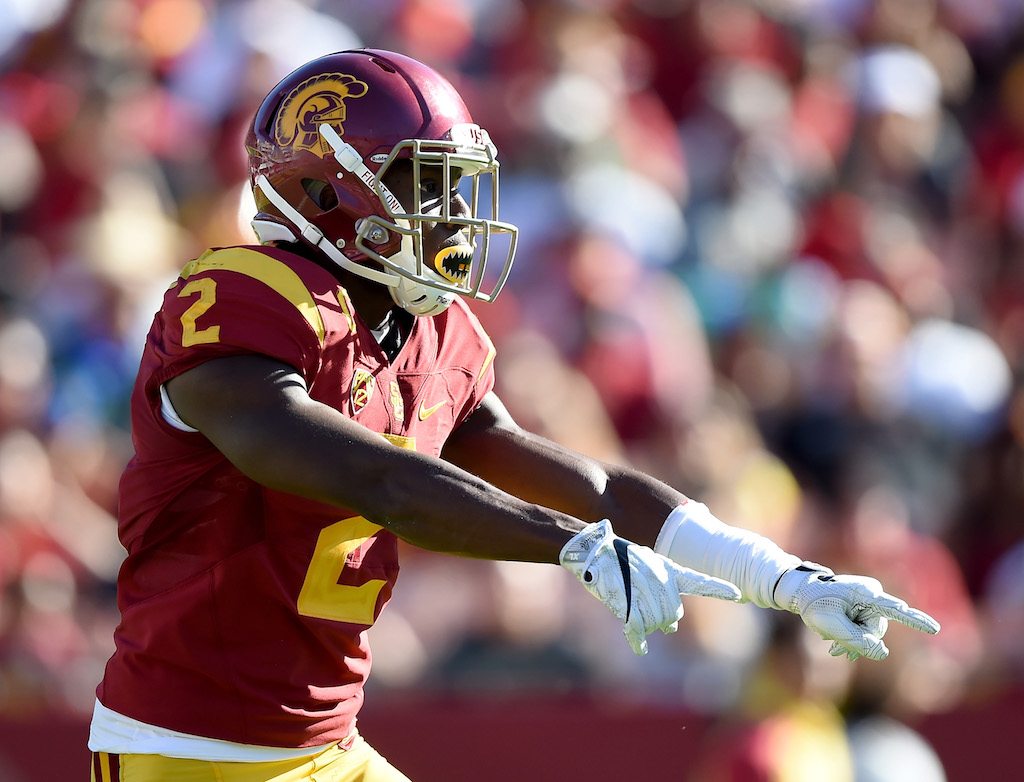 If the Cowboys fail to re-sign Morris Claiborne, they will have a major need at the cornerback position. With that being said, even if they are able to retain Claiborne, Dallas still desperately needs to add an impact player to the position.
Given where they will likely be slated to draft, Marlon Humphrey out of Alabama, who we feel will be the best cornerback in the 2017 draft, just isn't a realistic option. Nonetheless, if the Cowboys have the chance to add Adoree Jackson, they should rejoice. While the 5-foot-11, 185-pounder out of USC may have size limitations, there is no denying his ability as a playmaker (both as a defender and a kick/punt returner).
11. Corey Davis, wide receiver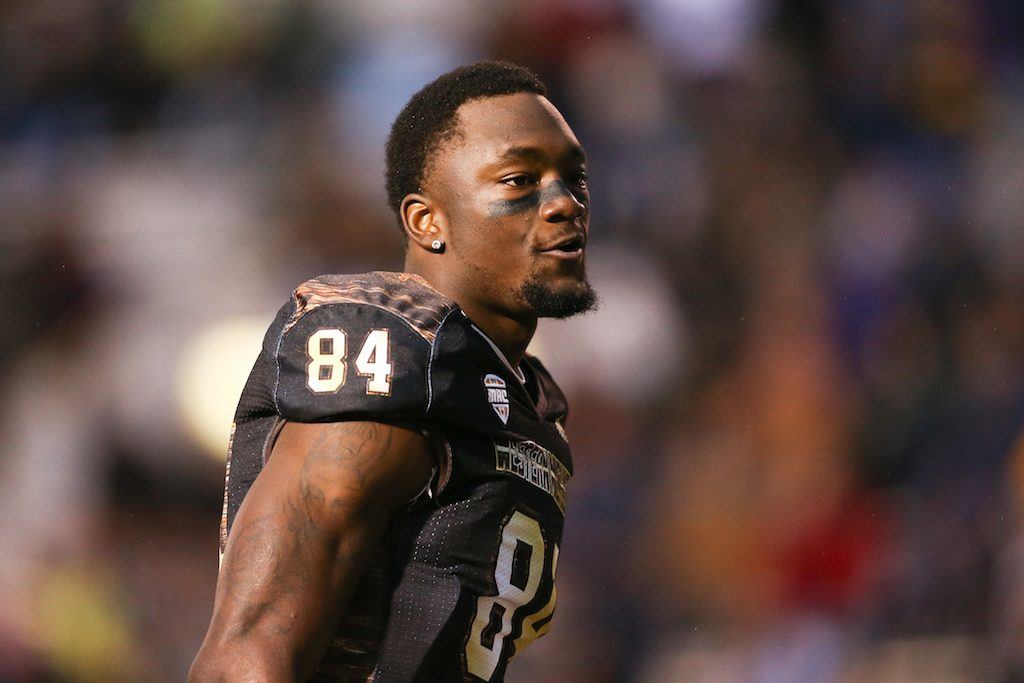 Corey Davis is a guy we see having a long and successful NFL career. At 6-foot-3 and 213 pounds, the Western Michigan product has the size to be a force in the red zone and is fast enough to be considered a serious deep threat in the open field. On top of that, he is a strong enough route-runner to line up on the outside or in the slot. If he is available at the end of the first round of the 2017 draft, Davis would make an excellent complement to Dez Bryant in the Cowboys' passing attack.
12. Tim Williams, outside linebacker/defensive end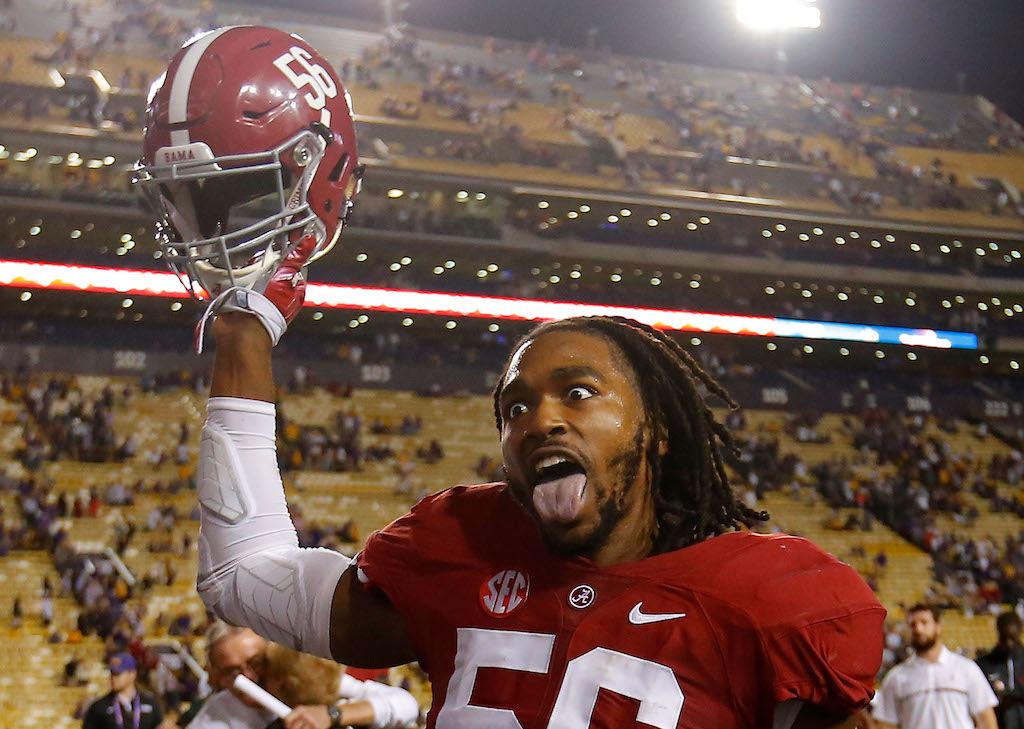 Tim Williams will be one of the best pure pass-rushers available in the 2017 NFL Draft. With that being the case, the Cowboys may have to make an aggressive move to land him. If they can pull it off, Williams is the type of player who could instantly solve their pass rush issues in 2017.
13. Jamal Adams, safety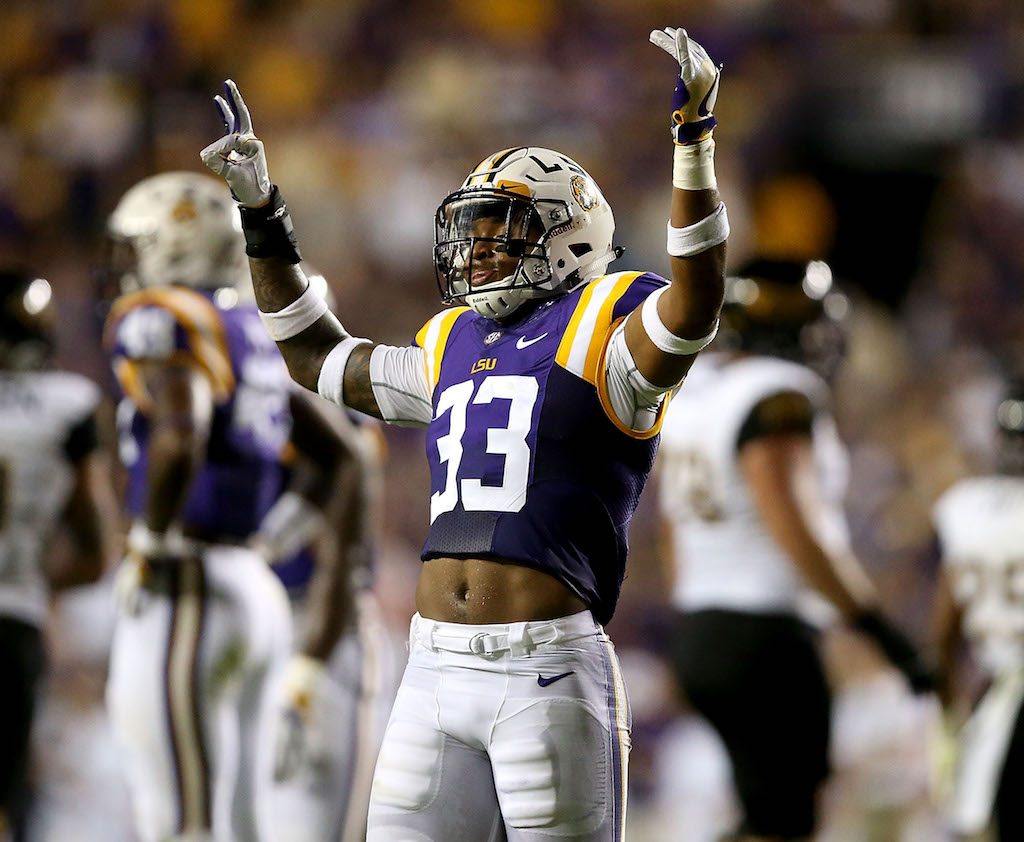 Jamal Adams, an All-American safety out of LSU, is another player the Cowboys would have to move aggressively to land in the 2017 NFL Draft. But when it comes down to it, Adams would likely be well worth the price it would cost to move up high enough in the draft to select him.
The 6-foot-1, 211-pound safety projects to be an absolute game-changer in the NFL. With few (if any) weaknesses in his game, we see Adams emerging as an Earl Thomas, Berry, or Tyrann Mathieu type of player early in his NFL career. Bottom line: Players of this caliber don't come around often.
14. Charles Harris, defensive end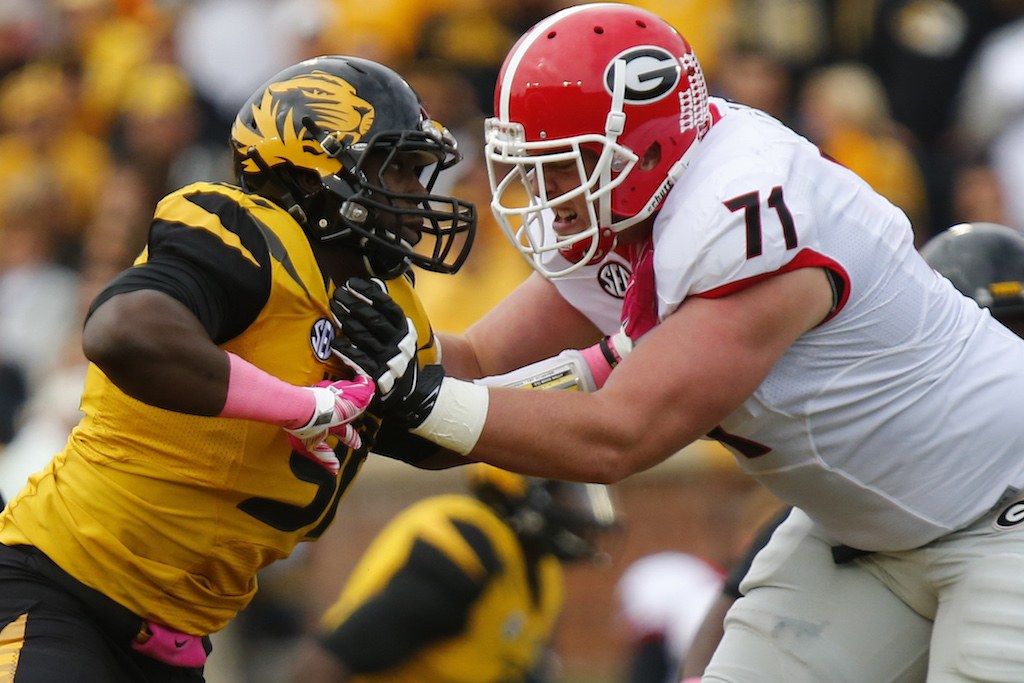 Charles Harris may not be the most complete defensive end in the 2017 NFL Draft, but his skill set is a great fit for what the Cowboys need. The 6-foot-3, 260-pounder has an exceptional first step and a wide range of pass rush moves. With time, he could progress as a run defender and develop into a three-down defensive end, but either way, we expect him to be an impact pass rusher from day one of his NFL career.
15. Malik McDowell, defensive tackle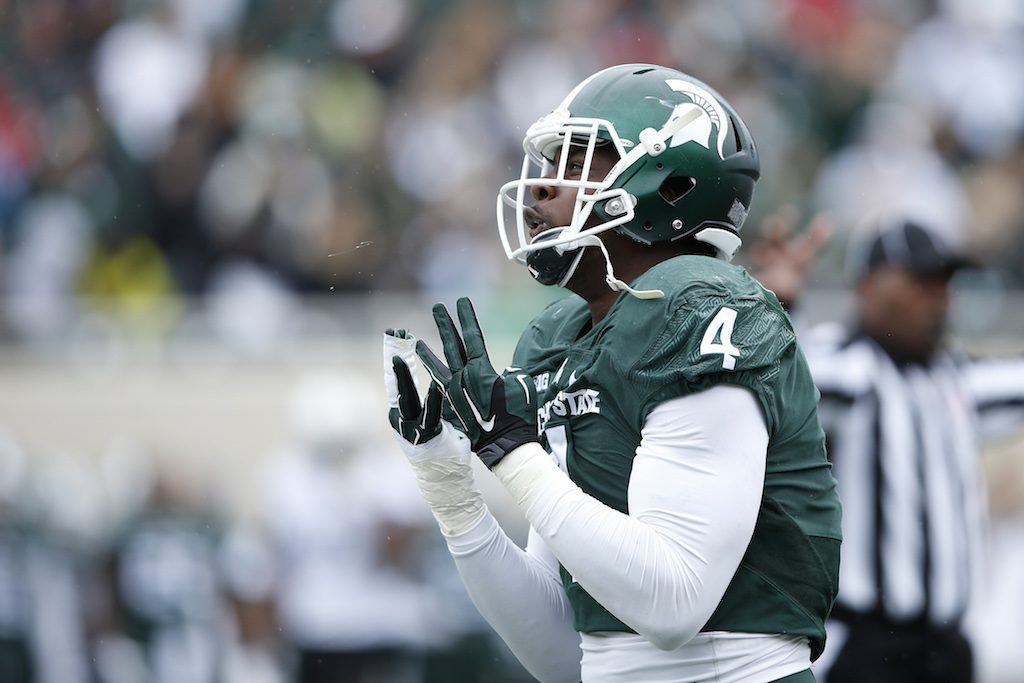 Malik McDowell, a former Michigan State Spartan, has the potential to develop into a perennial All-Pro at the NFL level, which could ultimately result in him being out of reach for the Cowboys. But if they do happen to find themselves in a situation where they can add a player of McDowell's caliber — his combination of strength and lateral quickness also make him a force against the run, and he could be an elite interior pass rusher at the NFL level — the Cowboys shouldn't hesitate.
Statistics courtesy of Sports-Reference and Pro-Football-Reference. Contract and salary cap data courtesy of Spotrac.