5 Mistakes the Dallas Cowboys Can't Afford to Repeat
In their Week 1 game against the New York Giants, the Dallas Cowboys let a golden opportunity go by the wayside. The much-maligned Dallas defense played a solid game against one of the better offenses in the National Football League, yet the Cowboys still dropped their season opener to their bitter division rivals on their home field at AT&T Stadium by a score of 20-19.
It is incredibly disappointing anytime a team squanders away an opportunity to win a division game in the NFL. And when it happens because of simple and inexcusable mistakes, it can be enough to send a person into hysterics – which is exactly what happened to the Cowboys on Sunday afternoon. For Dallas not to have another monumentally disappointing season in 2016, they cannot afford to repeat these five mistakes.
1. Not adequately utilizing All-Pro wide receiver Dez Bryant
Last July, the Cowboys made Bryant one of the highest-paid wide receivers in the history of the National Football League. And given his game-changing ability it's easy to see why. At 6-foot-2 and 225 pounds with elite speed, agility, leaping ability, and ball skills, Bryant is a matchup nightmare for any opposing defensive back and is the type of player that can single-handedly (figuratively speaking) alter the outcome of a game. Knowing this, it makes zero sense to us that he had only one catch and five targets in the Cowboys disappointing loss to the Giants last Sunday. This just cannot happen again if Dallas wants to turn things around and come away with a road win against the Washington Redskins in Week 2. Simply put, Bryant should see a minimum of 10 targets in every game he plays.
2. Terrible clock management
Poor clock management and a lack of situational awareness cost the Cowboys a chance at attempting a potential game-winning field goal in the final seconds of their loss to the Giants in Week 1. Had wide receiver Terrance Williams (pictured above) had the wherewithal to simply run out of bounds with roughly seven or eight seconds left on the clock, the Cowboys could have either ran another quick play or attempted a 63-yard field goal for the win. When it comes down to it, the Cowboys will never be a serious contender if they continue to make these types of mistakes.
3. Underachieving in the running game
This one really needs no explanation. The Cowboys offensive line, which is arguably the best in the entire league, is far too talented and strong for the team to rush for an average of 3.4 yards per carry, and running backs Ezekiel Elliott and Alfred Morris are far too good to combine to rush for only 86 yards and a touchdown on 27 carries. This facet of the game has to be better for the Cowboys to be a playoff-caliber team.
4. Being too conservative on offense
As we previously mentioned, the Cowboys did not perform up to their abilities in the running game in their Week 1 loss to the Giants. One way that they could easily help their own cause is by opening up their playbook and taking more shots down field to their explosive group of wide receivers (Dez Bryant, Terrance Williams, and Cole Beasley). Rookie quarterback Dak Prescott has to be better – he went 2/10 on throws longer than 15 yards – but with a couple of explosive plays, opposing defenses would be forced to soften up, which should in turn improve the Cowboys' rushing attack.
5. Settling for red zone field goals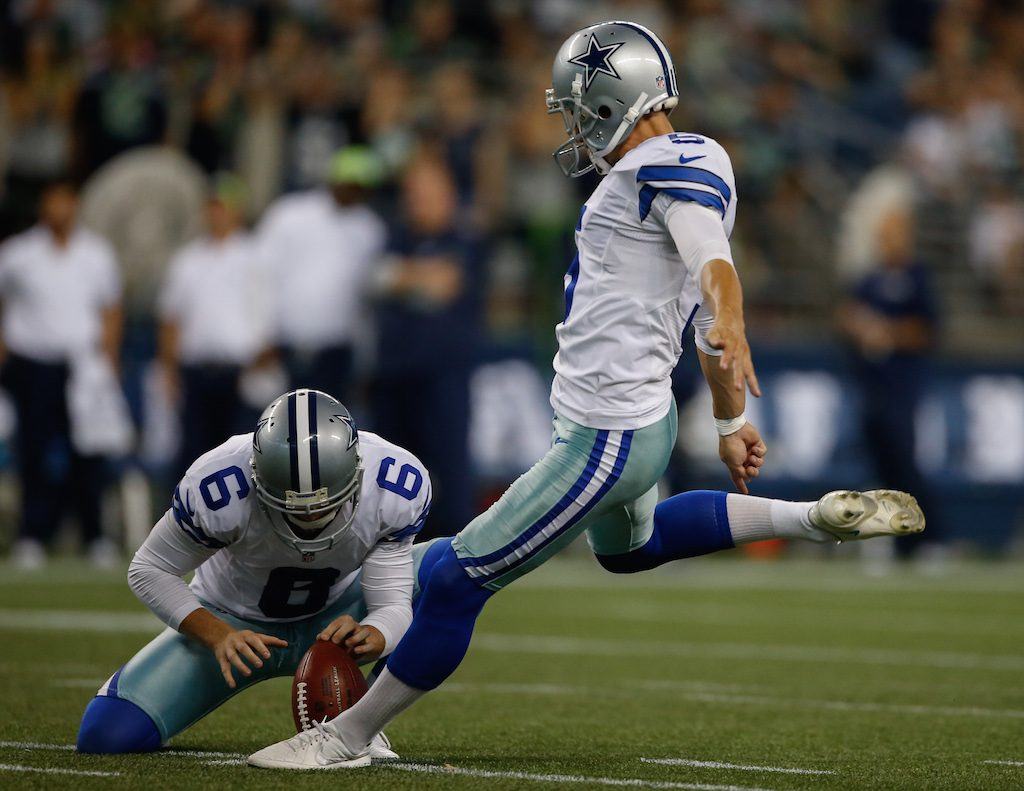 This rule applies to every team in the NFL. You flat-out won't win many games when you have to settle for field goals when you reach the red zone. And in Week 1, the Cowboys had to settle for two chip-shot field goals out of Dan Bailey on two separate trips inside the Giants' 20-yard line. Had they converted one of those into a touchdown, they would have won the game.
Statistics courtesy of Pro-Football-Reference.com.