Dallas Cowboys' Star Rookie Micah Parsons Keeps Winning Hardware: 'I Feel Like Floyd or John Cena in His Prime'
The only difference between Dallas Cowboys linebacker Micah Parsons and WWE superstar John Cena is that you can see the outstanding linebacker making plays all over the field. You can't see Cena.
Parsons, who the Cowboys drafted out of Penn State with the 12th overall pick in this past draft, is well on his way to contending for the NFL's rookie of the year award. Heck, if he keeps playing like he did last week against the Atlanta Falcons, he may even be in contention for even bigger honors.
The Cowboys will take it a week at a time, as they say, but it's hard not to be impressed with the hardware Parsons has been pulling in.
The Dallas Cowboys are coming off a dominant win over the Atlanta Falcons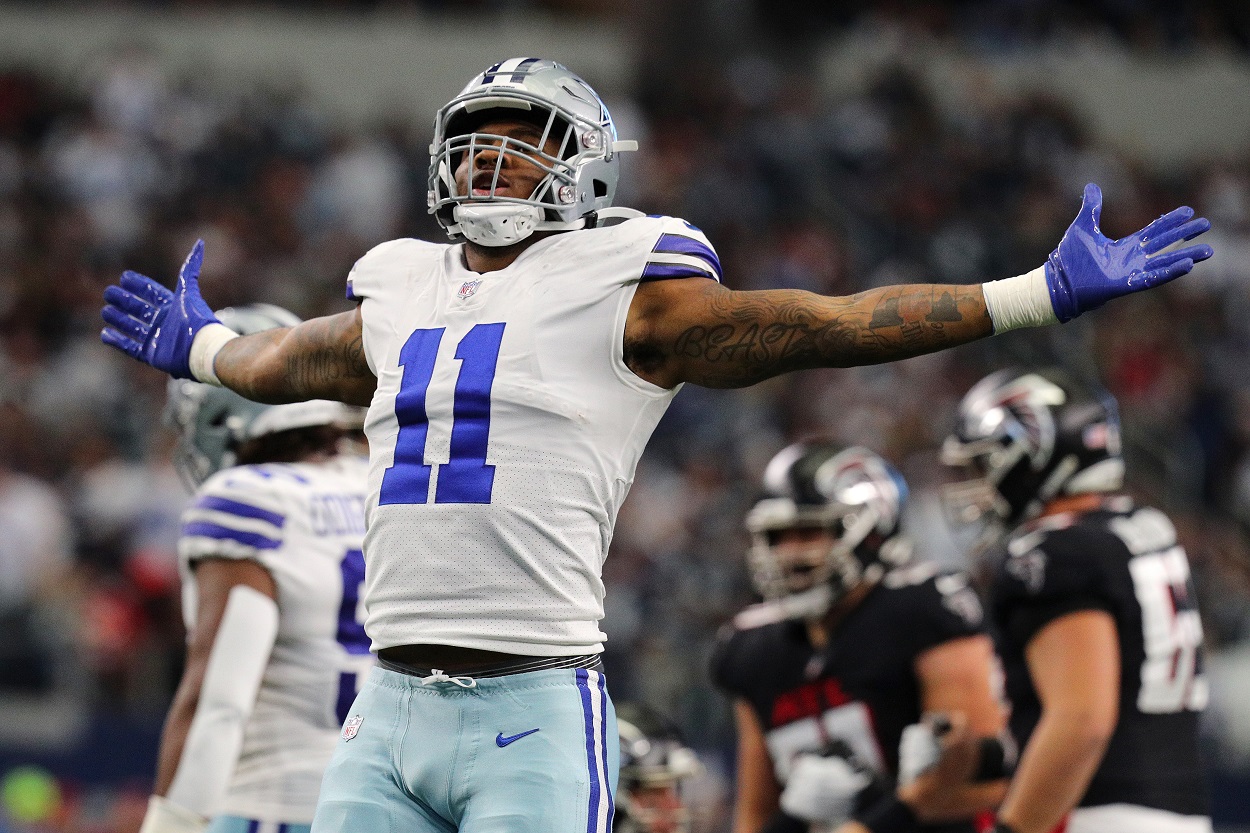 Parsons, a 6-foot-3, 245-pound linebacker, can do just about everything as a defender, and he proved that last weekend against the Falcons in a resounding 43-3 win by Dallas.
Parsons led all Dallas defenders with six total tackles, all solo, and he notched a sack, a tackle for loss, and a quarterback hit.
Dallas' defense, in general, was fantastic against the Falcons.
A week after the Broncos put up 30 points on them in a loss, the Cowboys, led by Parsons, dismantled Atlanta's offense. They forced the Falcons into 1-of-11 efficiency on third downs and gave up only 214 total yards. The Cowboys picked the Falcons off three times, which each of the starting cornerbacks snagging an interception. Trevon Diggs, in particular, notched his eighth interception of the season.
After the game, Parsons did not mince his words, especially in light of the embarrassing loss the week before.
"I don't think one game will ever define you," he said via CBS Sports. "So, the fact we can bounce back and be dominant, that should put everyone on notice that … we are not to be 'F'd' with right now."
Micah Parsons wins another rookie of the week honor
Because of his dominant performance against the Falcons, Parsons was once again awarded the NFL's rookie of the week honor.
The award is one of the cooler things the NFL does in-season. The recipient of the award, which Pepsi sponsors, gets a faux championship belt, much like you would see a boxer or professional wrestler wear. It's also the kind that Aaron Rodgers doesn't think you should mock.
Parsons has already won the award once this season. The last time he put on the belt was after the Cowboys' Week 8 win over the Vikings, a game that saw him notch 11 tackles, including four tackles for loss.
He's now walking around like a multi-time world champion, and the rookie is feeling the swagger that comes with that hardware.
"'I feel like Floyd [Mayweather] or John Cena in his prime," Parsons said.
The sky is the limit for Parsons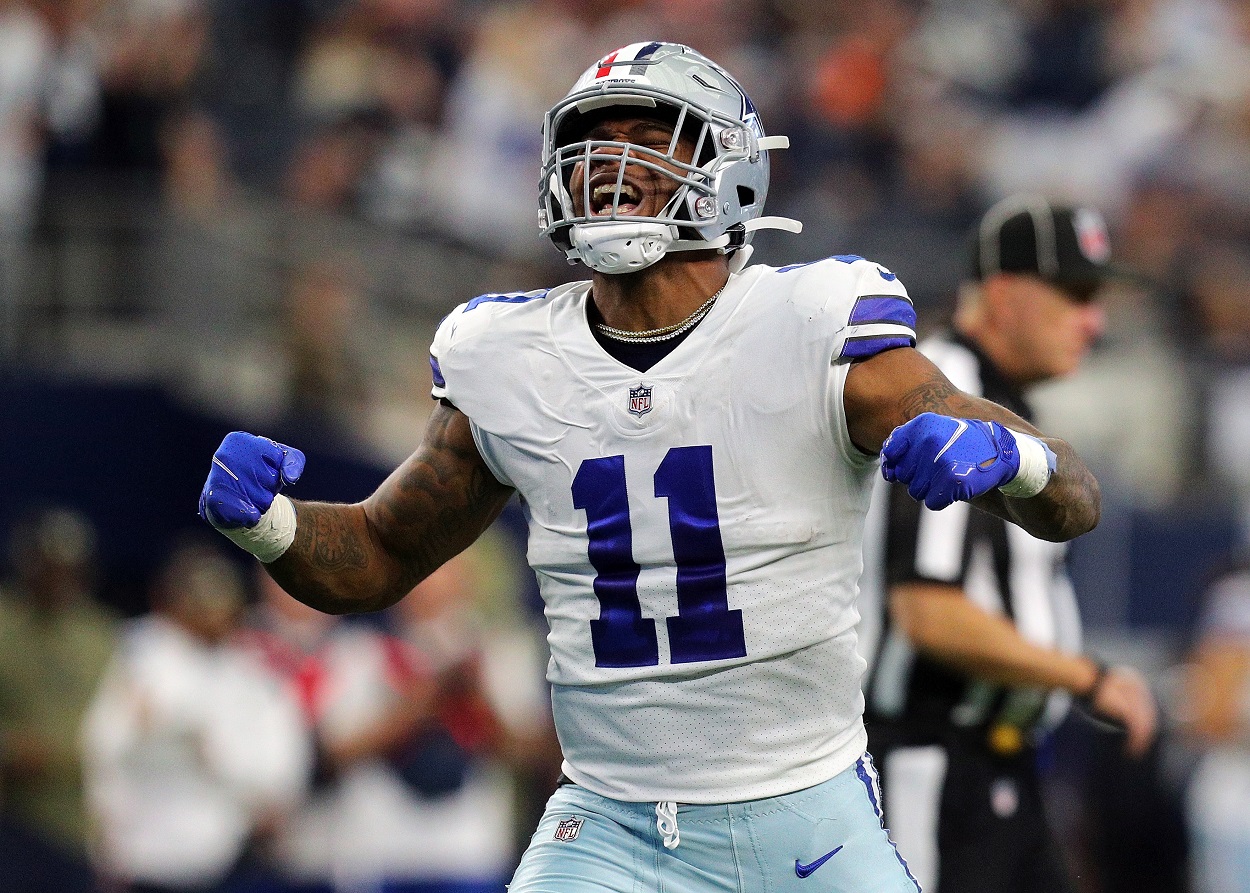 Parsons has been incredible for Dallas, and that's putting it lightly. It's rare for a rookie linebacker to make such an immediate impact, but that's all Parsons has been for the Cowboys: An impact player.
Even more impressive is how he's been used by Dallas. The Cowboys aren't just using him as a standup backer insulated in one position on the defense. He can play middle linebacker, outside linebacker, and he's even put his hand in the dirt and come off the edge as an end.
Rookie of the year is undoubtedly an honor that Parsons is in the running for, but he's frankly playing better than many veterans in the league.
His 11 tackles for loss are good for fourth-best in the NFL, only behind players like T.J. Watt, Myles Garrett, and Nick Bosa. He's a Top 15 player in both quarterback hits and sacks.
Speaking of, his six sacks so far this season has him closing in on Dallas royalty. DeMarcus Ware set a franchise record for notching eight sacks in his rookie season in 2005. Parsons is three away from breaking that record, and he still has eight games left to do it.
Parsons has been a do-everything player for the Cowboys, and he's playing with the kind of confidence that's hard to combat.
"I really don't care who's at right tackle. I don't care who's at left tackle and I don't really care who's at guard, Parsons said via the team website. "At the end of the day, they've got to play me and I've got to play them. It could be a Hall of Famer right there but I'm still going to give them 100 (percent)."
Stats courtesy of ESPN and Pro Football Reference.